Police Using Tear Gas at Protests Risks Making COVID-19 Pandemic Worse, Human Rights Groups Say
The use of non-lethal weapons such as tear gas and rubber bullets at protests following the death of George Floyd has been criticized by human rights groups, whose concerns have been compounded amid the risks posed by the COVID-19 pandemic.
During widespread demonstrations across the U.S., law enforcement personnel have tried to break up gatherings, which at points have turned violent, with a range of crowd control measures.
Scenes of smoke let off amid the crowds and protesters fleeing rubber bullets have drawn criticism, with some raising fears that irritants such as tear gas could exacerbate the spread of coronavirus amid groups.
An open letter signed by more than 1,000 health experts raised fears that tear gas and other such irritants "could increase risk for COVID-19 by making the respiratory tract more susceptible to infection, exacerbating existing inflammation, and inducing coughing."
Human rights advocates, speaking to Newsweek, have also raised issues with the tactics being used against protesters.
Dr. Michele Heisler, who is medical director for Physicians for Human Rights and professor of internal medicine and public health at University of Michigan, commenting on use of tear gas, said: "It makes people want to touch their face, which is exactly what you're not supposed to do. They're using an agent that's compelling them to touch their face because it's so painful."
Though she said it is not clear that the use of irritants can exacerbate susceptibility to the coronavirus, the behaviours they induce could enable its spread.
Heisler said the use of non-lethal weapons "induce the very behaviors you should avoid in a disease pandemic, touching your eyes, rubbing your face, coughing."
In her opinion, authorities should engage in de-escalation techniques and more focus should be placed on training in these: "Spraying people with tear gas or pepper spray can increase chaos. It's escalating not de-escalating."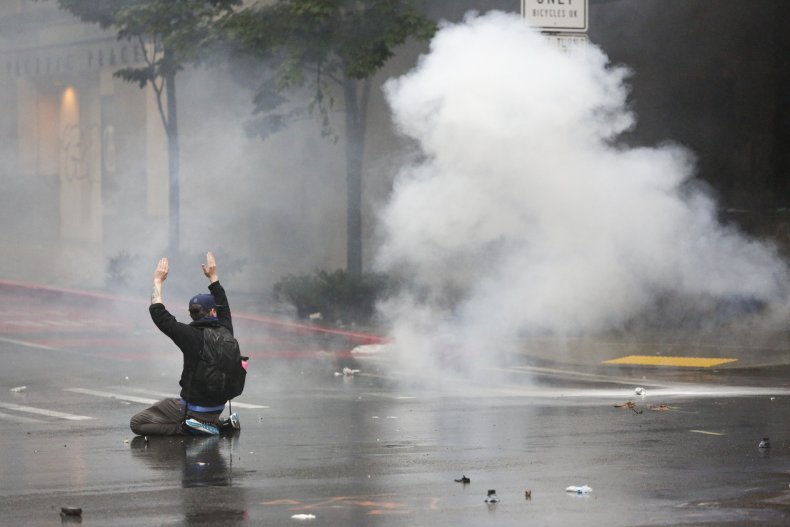 Mark Hiznay, associate director of the arms division of Human Rights Watch, said: "It's really not a great idea to be using an irritant that enters through the respiratory system during a pandemic."
On the use of irritants, he said it was concerning that they appear "to be used indiscriminately and as a first resort."
"Irritants are not designed to be used in a targeted way," he said, after Human Rights Watch previously expressed concern that there was "unlawful and unnecessary use of force against protesters."
On the use of tear gas amid the pandemic, Laura Pitter, deputy director of Human Rights Watch's U.S. program, told Newsweek: "To a certain degree it poses a concern since coughing is one symptom of the use of tear gas."
"Opening all of ones mucus membranes is the biggest effect. So using a means of crowd dispersal that primarily enters the body through the respiratory system during a pandemic is probably not a wise choice," she said.
Pitter said: "But our view is that tear gas should only be employed when necessary to prevent further physical harm and when it is used it should be preceded with notification when possible. It also shouldn't be used to disperse non-violent illegal protests.
"During violent assemblies its use has to be proportional to the seriousness of the offense and further a legitimate law enforcement objective. It shouldn't be used within enclosed spaces or in situations that don't allow for individuals to escape the effects of the riot control agent.
"And if used, only law enforcement trained in its use and delivery methods, emphasizing the danger of delivery-related injuries should be using it. Its use should also be tailored to minimize injury and law enforcement must allow access to medical treatment for those suffering the effects of the agent.
"That said, crowding during the protests is also an issue that can contribute to the spread of COVID-19 separate and apart from any concerns about the use of tear gas."
On what she sees as a main issue at the protests, Pitter said: "I think the militarized response and instances that involve the excessive use of force are of the biggest concern."
She added that, "It's not acceptable to meet protests against police violence and for racial equality with more police violence.
"Unless the U.S., at all levels of government, addresses the problems that have compelled people to take to the streets, righteous protest will continue to rage."
Amid criticism of tear gas use, Seattle's mayor instituted a 30-day ban on its use, though there has been a backlash after police continued to use CS gas to disperse crowds.
Protests continue across the states, following the death of Floyd after a police officer put his knee on his neck while arresting him.
Questions have been raised over the response to the gatherings, with President Donald Trump criticized for suggesting he could send in the military to states which do not deal with the situation to his liking. It comes after suggestions people not involved in the protests have used them as a springboard for violent acts and to cause unrest.
Federal officers have been criticized for their use of non-lethal weapons, with Attorney General William Barr moving to defend the use of such tactics in clearing protesters. Protesters were cleared near the White House earlier this month, with suggestions tear gas was used, which was denied by the United States Park Police, though it was confirmed pepper balls and smoke canisters were.
Newsweek has contacted the Justice Department for comment on the use of non-lethal weapons such as irritants against crowds.
The Centers for Disease Control (CDC) recommends those exposed to riot control agents to move into a space with fresh air as quickly as possible, while urging people to remove clothes worn while exposed as soon as they can and washing their entire bodies with soap and water.
Newsweek has contacted the CDC on the use of irritants amid the pandemic.
Concerns have previously been raised of COVID-19 spreading among crowds gathered at protests, with those attending advised to wear face coverings and social distance as much as possible.
There have been more than 1.9 million confirmed cases of coronavirus across the United States, according to Johns Hopkins University figures. The below graphic from Statista shows the states with the highest numbers.