Senator Ted Cruz's former 2016 campaign chair has called for the Republican to be "denounced" after he objected to the Electoral College results, and questioned the validity of President-elect Joe Biden's victory in the wake of the Capitol riots last week.
Releasing a statement on Friday last week, Chad Sweet, Cruz's former campaign chair, said the senator had "aided and abetted" President Donald Trump's "relentless assault" on democracy, and said he could no longer support his friend.
He also called on Americans to put the "survival" of democracy ahead of partisan loyalties in the wake of the Capitol riots on Wednesday, which lead to five deaths and several injuries.
In a LinkedIn blog post, first covered by The Dallas Morning News, Sweet said: "Donald Trump and those who aided and abetted him in his relentless assault on our Democracy – including Senators Josh Hawley and Ted Cruz – must be denounced.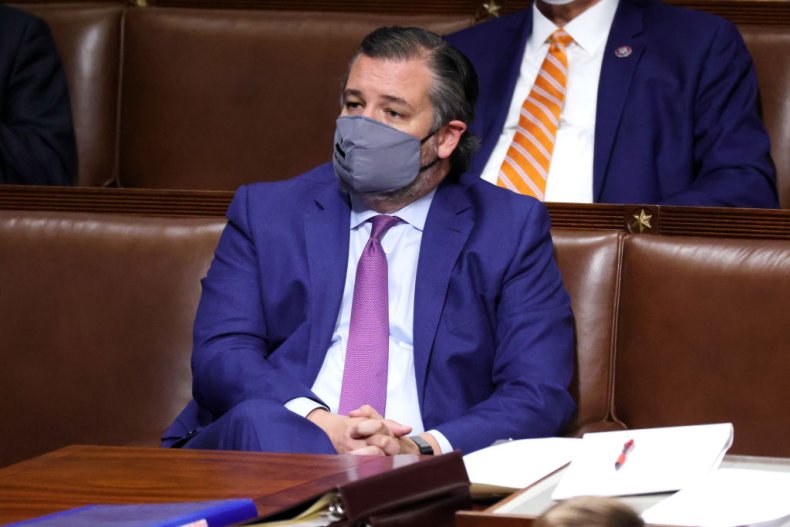 "In particular, I made it clear to Senator Cruz, whom I have known for years, before the Joint Session of Congress, that if he proceeded to object to the Electoral count of the legitimate slates of delegates certified by the States, I could no longer support him.
"In moments like this, all freedom loving Americans must put the survival of our democracy above loyalty to any party or individual." Newsweek has contacted Sen. Cruz's office for comment. This article will be updated with any response.
The Texas Republican has faced several calls to resign, and a potential boycott from business donors, after he was hit with criticism for his leading role in Republican attempts to block the confirmation of President-elect Biden's election victory.
The Popular Information newsletter reported on Sunday that the hotel giant Marriott International and Blue Cross Blue Shield, a health insurance firm, would no longer make donations to GOP objectors. The investment bank Citi also told employees that it would not "support candidates who do not respect the rule of law" in a memo.
Releasing a damning editorial on Friday, the Houston Chronicle's editorial board called on Sen. Cruz to step down from the upper chamber.
"We're done with the drama. Done with the opportunism. Done with the cynical scheming that has now cost American lives," the local newspaper said. "Resign, Mr. Cruz, and deliver Texas from the shame of calling you our senator."
A number of Democratic lawmakers have also called for Cruz and his fellow GOP objector Sen. Josh Hawley of Missouri to resign from their posts in the Senate.
"Any Senator who stands up and supports the power of force over the power of democracy has broken their oath of office," Sen. Patty Murray (D-WA) said last week. "Senators Hawley and Cruz should resign."