Ted Cruz Apologizes For Cancun Trip On SNL—'Sorry, I'm Pretty Bad At Human Stuff'
Saturday Night Live mocked Sen. Ted Cruz for flying to Cancun, Mexico while Texas was in the midst of a historic winter crisis.
Last night's episode opened with singer Britney Spears, portrayed by Chloe Fineman, hosting a show called Oops... You Did It Again, giving Cruz and other guests the chance to apologize for things they have done wrong.
"You all know me from my upbeat Instagram videos and the word 'conservatorship,'" Fineman's Spears said, adding that she has been receiving hundreds of apologies a day since the Framing Britney Spears documentary aired.
Out came Aidy Bryant as Cruz, wheeling a suitcase and with a cocktail in hand. "Hola, everyone," she said. "I'm not tan. I just cried myself red over my fellow Texans and that's why I drink in their honor."
Fineman's Spears then noted Texas was going through a huge crisis right now and that Cruz "literally abandoned it and flew to Cancun."
"Now I'm in a little bit of hot water, which I'm told is a thing no one in Texas has," Bryant's Cruz replied.
The Republican senator came under intense criticism over his jaunt to Mexico this week, while Texans suffered through a severe winter storm that left parts of the state without power. He drew further fire after issuing a statement that said his daughters had pushed for the trip.
Fineman's Spears asked if Cruz would like to apologize.
"I deeply regret my actions over the last couple of days," Bryant's Cruz said in response. "Mostly, flying United."
Bryant's Cruz added: "I'm sorry, I'm pretty bad at human stuff."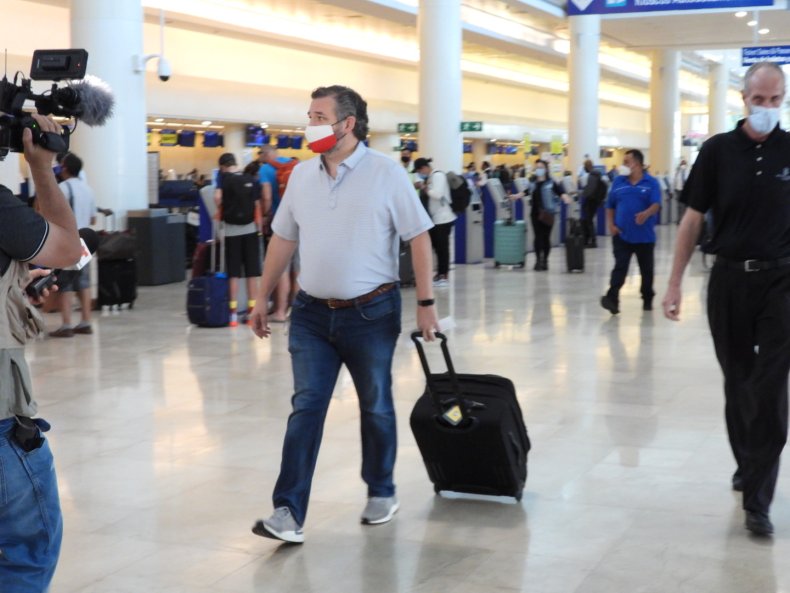 "So you understand why people are calling you a coward?" Fineman's Spears asked.
"Yeah, coward is actually the nicest word I heard. But let me ask you this... would a coward have the cojones to blame his actions on his young daughters?" Bryant's Cruz said.
"Oh yeah, the whole trip was 'the girls idea.' They love Cancun. There's so much for kids to do, the topless beach, shots at Señor Frogs, swimming with sick dolphins... they love it."
Fineman's Spears then said: "Well, as someone who was often blamed for other people's problems at a young age, maybe leave your daughters out of it because it could really mess up with their heads."
The other guests brought in by Fineman's Spears were New York Gov. Andrew Cuomo, played by Pete Davidson, and Gina Carano, played by Cecily Strong. Carano was fired from Disney+ series The Mandalorian following a controversial social media post.