GOP Senator Ted Cruz of Texas is calling for all service members who refuse to get the COVID-19 vaccine to be granted an honorable discharge under new legislation introduced.
Cruz and 13 of his Republican colleagues sponsored the Allowing Military Exemptions, Recognizing Individual Concerns About New Shots (AMERICANS) Act, which will require the secretary of defense to make an effort to retain unvaccinated service members. This comes as all U.S. military services have begun disciplinary actions and discharges of troops for vaccine noncompliance.
Cruz said the proposed bill is a counter to the Biden administration's efforts to "coerce and punish service members who decline the COVID-19 vaccine."
"It is absolutely unacceptable that the Biden administration is trying to coerce our men and women in uniform to violate their conscience and religious beliefs, let alone on an issue as polarizing as the COVID-19 vaccine," Cruz said in a statement. "The AMERICANS Act will ensure that these and similar efforts to politicize our military on this issue are blocked."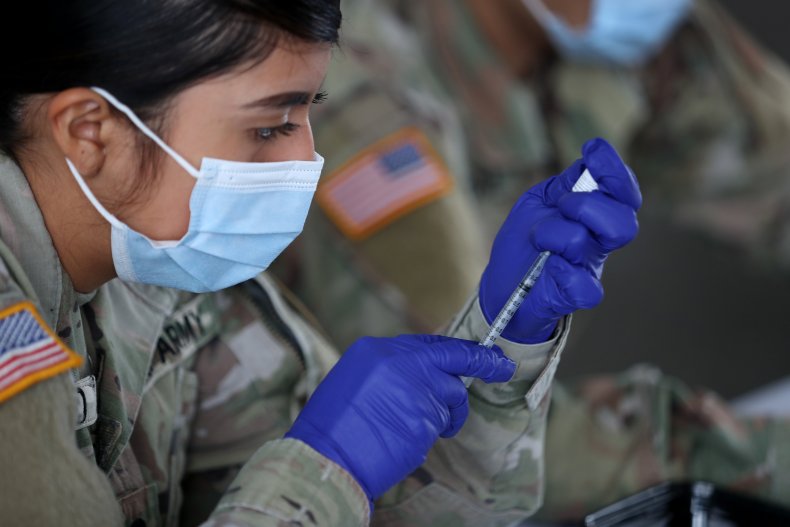 The AMERICANS Act would also protect service academy students and Reserve Officers' Training Corps (ROTC) members as well.
About 3,400 troops have already been involuntarily separated from service for refusing to get the COVID vaccine, Military Times reported.
The proposed bill will also hold the Department of Defense responsible to report the number and type of COVID vaccine religious exemptions that have been denied. While the mandate does include a religious liberty exemption, few have been granted.
As of March 10, 3,760 active-duty Army members had requested religious exemptions from the COVID vaccine mandate. Only one request has been approved, according to Army Times.
The Marine Corps had received religious exemption requests from 3,538 members as of February 3. Although they were the first branch to approve such an exemption, only three requests have been granted, according to Marine Corps Times. At the same time, USNI News reported the Navy conditionally approved its first exemption of 3,369 active-duty requests, and the Air Force approved nine of a reported 12,623 requests, according to Air Force Times.
Army officials argue that unvaccinated troops pose a risk to fellow service members and the public if they are deployed.
"Army readiness depends on Soldiers who are prepared to train, deploy, fight and win our nation's wars," said Secretary of the Army Christine Wormuth in a February statement. "Unvaccinated Soldiers present risk to the force and jeopardize readiness. We will begin involuntary separation proceedings for Soldiers who refuse the vaccine order and are not pending a final decision on an exemption."
Last week, an Army officer was convicted in a first-ever court-martial for violating COVID protocols. However, the judge declined to impose punishment.
Similarly, last month an Air Force Reserve lieutenant colonel who was relieved of duty after refusing to get the COVID vaccine for religious reasons filed a complaint challenging his consequences. Although the Supreme Court ruled against intervening with disciplinary actions against him, three conservative justices said that would have granted the lieutenant's request to block the Pentagon from disciplining him.
Newsweek reached out to Cruz for comment.