Ted Cruz Calls Out Neighbors for Leaking Cancun Trip Texts: 'Don't Be ***holes'
Senator Ted Cruz called out his neighbors for leaking text messages inviting them to join a controversial family trip to Cancun, Mexico, while millions of Texans remained without electricity and water last week during severe winter weather.
The Texas Republican received swift backlash after photos of him boarding a flight last Wednesday to the tourist hot spot with his family circulated online. Responding to the criticism, Cruz quickly booked a return flight to Texas for the next day, saying he had been trying to be a "good dad." But the backlash persisted, with Democrats and some Republicans strongly criticizing the senator's judgment and actions.
During a Tuesday episode of the conservative Ruthless podcast, Cruz discussed the negative reaction to his trip and took aim at his neighbors. He suggested that Democratic neighbors may have been the ones who leaked the text messages to the media. The senator started out the interview by sarcastically saying he'd had a "calm and uneventful" week with "not much of anything going on."
"I will say [my wife] Heidi's pretty pissed at that," Cruz said of the leaked text messages. "She actually was over at a neighbor's house walking through—so she texted several of our neighbors. Now look, our neighbors, we've got a number of Republicans who are neighbors, but we also have a number of Democrats."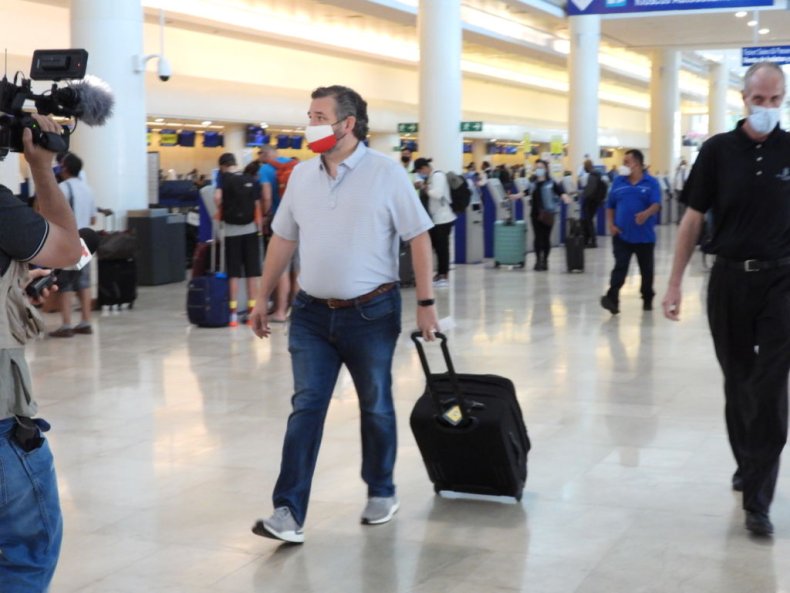 He added, "You know, we have folks on our street who put up Beto [O'Rourke campaign] signs, which I thought was a little rude. But you know, I didn't, like, hold a victory party in their front yards when we won." O'Rourke, a former Democratic representative for Texas, unsuccessfully challenged Cruz in a bid for his Senate seat in 2018.
Cruz said his neighbors' actions were "a sign of how ridiculously politicized and nasty" things have become. "You know, here's a suggestion—just don't be ***holes. Just, you know, treat each other as human beings. Have some degree, some modicum of respect," he said. The GOP senator went on to say that he and his wife have "lots" of friends who are Democrats.
Newsweek reached out to Cruz's press secretary for further comment but did not immediately receive a response.
As The New York Times reported, Heidi Cruz sent text messages to friends and neighbors in Houston last week inviting them to join the family on an escape to Mexico amid the extreme winter weather and an electrical grid failure across Texas. She suggested they could stay at the Ritz-Carlton in Cancun, where the rooms were going for $309 per night. Heidi Cruz noted that her family had stayed at the hotel "many times" before.
Democrats strongly criticized Cruz, who had already been widely condemned for leading an unsuccessful effort in Congress to formally object to President Joe Biden's Electoral College victory. Some Republicans called out the GOP senator's trip to Mexico as well.
"Look, when a crisis hits my state, I'm there. I'm not going to go on some vacation," GOP Representative Michael McCaul of Texas told CNN on Sunday.
"I know Mr. Cruz called it a mistake and he's owned up to that, but I think that was a big mistake. And as for me, I was on the ground trying to help my people out and my constituents, and that's what we should be doing in a time of crisis," McCaul added.