Texas Party Store Sells Ted Cruz Piñatas After Cancun Fiasco
A party store in Dallas has begun selling piñatas of Senator Ted Cruz designed to look as the Republican lawmaker appeared in now-viral photos during his return trip from Cancun last week.
The Texas Republican received significant backlash after he and his family decided to travel to the Mexican tourist destination while millions of Texans were without power and water amid severe winter weather conditions. After news of his Wednesday afternoon escape to Mexico broke, Cruz quickly booked a return trip to Texas and apologized. However, the mockery and memes have persisted, and now ABC Party HQ in Dallas has gotten in on the action.
"We just see it as something trending in the news, and want to provide a good laugh for people during these difficult times," Carlos De La Fuente, one of store's owners, told Newsweek Tuesday morning. Local station NBC News 5 DFW first reported on the Cruz piñatas.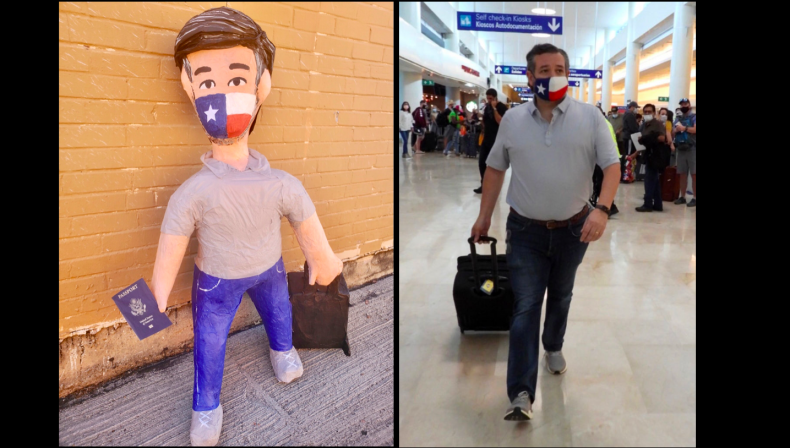 The piñata depicts Cruz wearing the gray polo shirt, jeans, gray sneakers and Texas flag mask he was photographed wearing on his return trip from Cancun last week. He's holding an American passport in one hand and pulling a rolling suitcase with the other. It stands about three and a half feet tall and sells for $100. Those interested in purchasing the piñata need to place a preorder and be prepared to wait up to two weeks for it to be finished.
ABC Party HQ previously made piñatas of Senator Bernie Sanders, a Vermont independent, and former President Donald Trump.
"ABC is always trying to stay on top of what is trending on social media or the news," De La Fuente explained. He said that the store has already seen a lot of preorders for the Cruz piñata.
Newsweek reached out to Cruz's press secretary for comment but did not immediately receive a response.
The Sanders piñata came after photos of the progressive lawmaker sitting at President Joe Biden's inauguration went viral online. Those piñatas featured Sanders wearing a blue mask, a green winter jacket and now-iconic knit mittens that led to a flurry of memes and online jokes during and after the January 20 ceremony.
Back in 2015, the store released a Trump piñata as well after the former president launched his first presidential campaign. De La Fuente previously told local ABC News 8 WFAA that he sold thousands of the Trump piñatas "all across the country." Last year, the store released COVID-19 piñatas designed to look like the spiky coronavirus cells as well.