Trevor Noah Lambasts Ted Cruz for 'Lame Photo Ops' After Cancun Fallout
Ted Cruz provided endless fodder for late-night comedy last week—and the senator's Cancun misstep is still giving mileage to comedians and talk show hosts.
In Monday night's edition of The Daily Show, Trevor Noah focused on Cruz's behavior after the Mexico debacle, when he arrived back in his hometown and attempted to salvage his reputation among his fellow Texans.
Cruz was photographed at the airport last Wednesday boarding a flight to Cancun while millions of Texans endured power outages in bitter winter weather. After a backlash, the lawmaker flew back early from his family vacation, saying he had only gone at the request of his daughters.
"After getting blasted for flying to Cancun when his own heat went off, Ted Cruz, Texas senator and Disney prince before true love's kiss, is now back in his home state doing the literal bare minimum for the sake of the cameras," Noah began.
Cruz spent last weekend handing out water and helping other relief efforts in the state ravaged by freezing temperatures and power outages, but critics branded his actions "fake compassion."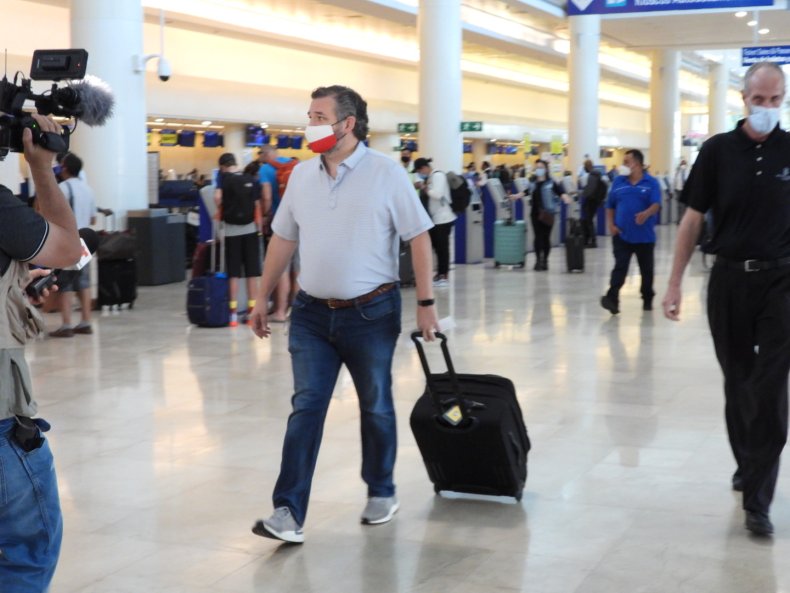 "Sorry, Cruz. This is not gonna cut it, my man," Noah said. "See, this right here? This is the politician version of coming home with flowers the day after Valentine's Day. It's not nothing—but your ass is still sleeping on the couch. And honestly, I don't know why politicians try to pull off these lame photo ops. They basically just turn people who actually need real help into political props."
Cruz visited a number of sites in Houston over the weekend, delivering bottled water to residents and providing food to first responders.
Social media posts showing the senator wearing a face mask and loading bottles into the trunk of a car were greeted with derision on Twitter.
"My constituents made me cut short my Vacation to Cancun and all I got was to be shamed into carrying their water," actress Patricia Arquette tweeted in reply to the photos posted by Cruz with the hashtag #TexasStrong.
"It was obviously a mistake and, in hindsight, I wouldn't have done it," Cruz said of the Cancun trip.
"I understand why people are upset," Cruz told reporters outside his home last Thursday. He added that, despite his desire to be "a good dad" to his daughters, "leaving when so many Texans were hurting didn't feel right, and so I changed my return flight and flew back on the first available flight."
"I began really second-guessing that decision and saying, look, I know why we're doing this, but I've also got responsibilities, and it had been my intention to work remotely, to be on the phone, be on internet, to be on Zoom, to be engaged," he said. "But I needed to be here, and that's why I came back."