How Ted Cruz Contradicted Sean Hannity's Defense of Cancun Trip
Ted Cruz contradicted Sean Hannity's own defense of his controversial trip to Mexico last week—after the Republican senator admitted he only flew back to Texas after the public backlash.
Cruz's initial explanation of the trip saw him backpedal by saying he was dropping his daughters off at the beach to avoid the freezing temperatures in Texas.
However, he later admitted to NBC on Thursday that he had intended to stay at the vacation resort for longer but returned after the outcry against him.
"It was obviously a mistake, and in hindsight, I wouldn't have done it," Cruz said outside his home after he returned to Houston.
"I understand why people are upset," Cruz said. He explained the situation about his daughters but that "leaving when so many Texans were hurting didn't feel right, and so I changed my return flight and flew back on the first available flight."
"I began really second-guessing that decision and saying, look, I know why we're doing this, but I've also got responsibilities, and it had been my intention to work remotely, to be on the phone, be on internet, to be on Zoom, to be engaged," he said. "But I needed to be here, and that's why I came back."
Cruz acknowledged that the backlash led him to cut his trip short.
"As it became a bigger and bigger firestorm, it became all the more compelling that I come back," he said. "I didn't want all the screaming and yelling about this trip to distract even one moment from the real issues Texans care about, which is keeping all of our families safe."
However, following Cruz's own admission, Sean Hannity pushed his earlier excuse about dropping off his daughters on his own show on Thursday night.
Cruz "is facing the ire of the mob, the media, for traveling to Cancun, Mexico, with his daughters, to drop them off and come home, as Texas is still addressing the fallout and damage from severe weather," Hannity said, attempting to lend a kinder angle to the story which saw much outrage directed at the politician.
"You went and you took your daughters to Cancun and you came back," Hannity said. "I think you can be a father and be the senator of Texas all at the same time and make a round-trip, quick drop-off, quick trip, and come home."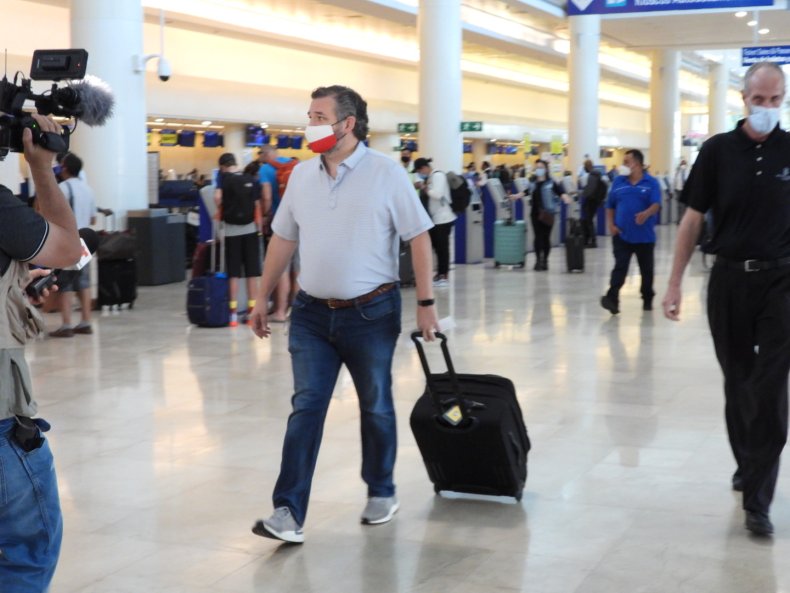 While Cruz didn't bluntly correct Hannity, he did admit to the anchor: "I had initially planned to stay through the weekend, but as I was heading down there, you know, I started to have second thoughts almost immediately because the crisis here in Texas, you need to be here on the ground."
Meanwhile, Saturday Night Life had a field day with Cruz's Cancun debacle at the weekend, with comedian Aidy Bryant impersonating the politician.
"Hola, everyone," Bryant mocked while wheeling a suitcase. "I'm not tan. I just cried myself red over my fellow Texans and that's why I drink in their honor."
"I deeply regret my actions over the last couple of days," Bryant's Cruz later joked. "Mostly, flying United. I'm sorry, I'm pretty bad at human stuff."