Ted Cruz Cancun Trip Prompts Wave of Mexico Border Wall Jokes
Ted Cruz is being lambasted on social media for supporting Donald Trump's border wall after he fled to Mexico in the middle of a humanitarian crisis, with Texas hit by freezing temperatures and continuing blackouts.
The senator found himself at the center of a media frenzy on Thursday after photos of him traveling to Cancun amid the disaster emerged, garnering widespread condemnation.
"Heidi and me, we lost power for two days," Cruz told Fox News's Sean Hannity. "Our house was dark. We had no heat.
"We were all huddled around the fireplace because it was the only heat in the house, and after a couple of days of the girls being really cold and it being in the teens in the twenties outside, our girls said 'Look, school has been canceled for the week. Can we take a trip and go somewhere warm?'"
"And Heidi and I, as parents, we said 'Okay, sure.'"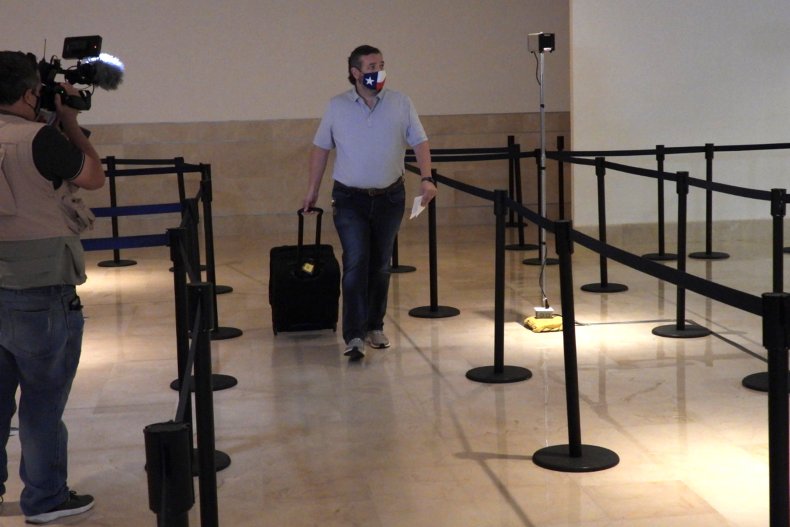 "And so last night I flew down with them to the beach and then I flew back this afternoon," he went on. "I had initially planned to stay through the weekend, but as I was heading down there, you know, I started to have second thoughts almost immediately because of the crisis here in Texas, you need to be here on the ground."
However, legions of Twitter users have pointed out that Cruz fled to Mexico when things got tough in his home of Texas, despite always being a staunch supporter of Trump's infamous anti-immigration wall.
In 2019, Cruz publicly stated that he wanted to make convicted Mexican drug lord Joaquin "El Chapo" Guzmán fund the wall.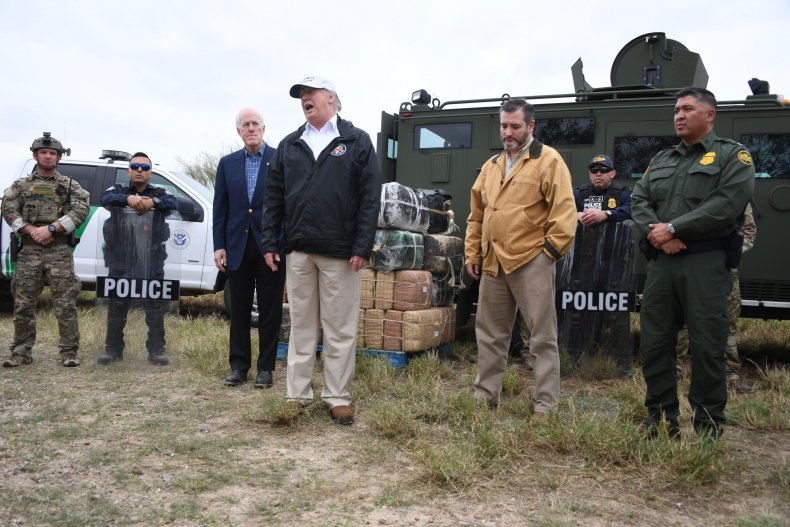 "Fourteen billion dollars will go a long way to secure our southern border and hinder the illegal flow of drugs, weapons and individuals," the senator said at the time.
"Ted Cruz wants to build a wall but fled to Mexico when his state lost power," tweeted author Ari Berman.
Film director Jeremy Newberger joked: "With Ted Cruz over in Mexico, now would be a good time to build that wall."
Actor Josh Charles of The Good Wife fame tweeted: "If Ted Cruz is still in Mexico I fully support building the wall now to prevent his return."
While actress Rosanna Arquette added: "Texans need to build a wall around Ted Cruz so he can't hurt them any more."
"Relax," writer Michael Harriot tweeted. "Ted Cruz was probably just headed to pick up Mexico's payment for the border wall."
Activist Erin Brockovich joked that she would now be open to a wall to keep Cruz in Mexico.
"If @tedcruz had gone to Cancun he can stay there and I would now be open to a wall #illpayforit," she tweeted.
Host Chip Franklin tweeted: "What's that sound? Sounds like a chorus of Mexicans demanding a wall... high enough so Ted Cruz can't fly over it."