Alyssa Milano, Kathy Griffin and Other Celebrities Condemn Ted Cruz For Cancun Trip
A number of celebrities have condemned Ted Cruz after photos emerged online appearing to show the Texas Senator traveling to Cancun, Mexico while millions of Texans have been left without power or heat in freezing temperatures.
The Republican Senator, 50, is garnering much vitriol online, after rumors about the trip began circulating on social media earlier today.
Photos appear to show the Senator at an airport and on an airplane and have been widely shared on Twitter.
"Just confirmed @SenTedCruz and his family flew to Cancun tonight for a few days at a resort they've visited before," tweeted former MSNBC anchor David Shuster. "Cruz seems to believe there isn't much for him to do in Texas for the millions of fellow Texans who remain without electricity/water and are literally freezing."
The Associated Press subsequently reported that an anonymous source confirmed to it that Cruz had travelled to Cancun. Cruz's office has not publicly commented on the photos and has not responded to Newsweek's request for comment.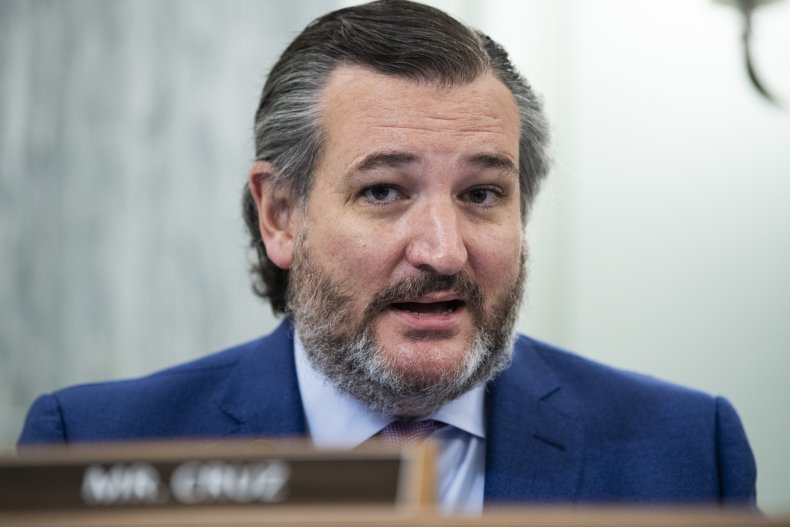 The photos have incurred much outrage from a number of celebrities who are using their platform to decry the Senator's behavior.
"While @tedcruz was flying to Cancun @BetoORourke was actually in Texas making wellness-check- phone-calls," tweeted Charmed star Alyssa Milano.
"I know this because I was on the zoom—also making calls— and watching him work his ass off for his fellow Texans." She added: "We need more leaders who lead from a place of love."
Responding to a photo that allegedly shows Cruz seated on a plane, actress Patricia Arquette added: "It's been reported that Texas Senator Ted Cruz is flying to Cancun as his state freezes over and people die. Meanwhile-."
"Ted Cruz tweeting a glowing tribute to Rush Limbaugh from a resort in Cancun (where he flew tonight while his constituents are literally freezing to death) is peak @GOP," said Padma Lakshmi.
Actor Colin Hanks wrote: "The internet: we are going to spend the whole entire day talking about what an asshole Rush Limbaugh was. Ted Cruz: Hold my cerveza."
Singer Richard Marx tweeted: "Wow!!! I mean...we all knew he was a pus-filled hemorrhoid of a f********, but...WOW!"
"lookit this absolute worm," said Ratatouille actor Patton Oswalt about one of the alleged photos of Cruz.
"SERIOUSLY, F*** THIS GUY," said comedian Kathy Griffin. "I know. I know. Nobody wants to f*** Ted Cruz. It's a figure of speech."
While author Don Winslow tweeted: "Dear Texas, I know half of you know this, but for the other half... @BetoORourke was the one you should have elected instead of @tedcruz. Because Beto is the one who actually loves Texas and Texans."
Actress Rosanna Arquette tweeted: "Ted Cruz is warming himself in Cancun with his cohorts while the people he is meant to serve in Texas freeze. People are afraid, hungry cold .he is not fit to serve the American people in any way shape or form .he is a disgrace."