Ted Cruz Says Violence Is 'Only' Solution to Violence, Defends AR-15s
Reiterating his stance against gun control, Republican Senator Ted Cruz said that the "only" solution to violence is violence.
Cruz appeared at the Texas Tribune Festival in Austin on Saturday, discussing mass shootings and gun control with moderator David M. Drucker of the Washington Examiner and various members of the audience. Echoing common GOP sentiments, Cruz argued that gun control laws do not help prevent violence and only serve to take firearms from citizens who obey the law.
"If the objective is to stop these crimes, gun control is singularly ineffective," Cruz said. "When you disarm law-abiding citizens ... [they] give up their weapons. The criminals don't."
Cruz was repeatedly booed by members of the audience as he responded to questions about what he would do to address mass shootings. The senator spoke in support of assault weapons, including AR-15s, the infamous firearm that has been used in numerous shootings, including the ones that took place at Sandy Hook Elementary School in 2012 and Stoneman Douglas High School in 2018.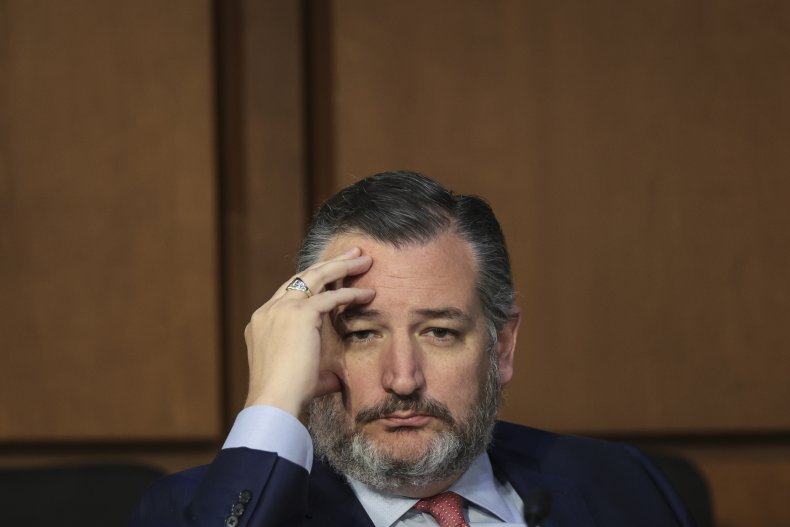 In support of the weapon, Cruz cited the shooting at the First Baptist Church in Sutherland Springs, Texas, in 2017, the deadliest in the state's history. Nearby resident Stephen Willeford responded to the incident with his own rifle and is credited with helping end the incident which killed 26 people and an unborn child.
"The weapon that Stephen used to stop that was an AR-15," Cruz said.
The conversation around gun control in the U.S. was reignited in May when an 18-year-old man entered Robb Elementary School in Uvalde, Texas, and opened fire with an AR-15, killing 21 students and staff members, and himself. Cruz was among the Republicans to call for enhanced security at schools in response to the incident, including armed guards and fewer entrances.
In response to another audience member who said "violence doesn't solve violence, Cruz added, "It actually is the only thing that does."
Late last month, President Joe Biden publicly reiterated his support of a full ban on assault weapons in the U.S., following the passage of a bill in the U.S. House that would do just that. Biden also invoked his past support of assault weapon bans, as he served in the Senate in 1994 when the last ban was passed. The ban ended in 2004 and was not renewed or replaced.
"I'm determined to ban assault weapons in this country," Biden said. "Determined. I did it once, and I'll do it again... It's time to hold every elected official's feet to the fire and ask them, are you for banning assault weapons? Yes or no? Ask them. If the answer's no, vote against them."
Newsweek reached out to the White House for comment.