Video Comparing Trump's, Biden's Wilkes-Barre Crowds Viewed Over 1.1M Times
A video comparing the size of the crowds at Donald Trump's and President Joe Biden's rallies this week in Wilkes-Barre, Pennsylvania, has gained 1.5 million views on Twitter as of Sunday morning.
The video, which was posted by Newsmax host Benny Johnson, showed a packed venue with Trump supporters cheering for the former president as he approached the podium. The footage then cuts to a clip moments later to show Biden addressing what appears to be a small crowd in his home state.
The ex-president was holding the Wilkes-Barre campaign rally on Saturday along with endorsees Dr. Mehmet Oz and Doug Mastriano to attract Republican voters ahead of November's midterms. The celebrity physician is the Republican Senate nominee for Pennsylvania who is up against Democratic rival John Fetterman, while Mastriano is running against Democrat Josh Shapiro for governor.
Meanwhile on Tuesday, Biden spoke about his plans to address gun violence and crime, during a speech that was also held in Wilkes-Barre. The president also criticized Republicans for opposing his proposal to restore a ban on assault weapons, urging voters to "vote against" lawmakers who are against the ban.
The video posted by Johnson also gained different reactions on Twitter with some users criticizing the comparison and pointing out that the crowds' sizes don't matter as much as the achievements made by both men and the Democratic and Republican parties.
"Congratulations. You're in a cult. But remember - while you guys show up dripping in MAGA merch, and wearing American flag onesies, that the guy whose rallies aren't a circus themed spectacle, kicked the other guy's ass in the 2020 election. And if he has to, he'll do it again," Twitter user @JoJoFromJerz wrote.
Additionally, user @jdubbonfire tweeted: "I'm okay with my party not worshipping it's leaders. We send them to DC to do a job. I don't need them to even be super great employees. I just need them to to the job we sent them there to do, and I'm content with the job they're doing, under the circumstances."
During his first rally since the FBI searched his Mar-a-Lago residence last month to retrieve classified White House documents, Trump criticized the federal agency, Biden, and the Department of Justice (DOJ).
He told his supporters that Biden is "an enemy of the state and branded the DOJ as "vicious monsters."
"The FBI and the Justice Department have become vicious monsters. controlled by radical left scoundrels lawyers and the media who tell them what to do—you people right there—and when to do it," the former president said.
Biden and Trump saw an uptick in popularity in recent weeks for different reasons. A FiveThirtyEight poll published on Friday showed that Biden's approval rate increased to 42.7 percent after hitting a low of 37.5 percent in July. The new poll numbers come after Biden signed a bipartisan gun safety bill in June, announcing that the United States killed Al-Qaeda leader Ayman al-Zawahri in August, and most recently revealing a student loan forgiveness plan that will help some American borrowers.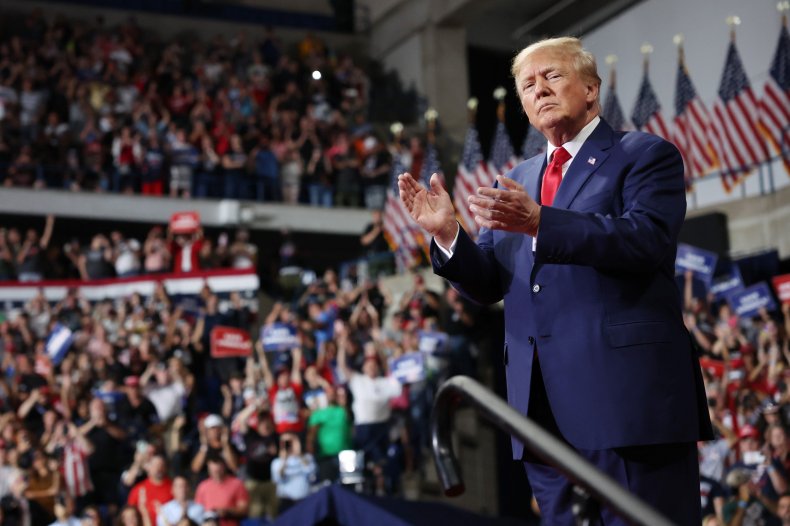 Meanwhile as Trump continues to dominate the news since the FBI raid, his popularity recently saw an uptick in several pollsters, but it hasn't climbed "through the roof" as he claimed recently without mentioning the polls he was referring to.
The National Tracking Poll published by Politico for August 10, showed that 57 percent of 2,004 registered voters surveyed said they would vote for Trump in the 2024 primaries, a figure that increased by 4 percent from the prior month. Meanwhile an NBC poll released for August 21 found that 41 percent of Republican or Republican-leaning participants backed the former president after the raid, compared to 34 percent in May.
Newsweek reached out to the White House and Trump's office for comment.