Ted Nugent Proposes In-School 'Commandos' as Mass-Shooting Solution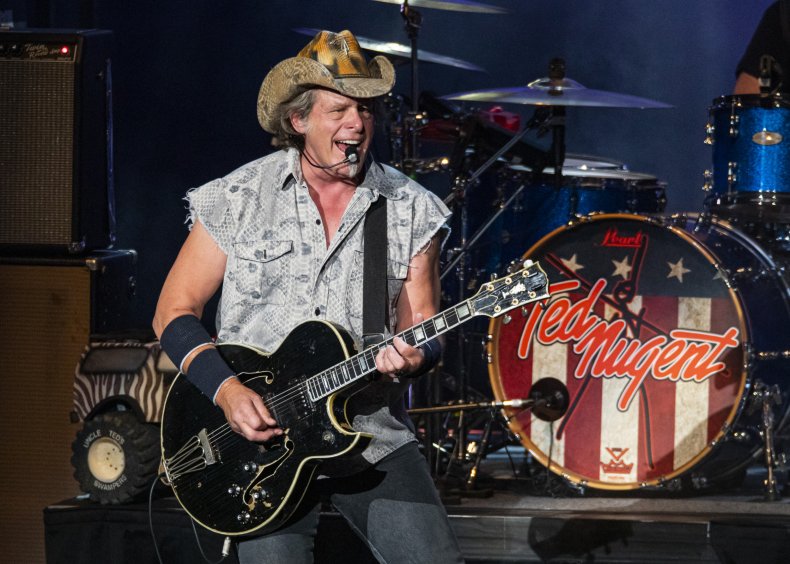 Rock musician and conservative activist Ted Nugent has blasted efforts to tighten gun laws, while suggesting that "commandos" inside of schools could be a better way to combat mass shootings.
Nugent made the proposal during an interview on the Friday edition of Newsmax TV's Eric Bolling The Balance. The Republican rocker, a former board member of the National Rifle Association and longtime opponent of gun control, blamed school shootings on "the freak in the White House" and a "culture of depravity" before arguing that reducing the number of doors at schools and installing a militarized law enforcement officer inside of each school could be a solution.
"Secure the damn schools," said Nugent. "I mean, one point of entrance, all other entries locked. Have a real commando. I mean a real tuned-in guy that's trained in tactics and firepower and criminality. And have him looking for trouble. Not kind of casually walking around."
"Have a commando that values those children's lives," he added. "And have this commando—well trained, tactical-capable individual—looking for trouble and stopping it before it [starts]."
Nugent went on to praise "the great" Sheriff Carmine Marceno of Lee County, Florida, for having "the perimeters secured in his schools." Marceno, who calls himself "Florida's Law and Order Sheriff," has recently faced criticism for displaying the mugshot and "perp walk" of a 10-year-old boy he arrested for what he called a "fake threat" to his elementary school.
Nugent also accused actor Matthew McConaughey of being "clueless" for speaking out in favor of strengthening gun laws in the wake of last month's deadly mass shooting at Robb Elementary School in the actor's hometown of Uvalde, Texas.
During a speech at the White House earlier in the week, McConaughey argued that passing laws to address mass shootings "should not be a partisan issue," maintaining that there was "not a Democratic or Republican value in one single act of these shooters" and that lawmakers had "failed to act" due to partisanship.
Nugent said that the proposals McConaughey supports—which include "red flag" laws, tougher background checks, longer waiting periods and raising the age required to purchase an assault rifle from 18 to 21—would "not save one life."
"He has no answers," said Nugent. "It's all feel-good, emotional stuff from an insulated, distant Hollywood perspective. And I know that he's not your typical, you know, disconnected Hollywood celebrity. Because he lives here in Texas, he likes to hunt, he has guns."
Nugent ended his interview on Friday by lashing out at "the left," for allegedly claiming that "the gun owners of America ... somehow don't have empathy," saying that he and his wife "cry tears of blood" after each mass shooting.
"We have actually recommended systems by which lives could have been saved," said Nugent. "They reject it because they're not interested in saving lives. They want to disarm America for their last, total control maneuver."
Newsweek has reached out to Nugent for additional comment.