Matthew McConaughey to Fox Host: 'This Time Is Different' for Gun Debate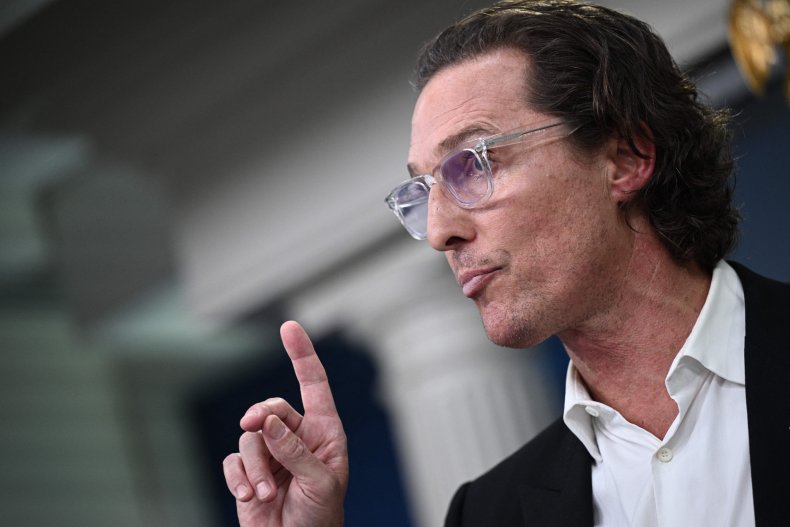 Actor Matthew McConaughey asserted the mass shooting at Robb Elementary School in his hometown of Uvalde, Texas, has prompted a "this time is different" movement in the gun debate.
McConaughey said that the "consensus" in Washington, D.C., appeared to be in favor of reforming gun laws during a Fox News interview with Bret Baier on Tuesday. The interview came after the Uvalde-born actor delivered a passionate speech calling for "responsible" gun ownership and new gun restrictions that mirrored many of President Joe Biden's proposals from the White House earlier in the day.
"The consensus word that I'm hearing is that ... this time is different," McConaughey said when asked whether he believed gun control could pass despite hitting roadblocks after previous mass shootings. "That there is some forward momentum."
"That on the right there are some things they are willing to not staunchly say 'no' to," he added. "That on the left, they're willing to say 'you know what, we may want the whole loaf but we'll take a slice.'"
McConaughey went on to say that he had been told "this is a novel and special time happening right now, where actually something may change instead of just talking about it and nothing changes again for another 30 years."
The actor outlined specific gun control measures that he was in favor of during his White House speech on Tuesday and in an opinion article published by The Austin American-Statesman on Monday.
Proposals that he has backed include stronger background checks, "red flag" laws, raising the age required to purchase assault rifles and adding a waiting period following the purchase of assault rifles.
"There is no constitutional barrier to gun responsibility," McConaughey said in the article published on Monday. "Keeping firearms out of the hands of dangerous people is not only the responsible thing to do, it is the best way to protect the Second Amendment. We can do both."
"This is not a choice between guns or no guns," he continued. "It's the responsible choice. It's the reasonable choice."
During his White House speech, McConaughey choked up as he recalled meeting grieving parents on the day after the shooting, detailed gruesome details about how some of the bodies were identified and read out some of the names of the 19 children and two adults who were killed on May 24.
McConaughey argued that passing laws to address mass shootings "should not be a partisan issue," saying that there was "not a Democratic or Republican value in one single act of these shooters" but lawmakers had "failed to act" due to partisanship.
"Can both sides see beyond the political problem at hand and admit that we have a life preservation problem?" asked McConaughey. "We've got a chance right now to reach for and to grasp a higher ground above our political affiliations."
Newsweek reached out to McConaughey's representative for comment.