Teen Says He Was Fired After Taking Sunday Off for Church: 'No Words'
A Texas teenager was fired after refusing to work on his day off because he was attending church, according to his mother.
Kat Reiter of Fort Worth, Texas, circulated a text exchange between her 17-year-old son and his boss through the networking service Nextdoor on Sunday. A repost later surfaced on the Reddit forum "Antiwork," racking up 16,000 votes in under a day.
Reiter said her son Nick had worked hard during his summer job at Splash Kingdom Wild West, a waterpark in Hudson Oaks, Texas, even earning a $1 hourly raise after one week. At the time he was hired, he arranged with the employer to take off every Sunday for church, she said.
"He was hired as a lifeguard but did other roles such as helping fix slides and clean up the park," Reiter told Newsweek.
The summer job market is particularly hot for teens this year, as the U.S. continues to struggle with a labor shortage. In April 2022, teens made up 9.3 percent of new hires among companies analyzed by human resources platform Gusto, up from 7.7 percent in April 2021 and 2.0 percent in April 2019. Meanwhile, the share of new hires between ages 25 and 54 fell from 75.3 percent in 2019 to 62.9 percent this year.
"I have no words," Reiter captioned her post. "My son got fired from the Christian Splash Kingdom in Hudson Oaks today because of his religious beliefs, that they even cleared when he was hired during the interview session in May. I'm so disappointed and in disbelief."
On its website, Splash Kingdom in Hudson Oaks describes itself as a "Christian Wild West-themed waterpark" with a mission to "glorify God while providing a safe and fun recreation experience for families."
The outraged mom attached the text exchange in which her son was fired.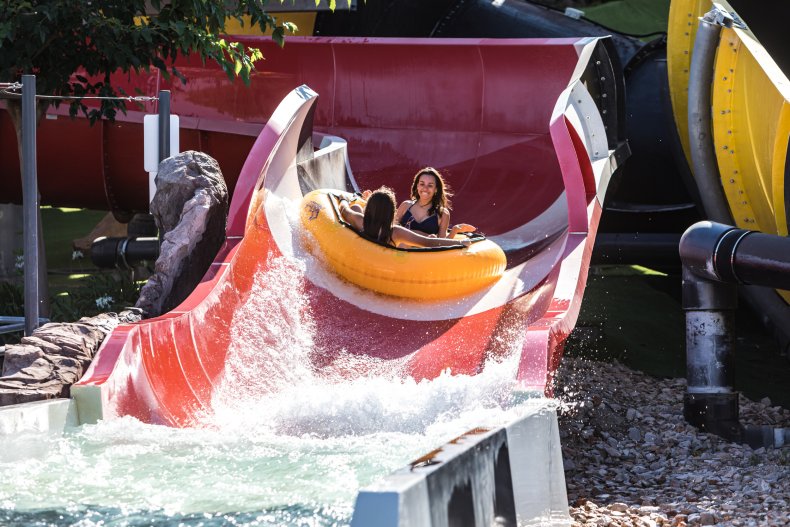 According to her images, Nick's boss said he had been written up because he did not show up to work on Sunday.
"You specifically said I didn't have to work," replied the employee.
"I scheduled for today so you have to work," said the boss.
Nick wrote, "You said all Sundays I could take off because of church. I even asked you if I needed to put it in ADP and you said you would remember."
"I did remember, but I'm already short staffed," the manager answered. "I can't give everyone Sunday off. I've had to schedule people that asked for Sundays off and they still showed up."
"Well I'm at church I can't come in," Nick texted.
Then came the boss's final message, saying simply, "Thank you for your time, but you no longer have a job at Splash Kingdom."
Reiter and her son were both "in shock and disbelief," she told Newsweek.
"My son didn't understand what he did wrong and I had to explain to him, he didn't do anything wrong," she said.
Since the firing, Reiter said she has filed a complaint with the Equal Employment Opportunity Commission (EEOC) and requested legal aid from First Liberty Institute.
The subject of religious freedoms has sparked fiery debate in the nation's courts this year.
Last month, the Supreme Court ruled that a high school coach who prayed at the 50-yard line after games was protected by the First Amendment.
And just days later, the EEOC sued a North Carolina company for firing two workers who refused to participate in mandatory Christian prayer sessions.
Newsweek reached out to Splash Kingdom for comment.
Updated 07/29/2022, 5:50 p.m. ET: This story has been updated with comments from Kat Reiter.