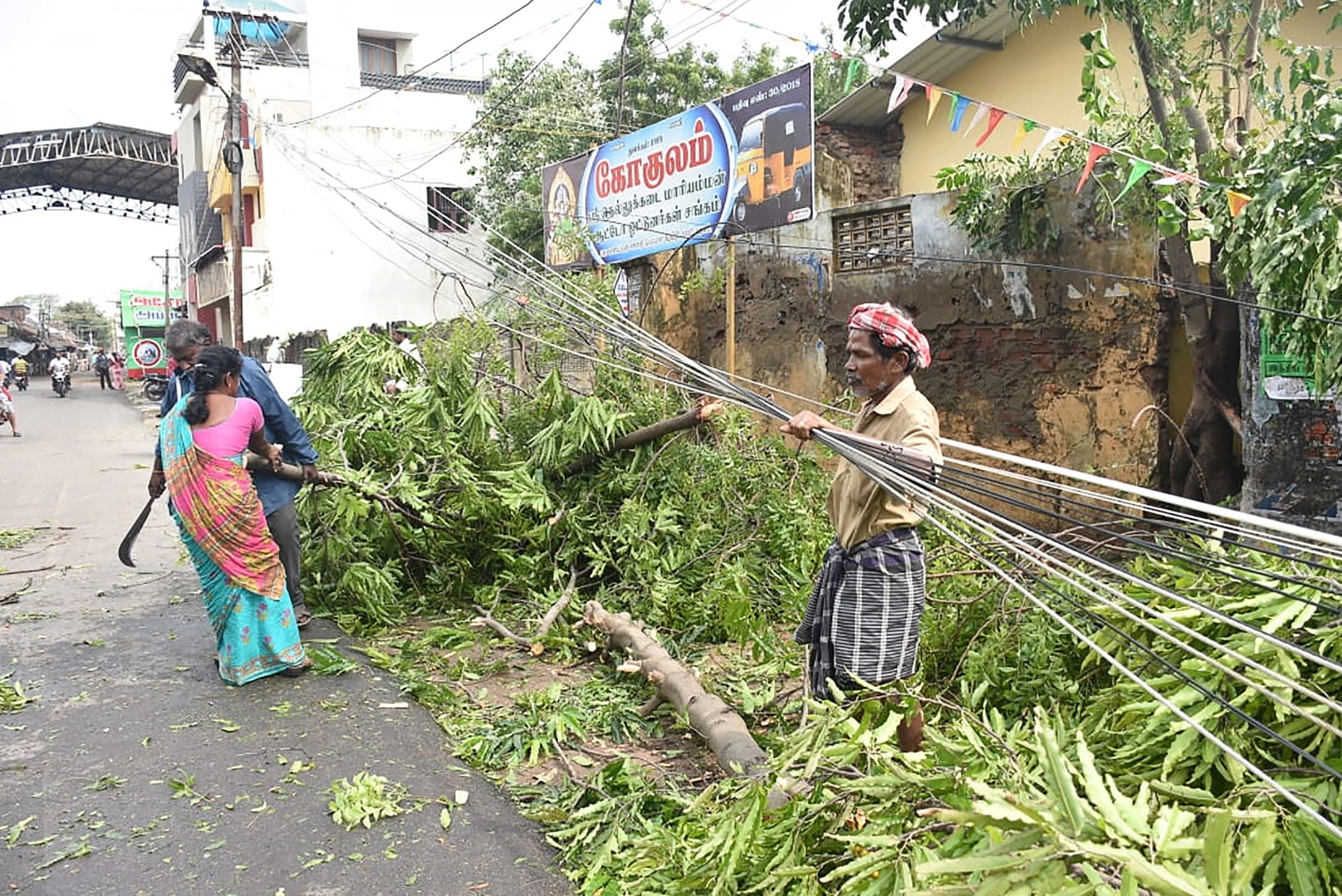 A 14-year-old girl was killed by a cyclone after being made to sleep in a hut outside her home because she was on her period.
As Cyclone Gaja tore through the state of Tamil Nadu, southern India, on November 16, the girl—identified as S. Vijayalakshmi—was unable to escape the structure, her family told BBC News.
The cyclone ripped through the state in the early hours of Friday, uprooting trees and smashing down electricity poles, according to Reuters. Before the storm made landfall, more than 80,000 people were evacuated from the area and taken to hundreds of relief camps.
Tamil Nadu chief minister Edappadi K. Palaniswami confirmed on Tuesday the cyclone had killed 46 people (via NDTV).
While Vijayalakshmi was killed by Cyclone Gaja, her family sheltered in their home next door and survived.
Her grandmother told BBC News the family was "shattered" by the death.
She had urged the family to leave their home in a coconut grove far from the village center, and seek refuge. But within hours of her warning, the cyclone made landfall.
After a coconut tree fell on the hut, it became impossible to rescue the teenager, she said. Villagers later helped the family lift the tree, but it was too late. The girl was taken to hospital, but had been dead for many hours.
Read more: India's only gay prince is opening his palace up as an LGBT sanctuary
A local activist named Veerasena told BBC News the practice of segregating menstruating women was widespread across all strata of society.
Menstruating is a taboo in conservative India, with one in five girls dropping out of school in rural areas after their periods first start. A further one-third of women and girls in India believe myths about cleanliness and purity cause them to be unfairly treated.
Jennifer Weiss-Wolf, menstrual equity activist and the author of Periods Gone Public, told Newsweek: "The impact of menstrual stigma—on health, education, economic equity, civic participation, and religious engagement—is far-reaching. And in the case of rituals like this, that exclude and segregate those on their periods, the stigma can be deadly.
"The fight for menstrual equity, which is at the heart of achieving gender equality, should matter to all of us."
Last month, police arrested thousands of people during protests attempting to block women of "menstruating age" from visiting a Hindu temple devoted to a celibate deity.
The protests were sparked by a Supreme Court ruling allowing women aged between 10 to 50 to attend the Sabarimala Temple.
This article has been updated with comment from Jennifer Weiss-Wolf.