Teenage Gorilla Getting Addicted to Screen Time on Visitor Phones, Says Zoo
Screen time for children and teens is a battlefront that many parents know well. But one Chicago zoo says it's a problem for a teenage gorilla, too.
A 16-year-old, 415-pound gorilla named Amare is developing an addiction to the smartphone screens held up by visitors at the Lincoln Park Zoo in Chicago, Illinois, the zoo says.
A growing number of people noticed that Amare enjoyed looking at photos and videos on their cell phones, said Stephen Ross, director of the zoo's Lester E. Fisher Center for the Study and Conservation of Apes. As the visitors held up their screens, the gorilla spent more and more time approaching the glass to get a closer look.
"We are growing increasingly concerned that too much of his time is taken looking through people's photos," Ross told Newsweek. "We really prefer that he spend much more time with his troop mates learning to be a gorilla."
Amare lives with three other "bachelor" teenage gorillas. Once, he was so transfixed by a screen that he was taken by surprise when another gorilla charged toward him. Although Amare is fine after that normal show of aggression between young males, Ross said that continued distraction could compromise Amare's social standing in the group and lead to "severe developmental consequences."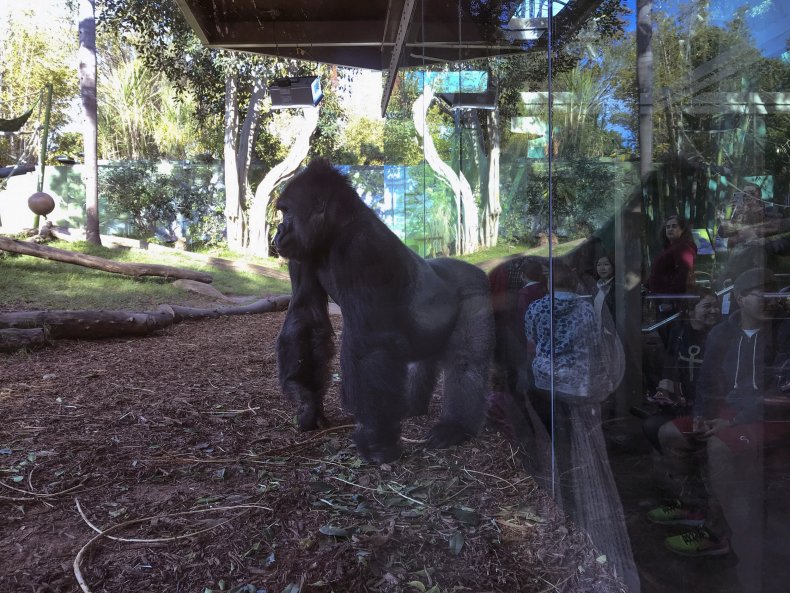 Excessive screen time among human adolescents has been tied to physical and mental health risks, multiple studies have shown, and the pandemic dramatically drove up children's time on their phones. A 2021 study led by UC San Francisco researchers found that non-school-related screen time for 12- to 13-year-old children in the United States doubled in May 2020, shooting up from 3.8 hours a day to 7.7.
Spending more time on screens raises the risk of depression and anxiety, according to Dr. Jason Nagata, lead author of the study. It is also associated with weight gain and binge eating in children and teens. Dr. Michael Rich, director of the Center on Media and Child Health at Boston Children's Hospital, has also pointed out that digital games and social media activate the brain's reward system, leading to obsessive behavior that young brains without a fully developed self-control system are particularly vulnerable to.
Ross said the reasons to limit screen time for human and gorilla teens were not terribly different. "I think most parents can relate to this," he said. "We recognize the benefits of getting out there with your friends, learning social skills, getting outside."
Staff members at the Lincoln Park Zoo have installed a rope line to keep visitors and their screens a bit farther away from the teenage gorilla. "We're all in it together to give Amare the best possible life," Ross said.