Teenage Rapunzel With World's Longest Hair at Over 6ft Finally Gets It Cut After 12 Years
A "real life Rapunzel" who held the Guinness World Record for the longest hair on a teenager has finally chopped off her iconic mane.
Nilanshi Patel, from India, decided to stop cutting her hair when she was six, after a bad experience at the hairdressers.
Over the next 12 years she grew it out, and by the time she was 16 her dark hair measured an incredible 5 feet 7 inches, and a whopping 6 feet 6.7 inches by age 18.
The incredible length saw her win multiple Guinness World Record titles, including longest hair on a teenager and longest hair ever on a teenager, smashing her own record three times.

But she finally decided it was time for a change, despite calling her hair her "lucky charm", and went for a radical new look - a bob.
"My hair gave me a lot - because of my hair I am known as the 'real life Rapunzel'... now it's time to give it something back," Guinness World Records quoted Nilanshi saying.
After being cut earlier this week her hair was tied up and put on the scales, with her tresses weighing 9.4 ounces (oz) alone.
She was blindfolded as her new short hair was styled, and she said before seeing the result: "I'm so excited and a little bit nervous because I don't know how I'm looking in the new hairstyle... so let's see what happens, but I hope it's going to be amazing."
Nilanshi decided to donate her hair to a museum, while her mom, Kaminiben, got her hair cut at the same time to donate to charity.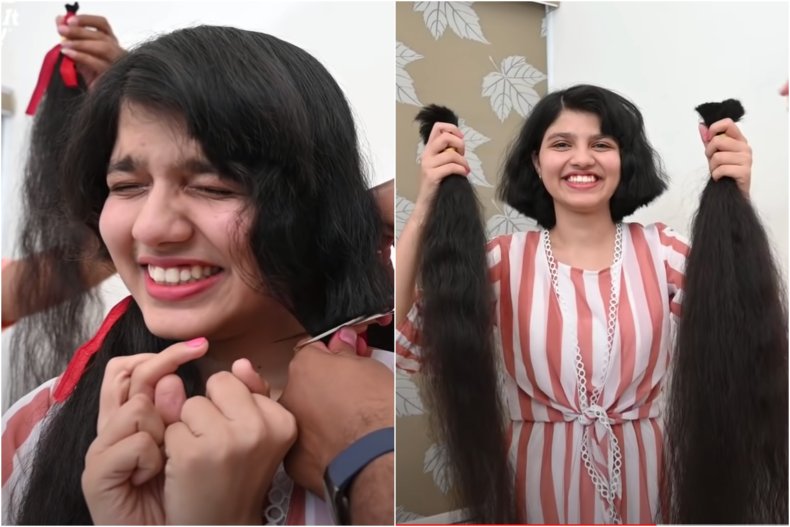 The teen revealed her mom would help her every week to wash, brush and dry her incredibly long hair.
Nilanshi's six-foot long ponytail is now being shipped to California, where it will be displayed at the Ripley's Believe it or Not! Hollywood.
After a stint there it will later go on display at the Guinness World Records Museum, also in Hollywood.
Nilanshi said: "I love my new hairstyle. I feel proud that I'm going to send my hair to the US museum- people will see and be inspired by my hair. I'm really, really happy... Today is a new beginning and I hope I will break many more records in future."
She added she has plans to fly to the U.S.A to see her record-breaking hair on display in the museum.