Televangelist Frank Amedia, who served as a Christian policy liaison for former President Donald Trump in 2016, believes Trump failed in the 2020 presidential election because God "got weary" of his constant self-promotion.
Amedia, founder of Touch Heaven Ministries, had previously predicted that Trump would win re-election. He also vocally defended the former president throughout his tenure in the White House. The Christian leader launched the POTUS Shield, a prayer network in support of Trump, on the night Trump was elected in 2016, and last January he described the president's supporters as "a spiritual weapon of God that has been anointed and called for such a time as this" in a POTUS Shield alert video message.
But Amedia was more critical of the former president in a Sunday interview on Stephen Strang's Charisma podcast. Right Wing Watch first reported the pastor's remarks. Although Amedia argued that Trump had "fulfilled" many of the "assignments" God had given him, he took issue with the former president's "arrogance."
"How can we expect God to bless and anoint arrogance and pride that invokes the name of the Lord—and there's the key—that invokes the name of the Lord and that uses the people of God as a political asset?" Amedia asked.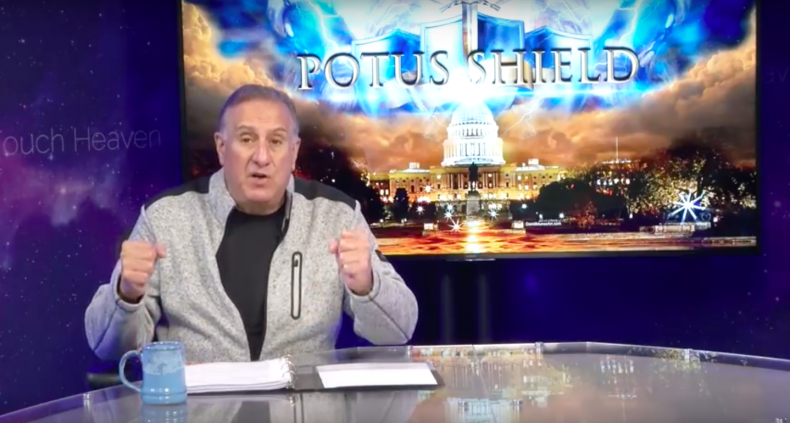 "A lot of the things that God had given him to do he fulfilled as a checklist. But here's the key: Who got the glory? And who was he taking the glory to? Was he thanking God for it publicly? Was he pointing to God for it?" Amedia continued. The pastor said that everyone had grown "tired" of Trump's tweets and "him talking about himself."
"We got tired of him promoting himself. Well, guess who else? Guess who else got weary with it? God Almighty. He's sovereign, and his word tells us very clearly, 'I give my glory to no one else.' Pride goes before the fall," he said.
Newsweek reached out to Amedia's ministry for further comment but did not immediately receive a response.
Conservative evangelical Christians were a key base of support for Trump during his 2016 campaign and up through his 2020 defeat. A number of evangelical Christian leaders continue to promote the conspiracy theory that President Joe Biden and Democrats stole the election. Dozens of state and federal courts have rejected the allegation.
Pastor Ken Peters, who founded the Patriot Church in Tennessee, recently told NPR that he fully believes the election was rigged.
"I believe that right now we have an illegitimate president in the White House and he was not elected by the people," Peters said. "I believe the truly 'We the People'-elected, should-be president is residing in Florida right now."
Polling carried out by Pew Research last autumn showed that 78 percent of white evangelical protestants planned to vote for Trump while just 17 percent supported Biden. Overall, 54 percent of protestant Christians supported Trump while just 41 percent said they planned to support Biden.