Tenants Share Nightmare Landlord Tales From Painted-Over Sockets to Mold
No matter what state you live in, you've probably had to deal with cowboy landlords at some point as well as sky-high rents.
Everyone has a horror story from leaky taps to appliances that don't work, and now disgruntled tenants have taken to Twitter to share their frustrations, after a post on the site struck a chord with renters.
A man, named Dr. Mac Arthur, shared a photo of a light switch and plug socket covered in so many layers of paint they were unusable. "Just putting the final touches on my rental unit," he joked in the tweet, shared on Friday, which has since amassed more than 220,000 likes.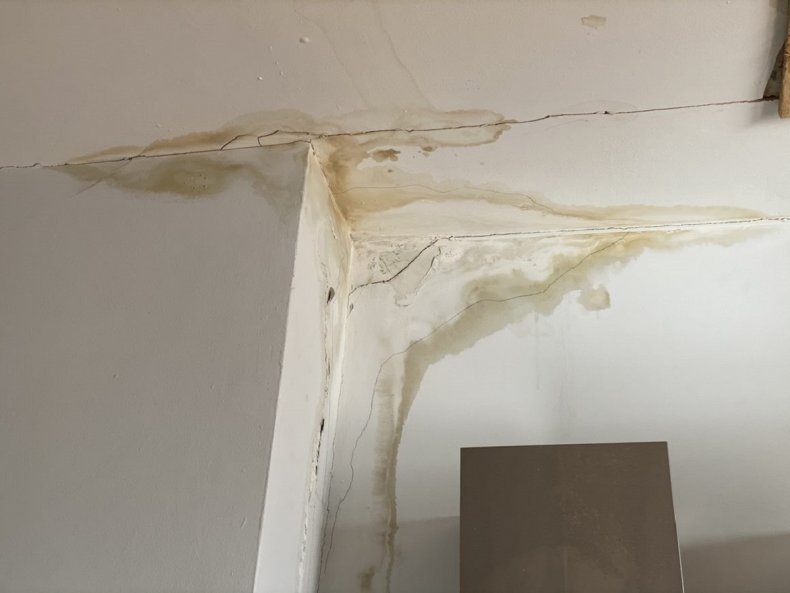 Thousands of people took the opportunity to share snaps of their deplorable living conditions, from holes in the floor to windows that won't open. Paint seems to be the weapon of choice for unscrupulous landlords, after tenants revealed they had cockroaches painted onto cabinets, while other claimed cans of food had even been given a lick of paint.
Cathartic Haiku vented: "Not even kidding: when my wife and I moved into our first apartment, they painted over food that the previous tenant had left in the pantry. They couldn't even be arsed to take it off the shelves—just boxes of cornbread and canned green beans slathered in paint."
"Also, just cause I'm still real hot about this: when we reported a wasp infestation in the roof above our balcony that swarmed us every time we left the apartment, the landlord dropped off a can of f****** bug spray."
"I deada** have roaches painted on my cabinets," GMI commented.
While Jessie revealed: "My whole shower/tub was painted in my first and only apartment. it would chip and peel off every single time you showered, and the paint chips would clog the drain. never once used it as a tub for fear of contracting some kind of infection. 10/10."
Leaks were another prominent feature, with Rando Tex Cobb writing: "My landlord forgot to connect the pipes under my shower stall to anything and now this is happening (after gutting the whole bathroom)! That sure was an expensive mistake!"
Sharing a snap of an ominous brown patch across his wall, @NatiniNatini shared: "Told the landlord there was a small patch in the corner, of my kitchen, they kept saying keep an eye on it, I sent them pictures periodically as it grew and they came to look only to say "dunno what it is". They then later said it was some rainwater mixed with squirrel p****."
@Soundinsect shared his pain, writing: "This happened on Friday and was the result of a leak that was reported over a year ago. Someone came out to assess it last year but then never returned. Submitted a second request in May since it was still not fixed and they deleted the request because it was a 'duplicate.'"
Alongside a photo of rotten floorboards, Not the Actual US Cyber Command said: "My flat's hot water heater was in excellent condition if you don't count the part where it was about to fall through the floor and potentially start an electrical fire."
Sticking with the theme of fire safety, Elite coastal elite raged: "$1800/month gets me 1 bedroom, a boob light, and a smoke+CO2 detector that's two feet from the heat vent which I had to disconnect or else it will chirp all day."
Unsurprisingly, mold was another common element among renters, as @squorl_gorl tweeted: "We had mold coming out from a vent on the wall, asked if they could address it, maintenance dude just came and SPRAY PAINTED OVER IT ??!?!"
Vents were a problem for this person, Insane Clown Philosophy, who said: "This vent for my bathroom goes to my neighbors kitchen. If they're standing in the kitchen talking it sounds as if we are in the same room."
And another tenant revealed how their landlord tackled mold, with @allhailjs saying: "2 years ago I discovered moldy, squishy drywall in a closet. Source was a leaky roof. After the roof was repaired, Mr. Landlord painted over the moldy, squishy drywall. He's a contractor by trade."
Newsweek reached out to Dr. Mac Arthur, Cathartic Haiku, and Not the Actual US Cyber Command for comment.
Update 7/13/21, 11:00 a.m. ET: This article was updated to remove an embedded tweet.