Tennessee Considering Bill Allowing Students to Sue if 'Opposite Gender' Uses Wrong Bathroom
Public school students could request access to single-occupancy bathrooms under a new bill introduced Tuesday night by Tennessee state lawmakers, but because the bill allows students to sue schools if a member of the opposite sex uses their facilities, critics are concerned the law could be discriminatory against transgender students.
Republican state Rep. Jason Zachary of Knoxville and Sen. Mike Bell of Riceville sponsored HB1233/SB1367, also known as the Tennessee Accommodations for All Children Act. According to the bill, public schools would be required to provide reasonable accommodation to those who are "unwilling or unable" to access multi-occupancy restrooms, changing rooms or sleeping quarters (in the case of a school-sponsored activity).
The bill was cleared after it was introduced at the House K-12 Subcommittee and will move on to the main House Committee, the Tennessean reported. If passed, the bill would take effect July 1, just before the start of the next academic year.
"There is a high school that has reached out to me, they are having to [deal with] a problem with boys using the girls' restroom," Zachary said on Tuesday. "And they feel like they are handcuffed, and there's not much they can do about it. This bill takes care of that. It stops all that and just provides absolute clarity."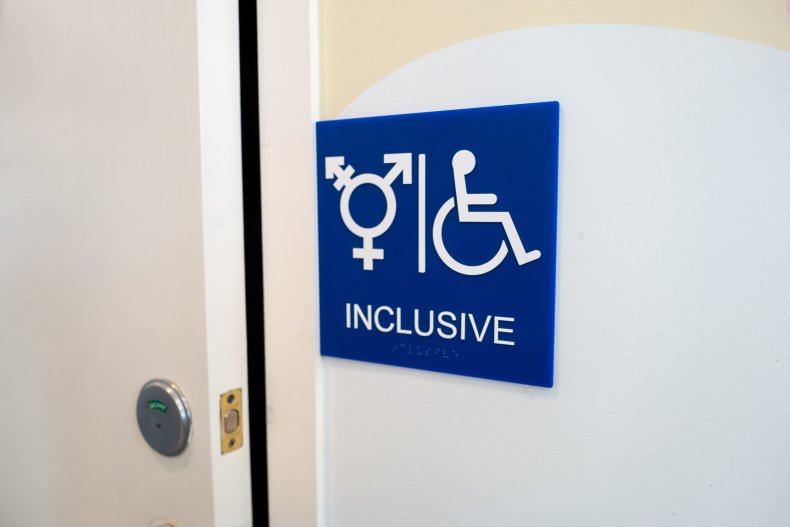 The state lawmaker said the bill meets a demand from school administrators for clearer guidance on what is or what is not acceptable policy when it comes to gender-based access to school facilities.
Lawmakers define "reasonable accommodation" as access to a single-occupancy bathroom or changing rooms—but "does not include access to a facility that is designated for use by members of the opposite sex while persons of the opposite sex are present or could be present."
In other words, a transgender student can request accommodation to use a single-occupancy bathroom or changing room, but they must use one designated for their sex assignment at birth.
"If they were born as a boy, they will use a single-occupancy restroom," Zachary said, referencing if a transgender female were to request reasonable accommodation.
Students would provide schools with a written request for their accommodation, and they may legally sue the school if their request for accommodation is not met. According to the bill, students may pursue civil action for "monetary damages for all psychological, emotional and physical harm suffered."
The bill also states that a student has a reasonable cause to sue if they gave written notice for an accommodation but "later encounter a person of the opposite sex" in a multi-occupancy changing room or bathroom.
LGBTQ advocates are concerned the bill could legalize discrimination against transgender students because it permits students to lawfully avoid sharing school facilities with transgender students.
"This legislation sends the message that it is okay for students to treat one group of their peers differently by avoiding sharing public space with them, even going so far as to allow students to sue their schools if they are not allowed to discriminate against their peers," Hedy Weinberg, executive director of the American Civil Liberties Union of Tennessee wrote to Newsweek. "This bill will have a devastating impact on young people who are already under tremendous stress and at greater risk of bullying."
Tennessee has a history of debate when it comes to the rights of transgender students and access to school facilities. In 2016, state lawmakers considered a law that would require transgender students to only use facilities designated for their sex assigned at birth, according to the Tennessean. The bill ultimately failed amid pressure from both political sides, NBC News reported. LBGTQ advocates called the law discriminatory and the state's attorney general submitted an opinion saying the law could threaten the state's use of $1.3 billion in federal education funds.
To Weinberg, the proposed law is a matter of "dignity" for transgender students: "Tennessee lawmakers can and must protect all students by voting against this shameful bill."
Newsweek has reached out to Zachary and Bell for comment but did not receive a reply by the time of publication.