Tennessee Defies Joe Biden's Gun Control Push with No-Permit Law
Tennessee Governor Bill Lee signed a bill on Thursday that allows people in the state to carry handguns concealed or openly without a permit.
The law will apply to most adults in Tennessee. People convicted of certain crimes, such as domestic violence, or anyone under the age of 21 who is not a serving member of the U.S. military will not be able to carry a handgun without a permit.
The Republican governor announced that he'd signed the legislation as President Joe Biden unveiled a raft of executive actions aimed at curbing gun violence and tightening firearm controls.
"I signed constitutional carry today because it shouldn't be hard for law-abiding Tennesseans to exercise their [Second Amendment] rights," Gov. Lee tweeted. "Thank you members of the General Assembly and the National Rife Association for helping get this done."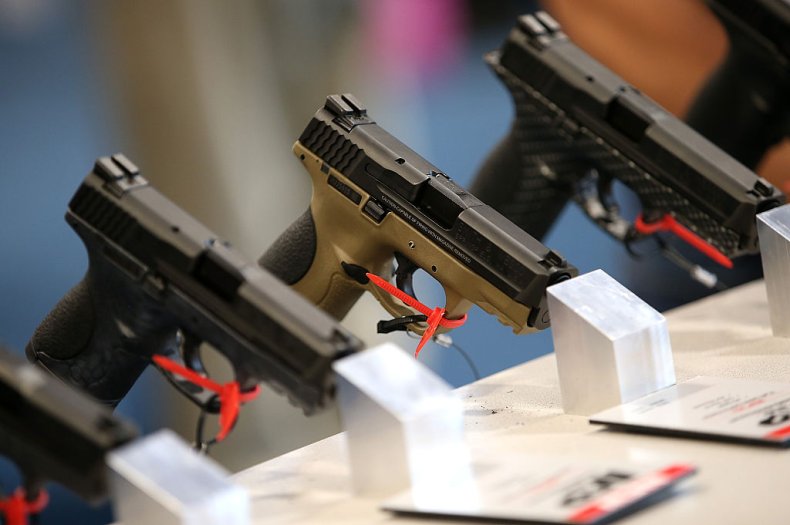 Pro-gun lobby groups were quick to praise the governor's decision.
The U.S. Concealed Carry Association said in a statement: "We applaud Governor Lee for signing this important piece of legislation into law and making it easier for Tennesseans—especially members of our military—to exercise their right to self-defense. This removes the barriers for thousands of law-abiding Tennesseans to better protect themselves and their families."
The National Rifle Association also hailed the signing of the bill it had backed, saying it "fully recognized" the right to carry a firearm under the Second Amendment "without government red tape or delays."
Tennessee is one of almost 20 states to adopt similar legislation amid growing calls for tighter gun controls in the wake of recent mass shootings in Colorado and Georgia. The Tennessee law will come into effect on July 1 and will not apply to long guns.
As lawmakers in Nashville signed off on the relaxation to firearm controls, Biden unveiled his proposal to crack down on the use of "ghost guns."
So-called ghost guns are kits containing almost every component for a firearm and instructions on how to complete the weapon. They tend to lack serial numbers and can be hard to trace back to their owner when found at crime scenes. The White House wants to halt the sale of these weapons.
Under another executive order, the Department of Justice is to publish "red flag" legislation that could be used by state authorities to prevent "people in crisis" from getting their hands on guns.
Speaking in the White House Rose Garden on Thursday, the president said: "I know that the conversation about guns in this country can be a difficult one. But even here, there's much more common ground than we—anyone—would believe. There's much more common ground.
"Everything that's being proposed today is totally consistent with the Second Amendment. And there's a wide consensus behind the need to take action."