Tennessee Lawmakers Sound Warnings After University Basketball Team Kneels During Anthem
Republican lawmakers in Tennessee have expressed disappointment toward the men's basketball team at East Tennessee State University (ETSU), after they kneeled during the national anthem as a symbolic gesture for racial justice.
Players on the ETSU team took a knee during the national anthem before a game on Monday, prompting members of the community to signal both praise and frustration.
Republican state Senator Rusty Crowe, a former ETSU athlete and veteran, told News Channel 11 on Friday that he felt the move was disrespectful toward the flag.
"This kind of activity will not be tolerated," he said. "When you wear the uniform, you're not just representing your team, your school, your state. You're representing the entire community. I think we should make sure those young athletes understand what it means."
Republican state Representative Rebecca Alexander said she supported the players' First Amendment rights, but did not think kneeling during the anthem was appropriate.
"There are Black people that have died in this country for our freedom. This is Black History Month. We should be celebrating those men," she told News Channel 11.
Alexander added that the move sent a "shock" through the community, and said it could affect the university's donations.
"When donors call and say, 'I'm not going to give money anymore to the school,' 'I'm not coming to any more games,' those are things that hurt ETSU," she said.
On Wednesday, ETSU basketball coach Jason Shay defended his players and said that kneeling during the national anthem was not meant to disrespect the flag, but rather to spark a conversation about racial justice and inequality.
"Our intentions by no means involve disrespecting our country's flag or the servicemen and women that put their lives on the line for our nation," Shay said, the Johnson City Press reported.
"No one knows the sacrifice, the fear, the pain, the anxiety, the loss that they've experienced fighting for our country's freedom and rights. But many of us don't know the same sacrifice, fear, pain and loss the people of color have had to endure over 400 years," he continued. "My team is a daily reminder to me that some things are just bigger than basketball."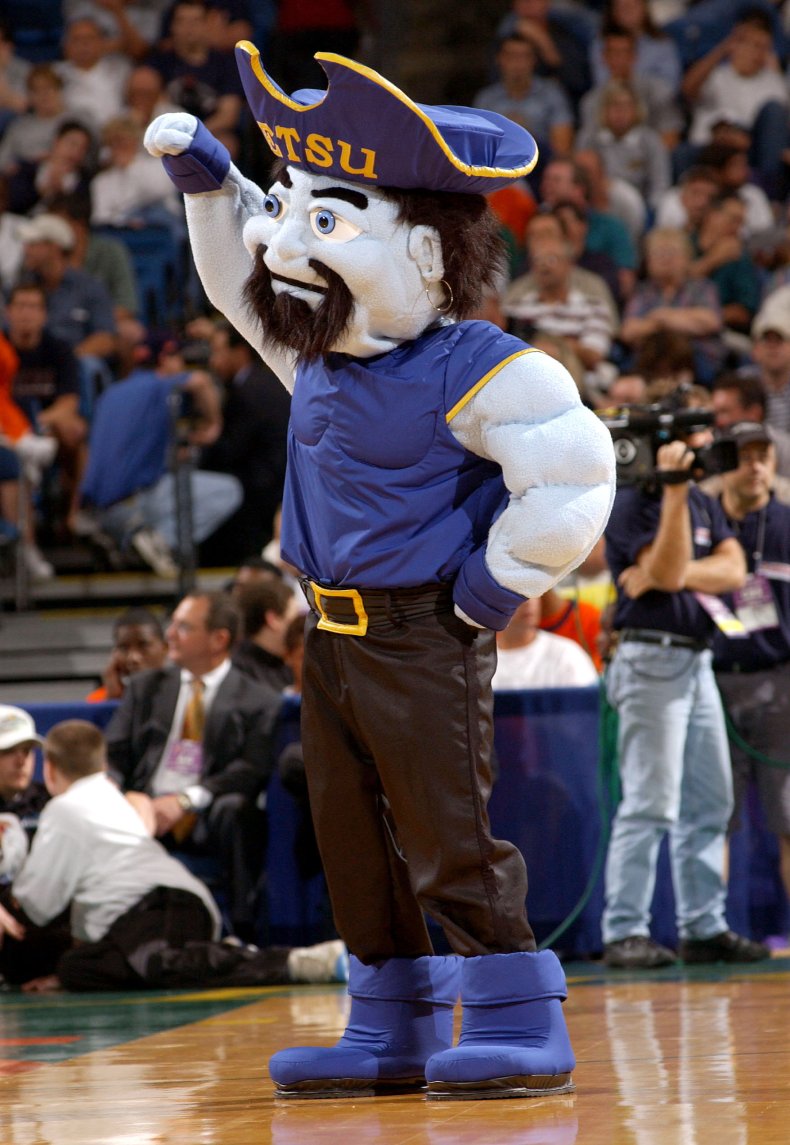 Republican state Representative Tim Hicks said that while he was disappointed by the kneeling, he wanted to hear why the players felt the need to do so.
"I would just like to hear exactly what happened in life to bring them to kneel at that ballgame that night. Until we start hearing people's stories, and get to the truth about this, and get to what's really real, I think it's extremely hard for anybody to judge," Hicks told News Channel 11.
ETSU President Brian Noland joined the conversation Friday by saying that he hopes the players decision to kneel can create an "opportunity to heal."
"By no means do I believe that any of our students intended for their actions to be disrespectful to our flag, our veterans, service members, or their family members. However, I recognize the hurt, pain and emotion that has been evidenced across the region," Noland said in a statement shared with Newsweek.
"It's my sincere hope that the image of our students expressing their beliefs on the field of play gives us an opportunity to come together to heal, have dialogue and to replace strife with unity," he added.
Kneeling during the national anthem caught on after former San Francisco 49ers quarterback Colin Kaepernick began a peaceful protest against police brutality and racial discrimination by refusing to stand for the anthem in August 2016. The practice gained even more traction last year, after the killing of George Floyd and other people of color prompted large-scale protests for racial justice across the country.