Colin Kaepernick's NFL Absence Is 'Tragic,' Says Alex Smith
Colin Kaepernick was "ahead of his time" in calling out social injustice and his protracted absence from the NFL is "tragic," Washington Football Team quarterback Alex Smith has said.
Kaepernick has been persona non grata in the league since he began a peaceful protest against police brutality and racial discrimination by refusing to stand for the national anthem before a preseason game in August 2016.
The gesture transformed him into a global icon, but divided public opinion in the U.S. and contributed to him being ostracized by the NFL. Kaepernick has not played in the league since becoming a free agent in March 2017.
On The Ringer's 10 questions with Kyle Brandt podcast on Thursday, Smith said his former teammate had paid an enormous price for standing his ground.
"I think it's so tragic looking at it. I think he was ahead of his time, certainly, trying to call out social injustice, especially around police reform," he said of Kaepernick, who was his backup with the San Francisco 49ers in 2011 and 2012.
"The country wasn't ready. Nobody was ready for it, and he's sitting there trying to tell everybody through a completely peaceful manner about some of the things going on in this country that had been going on for a long time."
Former President Donald Trump was one of Kaepernick's most vocal critics, accusing the former 49ers quarterback of disrespecting the American anthem and the flag.
"I have followed it [the controversy] and I think it's personally not a good thing," Trump told The Dori Monson Show in August 2016, shortly after Kaepernick began his protest.
"I think it's a terrible thing and, you know, maybe he should find a country that works better for him. Let him try, it won't happen."
A year later, Trump called for football team owners to fire players who demonstrate during the national anthem.
"Wouldn't you love to see one of these NFL owners, when somebody disrespects our flag, to say, 'Get that son of a b**** off the field right now. Out! He's fired. He's fired,'" he said during a rally in Alabama.
Kapernick's gesture opened a new path for activism in sports. Last year, NBA, NFL and MLB players joined protests against police brutality and racial discrimination in the wake of the deaths of George Floyd and Breonna Taylor and the shooting of Jacob Blake.
Last June, several NFL stars called on the league to support the Black Lives Matter movement and to acknowledge that it had silenced players who have protested racism.
In an unexpected turn of events, league commissioner Roger Goodell agreed.
Smith, however, suggested this was too late for Kaepernick.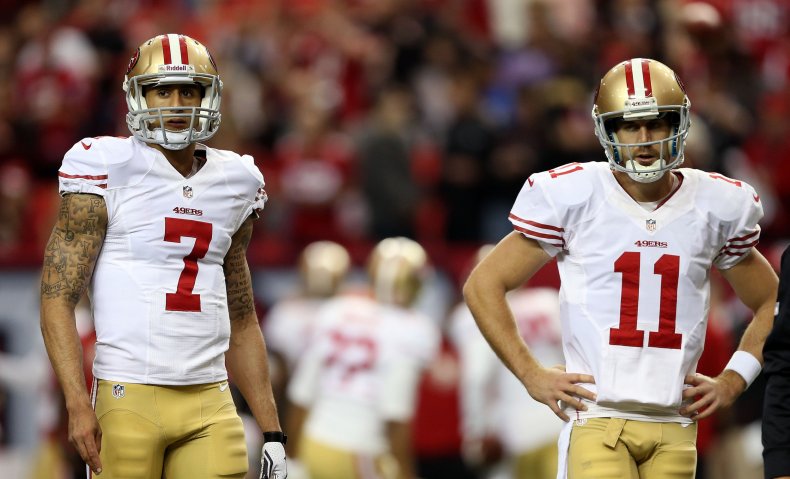 "To see the backlash that happened, yeah, it hurts," said the 36-year-old, who was named Comeback Player of the Year this month after returning to football following a life-threatening injury in 2018.
"The country wasn't ready for it and he suffered the repercussions with his job and then how brave he was. He lost his livelihood."
After becoming a free agent in March 2017 when he opted out of his contract with the 49ers, Kaepernick was not offered a tryout by any of the 32 franchises. He subsequently sued the owners for colluding to keep him out of the league.
He reached a settlement with the NFL in February 2019. Later that year, Goodell said the league had "moved on" from Kaepernick.
Last June, however, the NFL commissioner adopted a far more conciliatory tone, encouraging teams to sign Kaepernick.
"If he wants to resume his career in the NFL, then obviously it's going to take a team to make that decision," Goodell told Mike Greenberg of ESPN.
"But I welcome that, support a club making that decision and encourage them to do that."
After spending his first two seasons in the NFL as understudy to Smith, Kaepernick replaced his teammate as the 49ers' starting quarterback halfway through the 2012 season.
With the Nevada alumnus under center, San Francisco finished 11-4-1 and made it to Super Bowl XLVII, eventually losing 34-31 to the Baltimore Ravens.
Despite his heroics with the 49ers, Kaepernick has not even been offered a back-up role in the past four years.
"It still doesn't make sense," Smith added. "The run that he went on the last year we were together when we went to the Super Bowl [...] was so crazy to watch.
"Truly one of the historic runs in football to see what he was doing. He still holds records from that time period. Really special. It's crazy that fast forward to only a couple of years after that, he's out of the league. You couldn't even grasp it. You couldn't understand it."