State Senator Cites Hitler As Proof Homeless Can Have 'Productive' Lives
During debate over a bill that passed the Tennessee state Senate Wednesday that would allow misdemeanor charges to be filed for unauthorized camping on public property, one senator made a distinct comparison to outline the potential future lives that could be led by homeless people.
"I wanna give you a little history on homelessness," Republican state Senator Frank Niceley said. "In 1910, [Adolf] Hitler decided to live on the streets for a while. So for two years, Hitler lived on the streets and practiced his oratory and his body language and how to connect with the masses and then went on to lead a life that got him in the history books. So a lot of these people, it's not a dead end. They can come out of this, these homeless camps, and have a productive life, or in Hitler's case a very unproductive life. I support this bill."
The bill, which has passed both chambers as of Wednesday and now heads to the desk of Governor Bill Lee, was criticized by those who opposed it as a measure to criminalize homelessness, according to WTVC-TV.
The bill passed the state Senate 22-10 Wednesday after it passed the House last year and originally failed in the Senate Judiciary Committee. It would expand a 2012 act that made unauthorized camping on state property illegal to include all public property, and would allow a Class C misdemeanor with a $50 fine and community service to be levied for "solicitation or camping" along or near highway ramps.
The 2012 act was previously strengthened in 2020 when lawmakers elevated camping on state property from a misdemeanor to a Class E felony to combat overnight protests taking place against racial injustice in the wake of the death of George Floyd in Minneapolis, according to the Associated Press.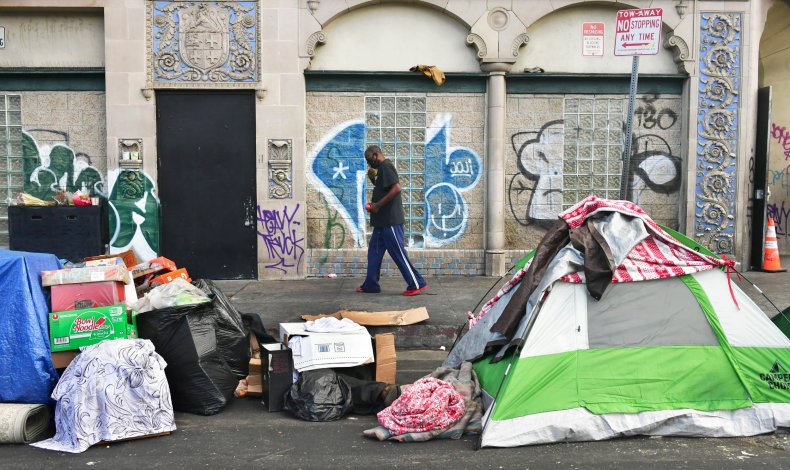 Critics of the bill said during debate that it would further disadvantage people who are already struggling and continue the cycle of poverty, WTVC added.
"It just breaks my heart that we are criminalizing people who don't have anywhere else to go," said Democratic Senator Brenda Gilmore, WTVC reported. "And if you take and incarcerate their parents, then I think that again only multiplies the issue of taking their parents away from these children simply because they are poor."
Current state law defines unauthorized camping as a wide variety of activities on state property that take place overnight, the AP reported. Under the new bill, police would have the option of arresting people at least 24 hours after they are given an initial warning, with their belongings able to be confiscated for at least 90 days or longer if they are evidence in a criminal case.
Heidi Campbell, a Democratic state Senator, said the bill would be like "putting a Band-Aid on cancer," as it does not address any causes of homelessness, the AP reported.
The debate over the homelessness bill makes it the latest Tennessee legislation to generate headlines, just a week after a bill to create an "alternate pathway" to marriage for opposite-sex couples that would not be available to same-sex couples drew national outrage.
That bill received criticism for its intended purpose, but the bulk of the criticism came from the refusal of its Republican sponsors toward amending the bill with a minimum age requirement after critics said it could allow for child abuse to be disguised as common law marriages. After days of controversy and the addition of a minimum age amendment, the bill's momentum was lost and it was effectively killed for this year's legislative session on Wednesday, Newsweek reported.
Update 4/14/22, 2:45 p.m. ET: This story has been updated with additional information.