'This is Ridiculous': Emotions Ran High at Hearing on Trump Immigration Policies, Treatment of Migrant Children
There was yelling, crying and even fainting at a congressional hearing Friday on the Trump administration's former child separation policy and the current conditions at migrant detention facilities.
A freshman member of Congress who recently visited a detention center housing migrant children along the southern border shed tears as she described what she saw.
Tensions mounted when one of the witnesses, a former Trump official, was pressed on why his name appeared on a memo that recommended the separation of migrant families accused of illegally crossing the border as a deterrence, or the "zero tolerance" policy, as it later became known.
And government watchdog officials and advocates warned about the "dangerous" situation brewing in the severely overcrowded facilities, creating what was classified as an "imminent risk."
The House Oversight Committee, the panel in which Friday's hearing was held before, revealed in a new staff report that in total, at least 2,648 children were separated from their parents as part of the administration's "zero tolerance" policy. At least 18 infants and toddlers less than two years old were separated from their parents for up to six months and at least 241 children were detained in U.S. Customs and Border Patrol (CBP) facilities for more than 72 hours—the maximum that is allowed by law. Some children, the report stated, were kept in government custody for more than a year.
Oversight Chairman Elijah Cummings said the information was thanks to documents received from the Departments of Justice, Homeland Security and Health and Human Services after the committee issued subpoenas for such information earlier this year.
Tears Shed
The panel's first round of witnesses included several lawmakers—some whom were Oversight Committee members themselves—who provided eye-witness accounts of what they saw during recent visits to detention facilities along the border.
Representative Debbie Lesko, an Arizona Republican, disputed past claims made by Democrat Alexandria Ocasio-Cortez that some detained migrants at a Texas CBP facility were being forced to drink water from toilets.
"Please, American public, there is no one asking people to drink out of toilets," Lesko said.
But Ocasio-Cortez stood by her claims, and she and fellow freshman Democrat Rashida Tlaib both shed tears as they described the conditions they witnessed.
"They were put into a cell and the sink was not working, so they were told to drink out of a toilet bowl. I believed them," the New York lawmaker said.
A recent investigation conducted by the Homeland Security inspector general concluded that one facility in Texas was a "ticking time bomb" and included photos of migrants packed behind chain-link fencing or in holding cells. Some were wrapped in aluminum blankets while others laid on the concrete floors.
"I believed the canker sores they said were in their mouths because they weren't receiving proper nutrition. I believed them when they said they were sleeping on concrete floors for two months," Ocasio-Cortez continued, as she began to cry. "And what was worse about this was the fact that there were American flags hanging all over these facilities. That children were being separated from their parents in front of an American flag, that women were being called names under an American flag."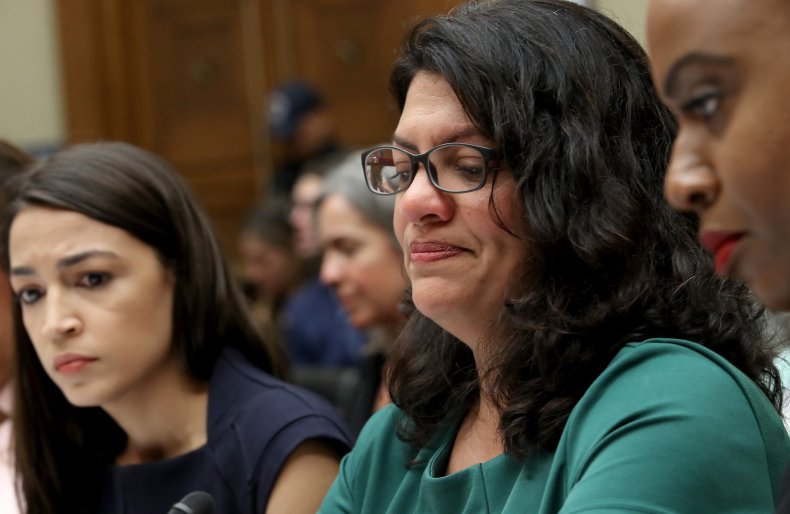 At one point, a committee staffer standing along the side of the room abruptly fainted and collapsed to the floor, halting Ocasio-Cortez's emotional testimony. GOP Representative Mark Green, a former emergency room doctor, rushed to her aid, and soon thereafter said she would be fine.
In offering her testimony, Tlaib also began to weep, as she accused the president of implementing policies that "are dead-set on sending a hate-filled message that those seeking refuge are not welcome in our America and that the rule of law, human rights, will not protect them here."
"Political theater at its best"
There was one witness who drew the ire of Democrats: Thomas Homan.
The former U.S. Immigration and Customs Enforcement (ICE) acting director's name appeared on an internal government memo in 2018 to then-Homeland Security Secretary Kirstjen Nielsen, in which Homan recommended the "zero tolerance" separation policy. The document, which was revealed by Ocasio-Cortez, was signed by then-U.S. Citizenship and Immigration Services Director Francis Cissna and then-CBP Commissioner Kevin McAleenan. Homan confirmed that his signature also appeared on the memo.
The former officials urged Nielsen "to pursue prosecution of all amenable adults who cross our border illegally ... including those presenting with a family units between ports of entry."
Homan defended his decision to recommend the "zero tolerance" policy, saying the family separations that resulted were, in his opinion, no different from those that occur when U.S. citizens are with their children and arrested for a crime.
Tensions peaked when Democrat Gerry Connolly went on a lengthy rant as he expressed his frustration over the separation policies and current conditions of detention centers, at one point even yelling.
"I don't really care what their motivation was — whether it was asylum or economic betterment — they're not to be treated as subhumans," the Virginia lawmaker said. "If there's one basic value that ought to unite us as Democrats and Republicans—as Americans— it's how we treat children!"
Connolly's irritation was not directed at any singular witness, but rather the Trump administration's alleged poor handling of child migrants. Homan was shot down when he tried to respond, leaving the former acting ICE director to refer to the remarks by Connolly and other Democrats as "political grandstanding."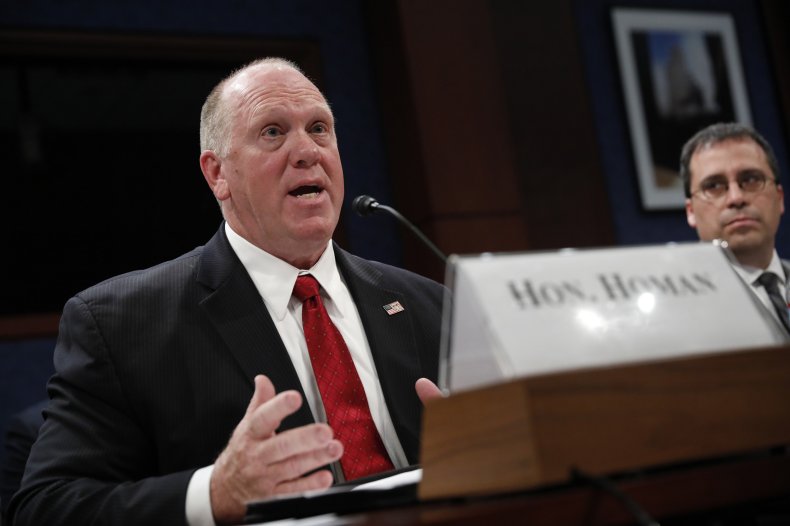 "This is ridiculous," Homan said at one point. At another, he said, "This is political theater at its best."
Homan urged lawmakers to adjust their asylum laws to curb the record influx of migrants who have been detained after crossing the border in recent months and said that the $4.5 billion emergency humanitarian aid passed by Congress in recent weeks was too little, too late.
"Don't blame the men and women wearing the uniform at the border who are doing the best they can," he said. "The same people that vilify border patrol for detention conditions are the same people that refuse to answer the call for help, until it's too late... If you don't like this, do your job. Fix it."
Lawmakers who've visited migrant detention facilities have described overcrowded, inhumane conditions. Internal government watchdog reports have warned that the situation is dire and on the brink of becoming a much larger issue, as facilities operate with lack of beds, soap and toothbrushes.
"The problem here is not the lack of money—the Department of Homeland Security has enough money to provide every child with a toothbrush, with soap and a bed," said Elora Mukherjee, director of Columbia Law School's Immigrants' Rights Clinic. She recently interviewed dozens of migrant children held in some of the border detention centers. "The problem here is the position of this administration that this is not required for children. That is what this government argued before the 9th Circuit Court of Appeals last month."
Mukherjee was referring to a Justice Department attorney, who last month told a panel of judges that, in order for migrant children to be held in facilities deemed "safe and sanitary," they did not need to be afforded toothbrushes, soap, towels or beds.
DHS Inspector General Jennifer Costello, whose office has conducted various investigations and inspections of detention centers, reiterated what was stated in a recent report. She said the crisis at the southern border was "dangerous" and posed an "imminent risk."
"What we haven't been able to do yet is asses the true causes. We can talk about the fact that the overcrowding is dangerous, the prolonged detention is continuing," Costello said. "But we don't really know what's causing it. We simply know that the conditions are causing imminent risk."
Democrats have accused the Trump administration of needlessly separating families and holding immigrants in "inhumane" conditions as they await their court dates, while Republicans accuse their counterparts of advocating for too loose of immigration laws, failing to provide adequate federal funding and exaggerating the poor conditions at border detention facilities.
Cummings, the chairman of the committee, said the issues of detaining migrants and separating families were such that Republicans and Democrats could agree on two basic points.
"Anyone in the custody of our government—especially a child—must be treated humanely and with respect," the Maryland Democrat said. "Children should be not separated from their mothers or fathers unless there is a true need for it."