Tensions Rise In Congress As Lawmakers Confront Each Other Over Capitol Protest
Two lawmakers almost scuffled as tensions rose in the House of Representatives late Wednesday night after a mob of protesters stormed the U.S. Capitol in an attempt to delay the electors of President-elect Joe Biden.
Several reporters present in the House gallery reported that Rep. Andy Harris (R-MD) and Rep. Colin Allred (D-TX) confronted one another amid a heated debate over Republican objections to the Pennsylvania election results, and where blame lay for the breach of Congress by pro-Trump protesters.
(Update 01/07/21:However, Rep. Harris' office has since released a statement clarifying that Rep. Allred only stepped in to ease tensions. The Congressman said: "Nothing physical ever happened, or was going to happen. Mr. Allred stepped in only to ease tensions at the end of a difficult day."
Releasing a statement to The Dallas Morning News, Rep. Allred's office also said he was not involved in any scuffle. "After seeing a disagreement between members verge on physical confrontation, Congressman Allred approached his colleagues on both sides of the aisle with the hopes of defusing the situation and bringing down tensions," his office told the newspaper.)
CBS News political reporter Grace Segers tweeted that there was a "minor scuffle" between Harris and Allred as Republicans asked that remarks made in a speech by Rep. Conor Lamb (D-PA) be struck from the record.
Matt Fuller, a HuffPost Congressional reporter, and Kristin Wilson, a CNN reporter, shared similar accounts of the lawmakers confronting each other in the aisle after a shouting match.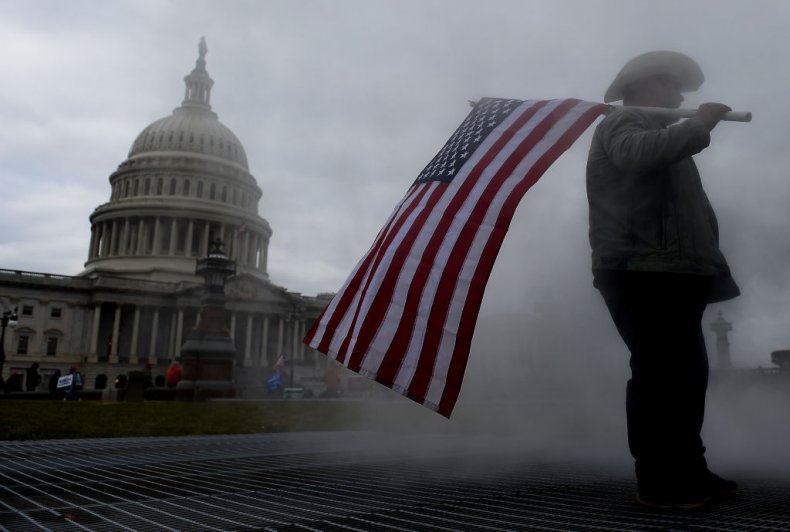 In footage of the House debate, Republicans took issue with Rep. Lamb arguing that GOP lawmakers had lied about the election on the floor of the chamber, and asked that his remarks be struck from the record.
After the request was rebuffed by House Speaker Nancy Pelosi (D-CAL), GOP lawmakers shouted over Lamb as he tried to continue with his speech. One voice could be heard shouting "sit down!" to another member of the chamber, out of shot.
As the Pennsylvania Democrat tried to resume his speech, he eventually stopped and looked toward the aisle as lawmakers behind him could be seen leaving the bench and walking over to the reported confrontation. Republicans could also be seen exiting their benches.
"There will be order in the House," Speaker Pelosi said, banging her gavel as lawmakers continued to move toward the aisle. "The gentlemen will clear the chamber." The situation then settled down, and Lamb continued with his speech.
"The fact is this: we want this government to work, more than they want it to fail," he said. "And after everything that's happened today, we want that more than ever. Know that. Know that, the people watching at home."
Newsweek contacted the Washington, D.C. offices of both Rep. Harris and Rep. Allred for comment on the reported scuffle. This article will be updated with any statement from Rep. Allred's office.
President-elect Biden was certified as the winner of the 2020 presidential election by lawmakers in the early hours of Thursday morning, once pro-Trump protesters had been cleared from Congress by law enforcement officials following a breach on Wednesday afternoon.
After spreading baseless claims about mass voter fraud, and refusing to concede the election to Biden, President Donald Trump said in a statement that there would still be an "orderly transition" of power on January 20—the date of the president-elect's inauguration.
Update 01/07/21 12:51 p.m. ET: This article was updated with statements from Rep. Harris and Rep. Allred's office clarifying that the latter Congressman was not involved in any scuffle between lawmakers, but only intervened to break up a confrontation. Newsweek contacted the offices of both lawmakers before publishing this story.