Terry McAuliffe Accuses Glenn Youngkin of Ending Campaign on 'Racist Dog Whistle'
Democrat Terry McAuliffe has accused Glenn Youngkin, his Republican opponent in Virginia's competitive gubernatorial election, of ending his campaign on a "racist dog whistle."
As Election Day nears, former Virginia Governor McAuliffe has escalated his criticism of Youngkin over a campaign ad released last week that featured Laura Murphy, who has pushed to remove Toni Morrison's Beloved, an acclaimed novel which won the 1988 Pulitzer Prize for fiction, from Virginia's school system.
Although she does not mention the book by name, Murphy condemned McAuliffe's veto of legislation that would have required schools to notify parents when sexually explicit reading material was assigned—an effort that was known as the "Beloved Bill."
Youngkin has made education a centrepiece of his campaign, vowing to ban critical race theory if elected and hammering McAuliffe over remarks that parents shouldn't be telling schools what they should teach.
In an appearance on NBC's Meet the Press on Sunday, McAuliffe maintained that the comment was taken out of context, and accused Youngkin of "going after one of the most preeminent African American female writers in history."
Youngkin "is closing his campaign on banning books," McAuliffe told Chuck Todd. "He wants to ban Toni Morrison's book Beloved."
Noting the late author is a Nobel laureate and recipient of the Presidential Medal of Freedom, McAuliffe added: "He's going after one of the most preeminent African-American female writers in American history... he wants her books banned.
"Now, of all the hundreds of books you could look at, why did you take the one Black female author? Why did he do it? He's ending his campaign on a racist dog whistle."
In response, a message posted on Youngkin's campaign website on Sunday called the comments as "part of McAuliffe's disgusting strategy to use racism as a political ploy."
It added: "The two bipartisan bills that Terry McAuliffe vetoed do not mention any specific books, and neither has Youngkin. The legislation would not have stopped a single student from having the opportunity to read any book. The bills were supported by many members of the Black Caucus. McAuliffe is essentially calling those Black Democrats racists."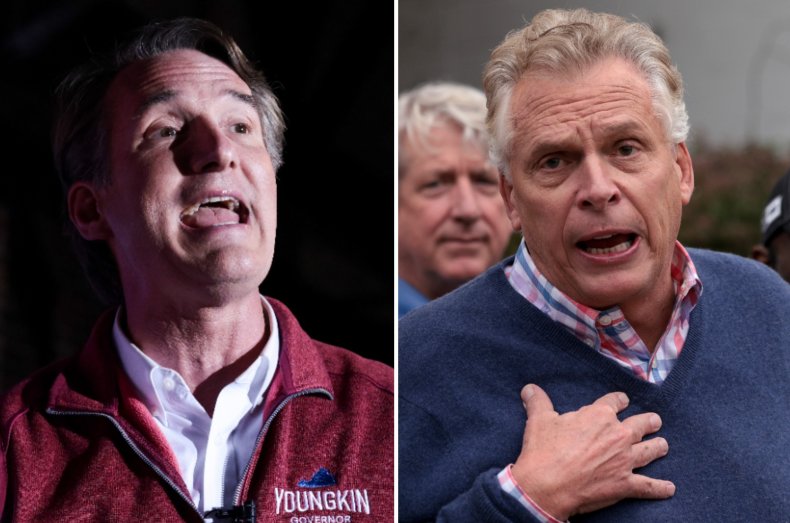 President Joe Biden also invoked Beloved in his criticism of Youngkin while campaigning with McAuliffe last week.
"Just look at how he's closing his campaign," the president told supporters at a rally in Arlington. "He's gone from banning a woman's right to choose to banning books written by a Pulitzer Prize and Nobel Prize-winning author, Toni Morrison."
He added: "My wife, Jill, went to Princeton to interview her, taught her book. Let's be clear: This is a guy who doesn't know much about anything."
McAuliffe and Youngkin's campaigns have been contacted for additional comment.