Tesla Announces First Foreign Factory in China as Trump's Trade War Escalates
Automotive manufacturer Tesla announced on Tuesday that it has signed an agreement to open its first overseas factory in Shanghai, as a trade war between the U.S. and China continues to escalate.
"Last year, we announced that we were working with the Shanghai Municipal Government to explore the possibility of establishing a factory in the region to serve the Chinese market. Today, we have signed a Cooperative Agreement for Tesla to start building Gigafactory 3, a new electric vehicle manufacturing facility in Shanghai," a Tesla spokesperson told Newsweek.
Billionaire Tesla founder Elon Musk, 47, plans to significantly expand his manufacturing operations, setting up his second plant in the Asian nation's top commercial hub. The new facility will be capable of producing 500,000 vehicles annually for Chinese consumers, South China Morning Post reported.
Musk's lone California Tesla factory is currently on track to produce less than 200,000 vehicles in 2018, despite promises of rolling out 500,000 there as well. However, the announcement of the new Shanghai facility comes just after the manufacturer significantly hiked prices of its vehicles in China in response to growing trade tensions.
In the wake of tariffs imposed by President Donald Trump's administration, China increased import duties on U.S.-made vehicles to 40 percent last week.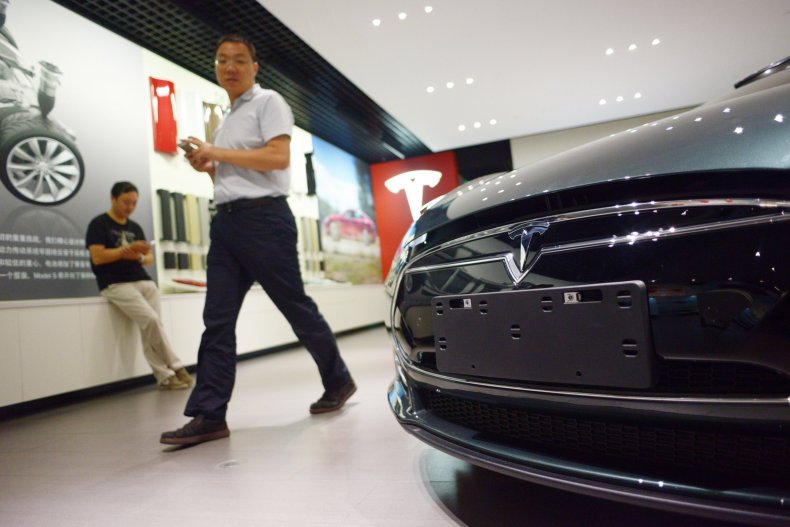 Tesla is the first U.S. automaker to respond to trade tensions between Washington and Beijing after raising prices of its Model X and S vehicles by about 20 percent in China, Reuters reported. The company's basic Model S sedan now costs $128,779 in China, a price about 70 percent higher than in the U.S. where it starts at $74,500.
Although some suggest Tesla's new factory will help it sell vehicles at more affordable prices to Chinese consumers, production in Shanghai is still a long way off.
"We expect construction to begin in the near future, after we get all the necessary approvals and permits. From there, it will take roughly two years until we start producing vehicles and then another two to three years before the factory is fully ramped up," the company told Newsweek in a statement.
Despite the years-long wait before Chinese production will commence, Tesla's stock prices surged by nearly 3 percent after the news broke, Bloomberg reported. Overall, the company is up 3.7 percent in 2018.
The news from Tesla also comes after China's government moved to relax regulations regarding ownership of foreign companies back in April. Previously, international ventures had to link up with local Chinese partners in order to set up their businesses in the country. Due to the relaxed regulations, Tesla's new manufacturing hub will be fully foreign owned.
Tesla also announced that it will reveal plans toward the end of the year to build a new plant in Europe moving forward, Bloomberg reported. Like China, Europe has been caught in the crosshairs of Trump's trade policies.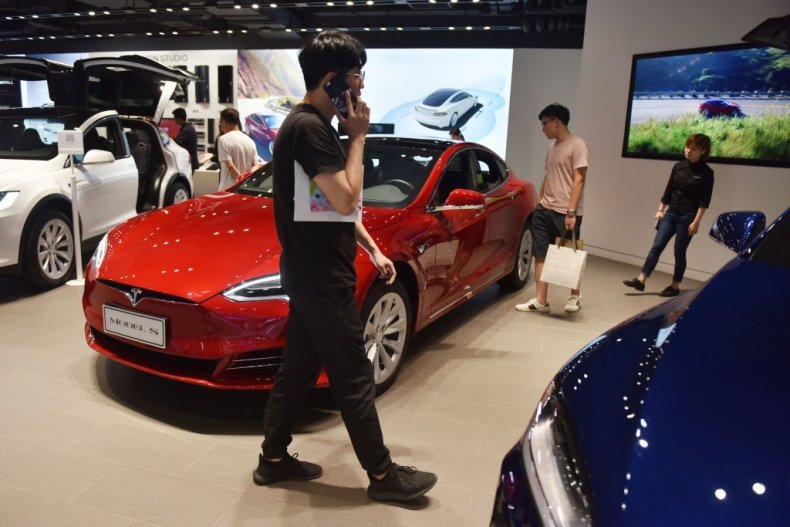 Economists have warned that the president's trade war will lead to U.S. companies moving more of their operations overseas.
Linda Lim, a professor of international business strategy at the Stephen Ross School of Business at the University of Michigan, told Newsweek last month that some American manufacturers will move abroad to avoid paying more for raw materials.
For example, Harley Davidson Inc. announced in June that it would move production of motorcycles shipped to the EU overseas, estimating that the tariffs would cost the company between $90 million and $100 million per year. Boeing, which is generally the largest U.S. exporter, could make a similar move to that of Harley, Lim suggested.
However, Tesla told Newsweek that it does not have plans of changing its current U.S. operations. "Today's announcement will not impact our U.S. manufacturing operations, which continue to grow," a spokesperson said.
"There is no way Trump's tariffs on the EU and China could benefit the U.S. economically," Lim said. "Note these costs to American consumers, workers and businesses occur whether or not there is foreign retaliation against American exports."