Firefighters called to the scene of a fatal Florida collision in May involving a Tesla Model S struggled to extinguish the flames after a battery reignited twice following a high-speed crash, according to a preliminary report released this week by the National Transportation Safety Board (NTSB).
An image released by investigators shows the charred remains of the electric car, which was "engulfed in flames" after crashing into a wall while traveling south on Seabreeze Boulevard in Fort Lauderdale. According to Tesla data, the vehicle was going 116 miles per hour roughly three seconds before the collision. The driver and the front-seat passenger, both 18-year-old males, died at the scene.
A passenger in the rear was ejected and then transported to a hospital, police said in a report at the time. The NTSB said the roadway leading up to the crash location has an advisory speed of 25 mph.
Witnesses claimed the Tesla driver lost control after changing lanes to pass another vehicle. Both the driver and the front-seat passenger were restrained at the time of the crash, the probe indicated. It also detailed how first responders appeared to have trouble with the Tesla Model S lithium-ion battery.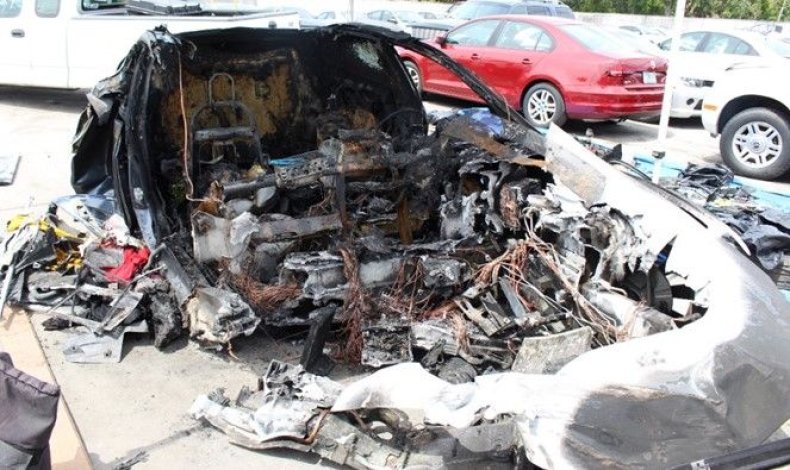 "The Fort Lauderdale Fire and Rescue Department arrived at the crash scene and found the Tesla fully engulfed in flames," the report stated. "They extinguished the vehicle fire using 200–300 gallons of water and foam. Small portions of the lithium-ion high-voltage battery had separated from the vehicle, and—though there was no visible fire—they applied water and foam to the debris."
The report continued, "During the loading of the car for removal from the scene, the battery reignited and was quickly extinguished. Upon arrival at the storage yard, the battery reignited again."
The report added, "A local fire department responded to the storage yard and extinguished the fire."
Tesla did not respond to a request for comment from Newsweek. The company is led by billionaire technologist Elon Musk, who has said its cars are safer than gasoline-powered vehicles, according to Reuters. The news agency's story referenced an incident in March when a Tesla battery pack reignited after a crash in California.
Investigations into the incident remain ongoing, the NTSB said. The killed teens were previously identified by law enforcement as Barrett Riley and Edgar Monserratt Martinez.
In a prior statement, Tesla told Newsweek, "Serious high-speed collisions can result in a fire, regardless of the type of car. Tesla's billions of miles of actual driving data shows that a gas car in the United States is five times more likely to experience a fire than a Tesla vehicle. This doesn't change how devastating an event like this is for our customer's family and friends, and our hearts are with them."
It is not believed that Tesla's autopilot mode played a role in the fatal Florida collision, experts said.