Texas AG Ken Paxton Blocks Critic Tweeting About His FBI Probe
Texas Attorney General Ken Paxton has blocked a young activist on Twitter for tweeting about the FBI's probe into him—less than a year after he agreed to stop blocking constituents on the social media platform to end a lawsuit.
Olivia Julianna, 19, said she was blocked from viewing tweets on Paxton's personal account, @KenPaxtonTX, last week.
"I was born and raised in this state and I have the right to speak to and about Texas' elected officials. This is a blatant violation of my constitutional rights," Julianna, who works as a political strategist with Gen Z for Change, a coalition of creators and activists fighting for progressive change, wrote in a tweet.
"I've been responding under his tweets for a while with articles talking about his FBI investigation and other issues I believe the voters of Texas have a right to know," Julianna, who is based in Houston, told Newsweek.
"He has been hiding my tweets regularly for the last few weeks. When he hid one of my tweets a few weeks ago I made my followers across platforms aware and they filled his comment section with screenshots of one of the tweet replies he had hidden."
Paxton, who is seeking a third term as the state's top lawyer, is headed to a run-off for the Republican nomination after failing to secure a majority of primary votes.
But he has been under the cloud of an FBI investigation into claims that he abused his office to benefit a wealthy donor. Paxton's former staffers accused him of breaking the law by using his office to help the donor, a real estate developer, in return for renovations to his home and a job for a woman with whom the married Paxton allegedly had an affair.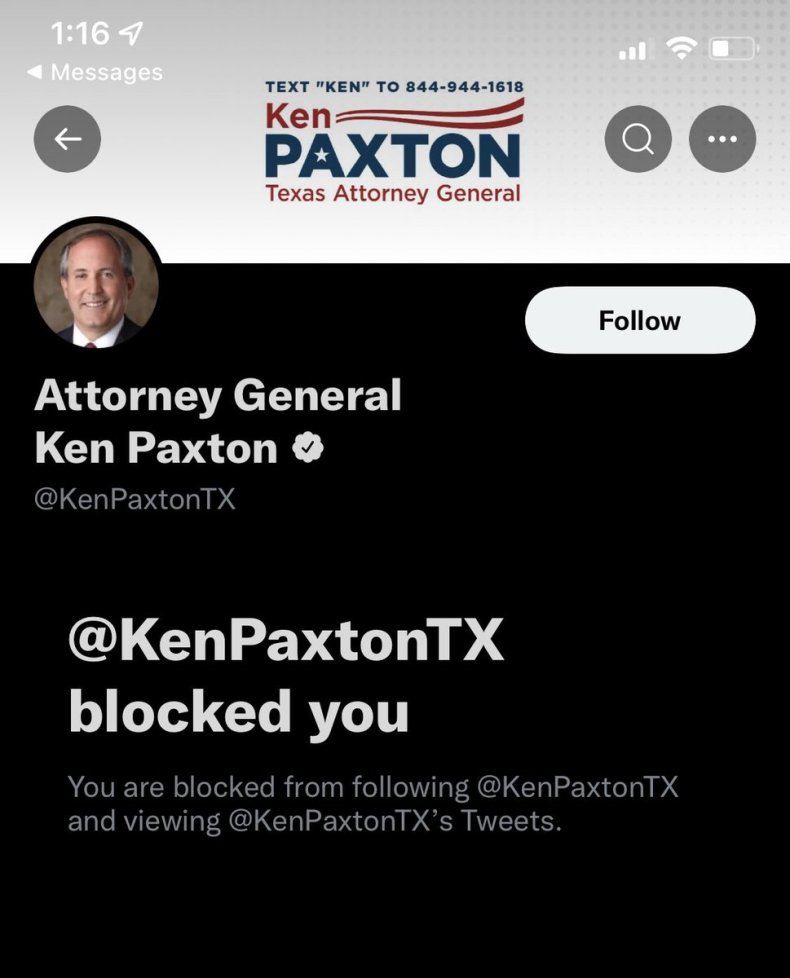 He is also awaiting trial on state securities fraud charges brought in 2015, according to The Associated Press.
Paxton—who has been endorsed by former President Donald Trump—had agreed to stop blocking people on his personal Twitter account as part of an agreement to end a lawsuit brought by nine Texans, The Texas Tribune reported in July 2021.
The lawsuit had argued that Paxton's practice of blocking critics from his Twitter account violates the First Amendment. Although the @KenPaxtonTX account is not the official account for the Office of the Texas Attorney General, attorneys for the plaintiffs argued that Paxton uses it to announce, describe and defend his policies and legal challenges brought by his office.
Almost a year on, Julianna said she was not surprised when she realized Paxton had blocked her on Twitter.
"Throughout his time as attorney general, Ken Paxton has been nothing but a disappointment to the people of Texas," she said. "He is corrupt in every sense of the word. This proves once and for all that Ken Paxton doesn't actually care about freedom of speech for his constituents, but that he only cares about maintaining the power structure that Texas Republicans have in our government."
Asked if she would consider taking legal action, Julianna said: "For now, I'd like to just say it's public knowledge he's been in a lawsuit for this before and I'd hope he'd wisen up before it reaches the point of a lawsuit considering he's in the middle of a run-off election."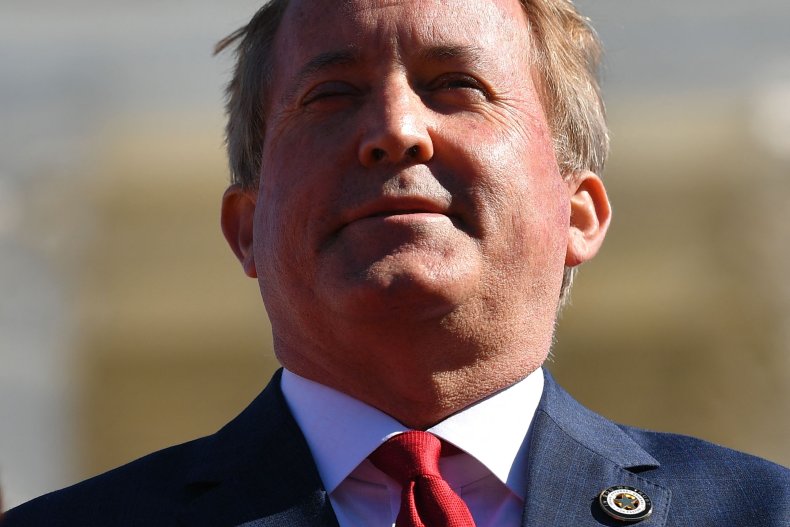 Julianna said she believes Rochelle Garza, a Democratic candidate facing a May runoff against former Galveston mayor Joe Jaworski, is the best candidate for Texas attorney general.
"As a young Latina who has now directly had my constitutional rights stifled by my current representative—I hope for everyone's sake she kicks his a** come November," she said.
Paxton's office did not immediately respond to requests for comment.