Texas Anti-Abortion Law Upheld By Federal Court, Setting Up Potential SCOTUS Case
The 5th U.S. Circuit Court of Appeals voted 2-1 Thursday that a controversial law banning most abortions in Texas could remain in place while the court debates a previous judge's order blocking it.
Appellate Judges Catharina Haynes and James Ho voted to let the law be enforced, while Appellate Judge Carl Stewart dissented.
Haynes and Ho were appointed to the court by former Republican Presidents George W. Bush and Donald Trump, respectively. Stewart was appointed by former President Bill Clinton.
U.S. District Judge Robert Pitman had originally issued an order blocking the abortion ban on October 6, but the case was moved to the court of appeals after Texas challenged Pitman's decision.
The court of appeals ruled in favor of the law while further arguments were held.
The law has been heavily criticized by the U.S. Department of Justice (DOJ) as well as the Biden Administration, and the court is now slated to hear an appeal to decide whether or not Pitman's block order can be upheld.
U.S. Attorney General Merrick Garland has called the law a "scheme" and said that "it is clearly unconstitutional under longstanding Supreme Court precedent."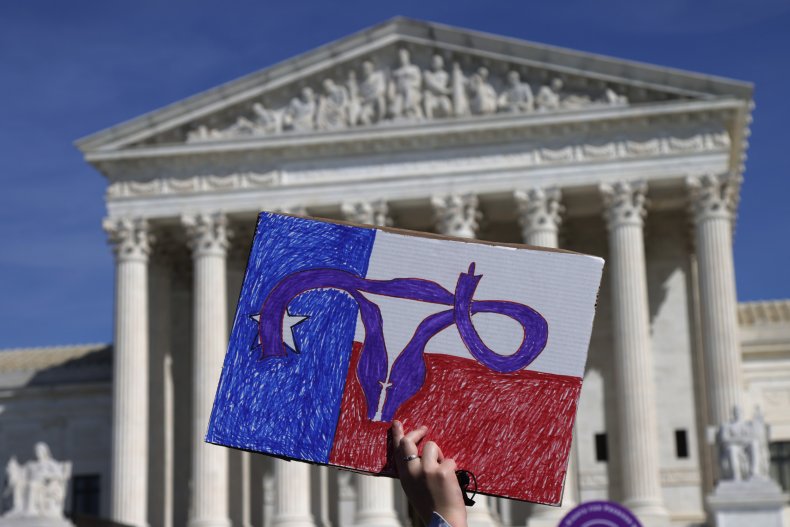 However, after Thursday's decision, the DOJ will likely appeal to the U.S. Supreme Court to strike down the law as unconstitutional. The high court declined to block the law earlier this year, despite pressure by numerous abortion rights and pro-choice groups.
In a 5-4 ruling, the Supreme Court had said it would not intervene because abortion providers hadn't made their case well enough regarding "complex and novel" questions, according to the majority opinion.
All three of the court's liberal justices were joined by Chief Justice John Roberts in dissent.
"The court's order is stunning," Justice Sonia Sotomayor stated in her dissent. "Presented with an application to enjoin a flagrantly unconstitutional law engineered to prohibit women from exercising their constitutional rights and evade judicial scrutiny, a majority of justices have opted to bury their heads in the sand."
Justice Elena Kagan had a similar opinion, writing in her dissent that "[the Supreme Court] reviewed only the most cursory party submissions, and then only hastily. And it barely bothers to explain its conclusion — that a challenge to an obviously unconstitutional abortion regulation backed by a wholly unprecedented enforcement scheme is unlikely to prevail."
The law enforces a near-complete ban on abortions in the state of Texas, without exceptions in cases of rape or incest. The only abortions that would be allowed would have to take place before a fetal heartbeat is detected.
This often occurs at the six-week mark of gestation, which is often before many women find out that they are pregnant.
Critics of the law across the country have derided the bill as unconstitutional given the precedent set by 1973's Roe V. Wade, in which the Supreme Court ruled that the Constitution protected a woman's right to have an abortion.
A direct challenge to Roe V. Wade unrelated to the Texas law will be heard by the Supreme Court on December 1, when Mississippi will argue to uphold its own ban on abortions after the 15-week mark.
Newsweek has contacted the U.S. Supreme Court for comment.