Migrants Not Responsible For COVID Surge, Says Texas Border Doctor
A doctor at the frontline of the migration route into the U.S. has rejected claims that the rise in COVID infections is linked to those coming into the country from Mexico.
A narrative is being pushed by critics on the right who blame President Joe Biden's policies at the U.S.-Mexico border which allow some migrants to enter the country to apply for asylum.
Texas Governor Greg Abbott, who has tried to prohibit mask mandates, has said that migrants are spreading COVID "across the entire country."
Fox News anchor Sean Hannity had claimed those migrating across the border are not being tested for COVID and called the border a "super spreader" of the pandemic.
However, Dr. Ivan Melendez, a physician who has worked in COVID wards and is based in McAllen which is the first stop for many who enter the U.S., told KHOU, "We do not believe that this is a pandemic of the migrants." In his view, it was, instead, "a pandemic of the unvaccinated."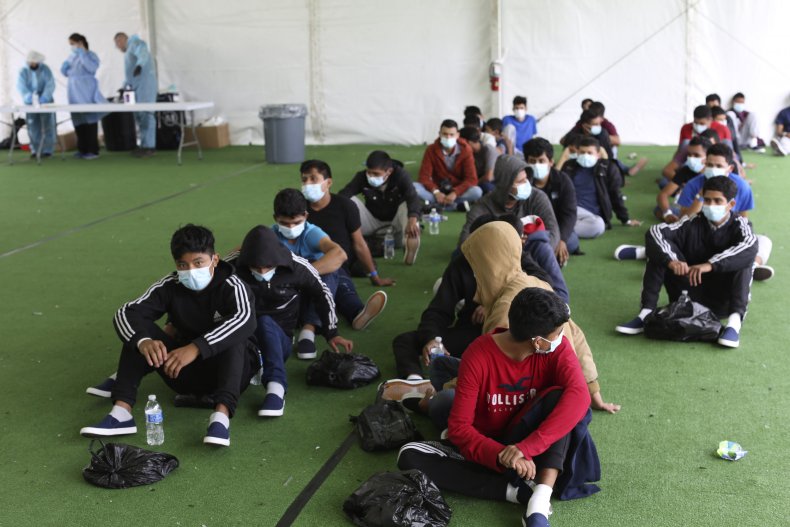 He said that the migrants do not have a higher positivity rate than the local population and that there was "very little intermingling with our local population as they move forward north."
Because they are part of the community, he said, "We cannot deny that the migrants are part of the problem," but added, "Do they contribute more than unvaccinated people? Absolutely not."
McAllen is among communities along the U.S.-Mexico trying to house a growing number of those seeking legal asylum in the U.S. who are released to await immigration court hearings.
Last week, buses driven by U.S. Customs and Border Protection (CBP) dropped off more than 1,500 people per day, CBS reported. Migrants are tested for COVID-19 under a gazebo and then quarantined and cared for in the open air.
The number of COVID-positive cases from across the border is relatively small given the surge in infections in Texas exacerbated by low vaccination rates, the Delta variant and an easing of restrictions.
Last week, 14.8 percent of migrants released from U.S. custody into McAllen tested positive for COVID, compared with the statewide positivity rate of 18.7 percent, CBS reported.
The mayor of McAllen, Javier Villalobos told the outlet he did not see a link between the increase in COVID within our community and the immigrants "because they were isolated."
However, he is now growing more concerned. "Now I think there's an issue," he said, "positive or non-positive, they get picked up, and they're going out. And we have no authority to stop it." Newsweek has contacted Villalobos' office for comment.
The graphic below, provided by Statista, shows the rise in COVID cases across the U.S.