Texas Could Ban Critical Race Theory Next As Several States Look to Follow Idaho
Texas Republicans look set to follow in the footsteps of other states that are banning the teaching of critical race theory, which examines the ways race and racism intersect with politics, culture and the law.
Two bills moving through the state's legislature would prohibit schools from teaching the theory, which "maps the nature and workings of 'institutional racism'" in America, according to Kendall Thomas, co-editor of Critical Race Theory: The Key Writings That Formed the Movement.
On April 28, the state Senate passed SB 2202, tabled by Brandon Creighton, a Republican state senator. It bans teaching that "one race or sex is inherently superior to another race or sex [or that] an individual, by virtue of his or her race or sex, is inherently racist, sexist, or oppressive, whether consciously or unconsciously."
The bill passed by 18 votes to 13. All of its supporters were white Republicans.
The state House is set to consider SB 2202's sister bill, HB 3979, in the coming days. This bill says teachers who discuss "controversial" views of public policy or social affairs shall "strive to explore such issues from diverse and contending perspectives without giving deference to any one perspective."
HB 3979 also prohibits teaching that any individual should feel "discomfort, guilt, anguish, or any other form of psychological distress on account of his or her race or sex."
The two bills do not explicitly name critical race theory—as similar legislation in Idaho has done—but in a statement endorsing SB 2202, Texas Lieutenant Governor Dan Patrick said: "Texans reject critical race theory and other so-called 'woke' philosophies that maintain that one race or sex is inherently superior to another race or sex or that any individual, by virtue of his or her race or sex, is inherently racist, sexist or oppressive."
Patrick added: "These divisive concepts have been inserted into curriculums around the state, but they have no place in Texas schools.
"When Texan parents send their children to school, they expect their students to learn to think critically without being forced to consume misinformation about our country's founding and the biases of advocacy groups that seek to belittle our democracy and divide us."
Opponents of the bills believe they are part of an attempt to whitewash American history and not acknowledge that the country was built on the foundations of slavery.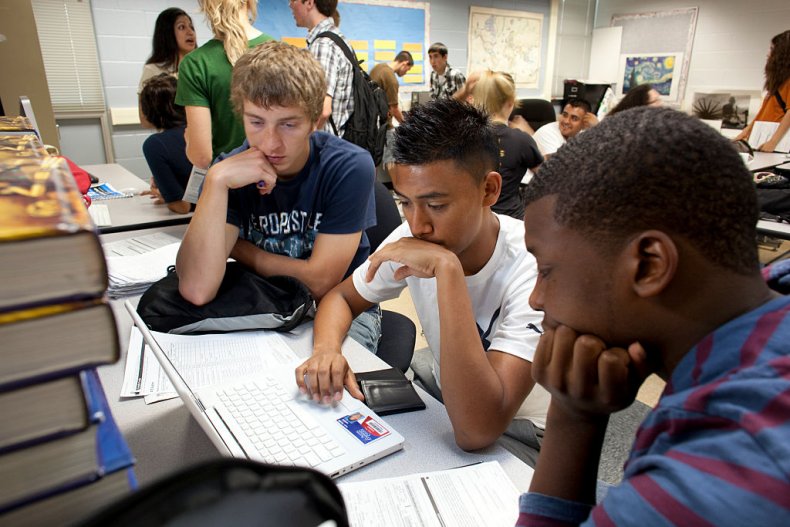 SB 2202 and HB 3979 will prevent students from receiving class credit for participating in organizations that promote civic engagement and interest, according to the Texas chapter of the American Federation of Teachers, which represents around 66,000 educators and other school staff.
Texas AFT, the Texas State Teachers Association, the Texas Legislative Education Equity Coalition, the Texas Council for the Social Studies and the Education Trust have all opposed the state legislation.
"These bills try to ignore or downplay the racism, sexism and other injustices in our state's and nation's history," Clay Robison, a public affairs specialist for the Texas State Teachers Association, told the Texas Tribune.
"But students must be encouraged to fully explore and understand those injustices if Texas is to provide an equitable future for a rapidly diversifying population."
Critical race theory has become a politically charged topic in recent months. In April, President Joe Biden's Department of Education issued proposals to update the teaching of American history and civics in schools, incorporating anti-racist works such as The 1619 Project and books by the historian Ibram X. Kendi.
GOP lawmakers in Idaho banned the theory from being taught in the state's schools and universities last month.
On May 6, a pioneer of critical race theory, Professor Kimberlé Crenshaw, told Newsweek that Republicans were "using a phantom threat to justify jaw-dropping attacks on racial justice, freedom of speech and a society's understanding of its history."
Lawmakers in Tennessee, Georgia, Arkansas, South Dakota, Arizona, Oklahoma and New Hampshire are also debating a ban on critical race theory. Other states including Iowa, Louisiana, Missouri, Rhode Island and West Virginia are considering legislation to prohibit the teaching of "divisive concepts."