Texas Democrats Identify 'Formidable Candidate' to Challenge Ted Cruz
Democratic U.S. Representative Colin Allred from Texas is being considered by his party as a "formidable candidate" to challenge incumbent Republican Senator Ted Cruz in the 2024 election, according to a report from The Dallas Morning News.
Allred, who represents Texas' 32nd congressional district, has served in Congress since flipping his district's seat in 2018 against incumbent Republican Pete Sessions. Now the 39-year-old congressman is reportedly considering a run against Cruz, who has already announced his 2024 reelection campaign for what would be his third term as senator.
According to the Morning News, nearly a dozen different Democratic strategists and activists told the outlet that Allred could be the switch-up that Texas Democrats need to end a decadeslong losing streak.
As the newspaper pointed out, no Democrat has won a statewide race in Texas since 1994.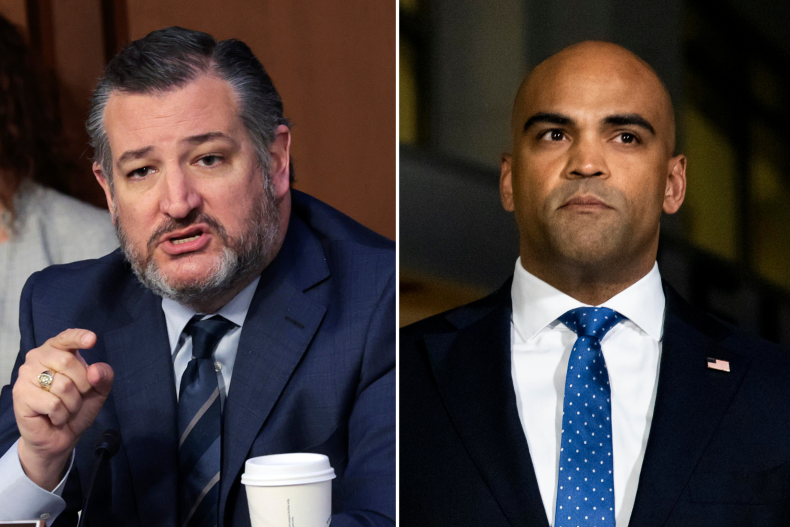 Dallas County Judge Clay Jenkins, a Democrat who won his reelection campaign this past fall, told the Morning News that Allred would be "a great candidate and a very formidable candidate" to go after the open Senate seat.
"He's really delivered for Dallas," Jenkins said. "If it's good with the family, get in there and go for it. Give it all you've got."
Texas's 32nd congressional district is partially made up of the northeastern corner of Dallas County.
Kristy Noble, chair of the Dallas County Democrats, spoke to ABC News affiliate WFAA on Tuesday about Allred's potential Senate run.
"If Congressman Allred does run, he would be an amazing candidate and would be able to go toe-to-toe with Ted Cruz," Noble told the outlet. "He would be able to bring more Texas values to the Senate than Ted Cruz."
Texas Democratic Party spokesperson Ike Hajinazarian told Newsweek, "We look forward to our Democratic nominee retiring Ted Cruz from the U.S. Senate and allowing him some time to finally relax at his preferred Cancun resort."
"And, considering Senator Cruz's own newly-introduced legislation to limit U.S. senators to two terms, it seems like he too agrees his time in the Senate should come to an end," said Hajinazarian, who added that the Texas Democratic Party remains impartial in Democratic primaries.
The Morning News also pointed out Allred's endorsements from both the U.S. Chamber of Commerce and Texas AFL-CIO, a state federation of labor unions. According to Ron Kirk, the former mayor of Dallas who served as a trade representative in the Obama administration, Texas' "business community is probably more supportive of Colin Allred than Ted Cruz at this point."
Some Republicans did warn against Allred challenging Cruz, although GOP strategist Chris Homan told the Morning News that Allred is possibly the "best positioned" congressional Democrat to try to run for statewide election.
"Here's why Colin would still lose," Homan continued. "He has a voting record that is nearly identical to the awful, most left-wing politicians from the East and West Coast. He will have to eat all of those bad votes. Texans will not accept that."
The last time Cruz was challenged for his Senate seat was in 2018 against former Texas Representative Beto O'Rourke, where the incumbent Republican won by just 2.6 percentage points, reported The Texas Tribune.
Cruz ran for president in 2016 during his first term as senator but lost to former President Donald Trump in the GOP primaries. Last week, however, Cruz said that he would be running for his third term in 2024 instead of attempting another presidential run against the former president.
The GOP currently holds the majority of Texas' state and federal offices, with 25 of its 38 congressional seats filled by Republicans, as well as both Senate seats.
Republican Governor Greg Abbot also beat O'Rourke in the November election, defeating his Democratic challenger by nearly 11 points, reported the Associated Press.