Texas Dems Respond to State Speaker's Offer to Charter Plane: 'Save Your Money'
The Texas Democrats who fled the state to stop a vote on a contentious election bill have turned down state Speaker of the House Dade Phelan's offer to charter a plane to return the group from Washington D.C. back to Texas.
"The Speaker should save his money. We won't be needing a plane anything soon, as our work to save democracy from the Trump Republicans is just getting started," the Democrats said in a statement.
"We're not going anywhere and suggest instead the speaker end this charade of a session, which is nothing more than a monthlong campaign commercial for Gov. Abbott's re-election. The speaker should adjourn the House Sine Die."
The statement was signed by Democratic state Representatives Rafael Anchia, Chris Turner and Nicole Collier.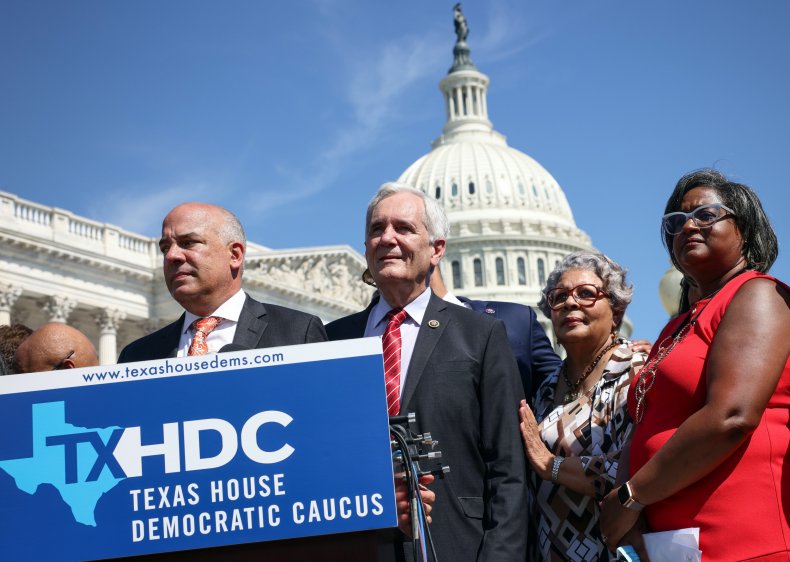 "Sine Die" is a Latin governmental phrase that means "without day." It means to indicate a final adjournment of a congressional session.
Earlier on Thursday, Phelan announced that he had paid for a plane that will be on standby in Washington D.C. on Saturday to deliver the Democrats breaking quorum back to Texas.
On Monday, state Democrats left for Washington, D.C. in order to prevent state Republicans from passing the contentious election bill.
Earlier in the week, Republican Texas Gov. Greg Abbott threatened to arrest the fleeing Democrats as soon as they re-enter the state. He has also threatened to lock them into the state House chamber until they finish voting on the election bill and other legislation.
On Monday, state Democrats walked out of a special session of the state legislature which had been called in order to pass the contentious voting bill and other legislation. By leaving, the lawmakers denied Republicans the quorum requiring two-thirds of lawmakers to be present in order to conduct business in the state legislative chamber.
The proposed voting bill would add new identification requirements for mail-in voting, as well as ban drive-thru voting and some early voting options. It would also change early voting hours and create new criminal penalties for any government officials who send out unsolicited applications for mail-in ballots.
During their visit to D.C., the Texas Democrats also urged their federal counterparts to end the filibuster in order to pass federal voting legislation. Democratic Vice President Kamala Harris met with the Texas state Democrats.
"I know what you have done comes with great sacrifice, both personal and political," Harris told the group. "You are doing this in support and defense of some of our nation's highest ideals."
Newsweek contacted the Texas Democratic Party for comment but did not hear back in time for publication.