Texas Deputy on Assignment in Uvalde Fired for Off-Duty Drunkenness: Police
A police deputy has been fired following an off-duty arrest for public intoxication while on assignment in Uvalde, Texas.
The Brazoria County Sheriff's Office said on Wednesday that an internal affairs investigation had revealed that Deputy Christopher Lofton "violated multiple Department policies" and as a result had been "permanently relieved of duty." Lofton, a two-year veteran of the sheriff's department, had been arrested on June 2 at living quarters used by law enforcement officers assigned to Uvalde in the aftermath of last month's deadly mass shooting at Robb Elementary School.
"[Lofton] became intoxicated at the temporary living quarters to the point that he
was a danger to himself and others," the sheriff's office said in a release shared to social media. "Deputy Lofton was off-duty at the time of the incident and immediately removed from the Uvalde assignment and due to his erratic behavior was arrested for Public Intoxication by Uvalde County local law enforcement."
"The actions of Deputy Lofton were not consistent with this Department's mission and should not minimize the outstanding work other good men and women have done and continue to do for the grieving community of Uvalde Texas," the release continued.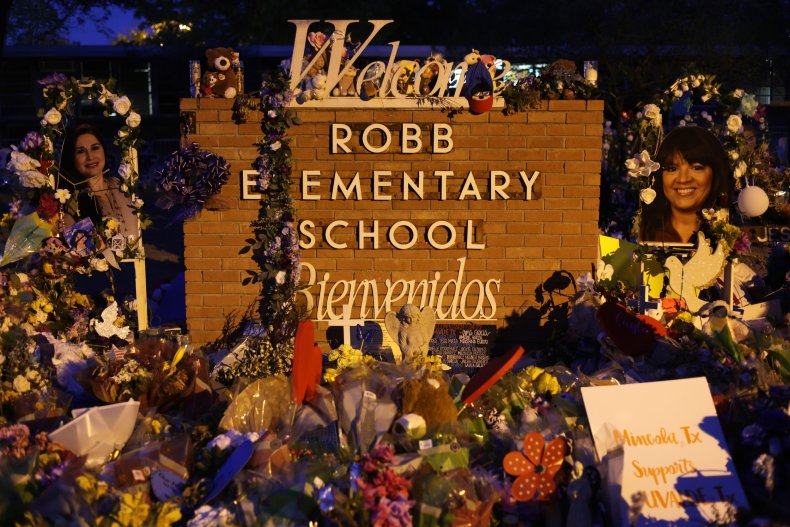 Lofton was immediately relieved of his Uvalde assignment and an investigation was quickly launched after his arrest last week. Public intoxication is a class
C misdemeanor that carries a penalty that is punishable by a fine of up to $500 in Texas.
Brazoria County Sheriff's Lieutenant Ian Patin told The Brazosport Facts that "Deputy Lofton was the only employee that was found to have violated department policies and no other employee is alleged to have been involved in any misconduct."
The Brazoria County Sheriff's Office sent eight patrol deputies to Uvalde one week after the shooting in response a statewide call for assistance, according to The Houston Chronicle.
Newsweek reached out to Brazoria County Sheriff Bo Stallman for comment.
Local police in Uvalde continue to face heavy criticism over their response to the May 24 shooting, with a focus on their failure to take any significant action to stop the gunman before he killed 19 children and two teachers at the school.
Robb Elementary School teacher Arnulfo Reyes, who was injured during the shooting, called Uvalde police "cowards" for not acting quickly during an interview aired Tuesday on ABC's Good Morning America. Similar criticism has been made by members of the public and prominent figures from across the political spectrum.
Particularly strong criticism has been directed toward Pete Arredondo, the Uvalde School District police chief who designated the shooter a "barricaded" subject rather than an "active shooter" during the incident, a move that Texas Department of Public Safety Director Steven McCraw called "the wrong decision."