Texas GOP Chairman Questions 'Liberal Media' Over Biden Campaign Bus Incident With Trump Caravan: 'Stop Bothering Me'
Allen West, chairman of the Republican Party of Texas, told a local news reporter to "stop bothering" him in response to their recent request for comment, which referenced the group of Trump supporters that trailed a Biden-Harris campaign caravan as it crossed an interstate highway on Friday.
In an apparent effort to halt the caravan's further movement, last week's confrontational tracking scheme led to at least one vehicle collision and caused officials at the Democratic presidential nominee's campaign to cancel multiple events originally set to take place later that afternoon.
Reporter Abby Livingston recounted the pro-Trump group's attempt to thwart Biden's campaign bus in a piece published by the Texas Tribune on Saturday, which sought input from West. The Republican Party of Texas chairman did not reply to Livingston's inquiries as they related to the caravan directly, instead claiming the reporter endeavored to "portray conservatives as violent radicals."
In a statement released via the Texas GOP's official website Saturday, West acknowledged Livingston's Texas Tribune report, but centered his response around instances where violence and property damages have occurred during protests against racism and police violence across the U.S.
West was far from the first conservative to deflect queries about Trump supporters' aggressive behavior with unsubstantiated remarks targeting Black Lives Matter.
"It is leftists from Antifa and BLM who have been assaulting, robbing, and looting fellow citizens and their property," he suggested in Saturday's statement, referencing the loosely-organized anti-fascism movement that Trump described as a "terrorist organization," despite lack of evidence connecting it to any criminal acts that would indicate such.
Moreover, numerous local leaders and law enforcement officials have made clear that individuals who loot establishments and damage property during protests are separate from demonstrators rallying against police abuse. Still, in the Texas GOP's recent statement, West asked: "Where is the liberal corporate media's concern about that real violence?"
"Additionally, none of what your question implies is accurate. It is more fake news and propaganda. Prepare to lose...stop bothering me. Maybe Soros can cut y'all another check in 2022," he finished. Billionaire investor George Soros has donated large sums to support Biden's presidential campaign.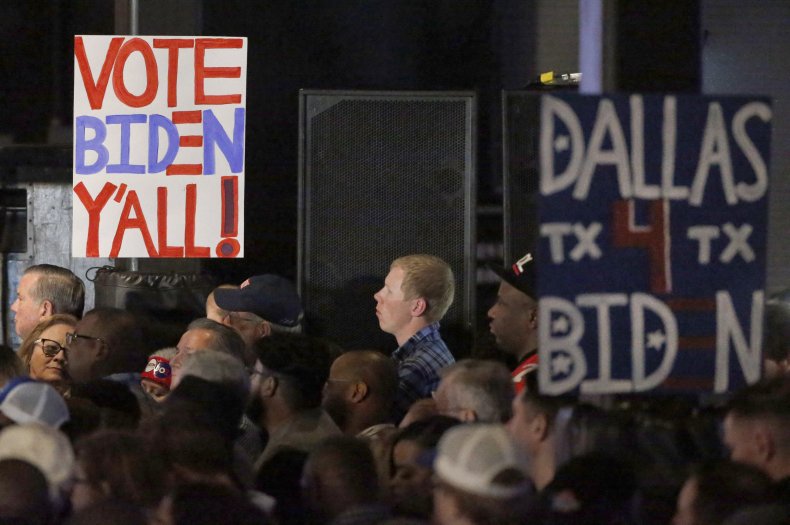 Photos and videos shared to social media on Friday showed a group of vehicles, all brandishing flags confirming support for President Donald Trump, crowding Joe Biden's campaign bus as it traveled from San Antonio to Austin. Tariq Thowfeek, the Texas communications director at Biden's election campaign, announced the cancellation of scheduled events in Austin due to concerns about safety.
"Rather than engage in productive conversation about the drastically different visions that Joe Biden and Donald Trump have for our country, Trump supporters in Texas today instead decided to put our staff, surrogates, supporters, and others in harm's way," Thowfeek reportedly said in a statement issued Friday to several news outlets, including the Texas Tribune.
Newsweek reached out to the Biden campaign and Texas Republican Party for additional comments, but did not receive replies in time for publication.
This story was updated at 3:53 p.m. ET to reflect Antifa's roots as a loosely organized movement against fascism.