Texas Gov. Greg Abbott's Approval Plummets as 52 Percent Believe State Is on Wrong Track
Texas Republican Governor Greg Abbott's approval rating has sunk to its lowest level since he took office, with the majority of Texans believing the southwestern state is on the wrong track.
New polling conducted in August by the Texas Politics Project at the University of Texas at Austin found that just 41 percent of state residents approve of Abbott's job performance. Meanwhile, half (50 percent) said they disapprove of the Republican governor's leadership.
The poll also showed that a record high number of Texans believe the state is headed in the wrong direction. Only 35 percent of respondents said the state was headed in the right direction, but more than half (52 percent) said they believe Texas is on the wrong track. That's the highest negative response level since the regular poll was launched in 2009.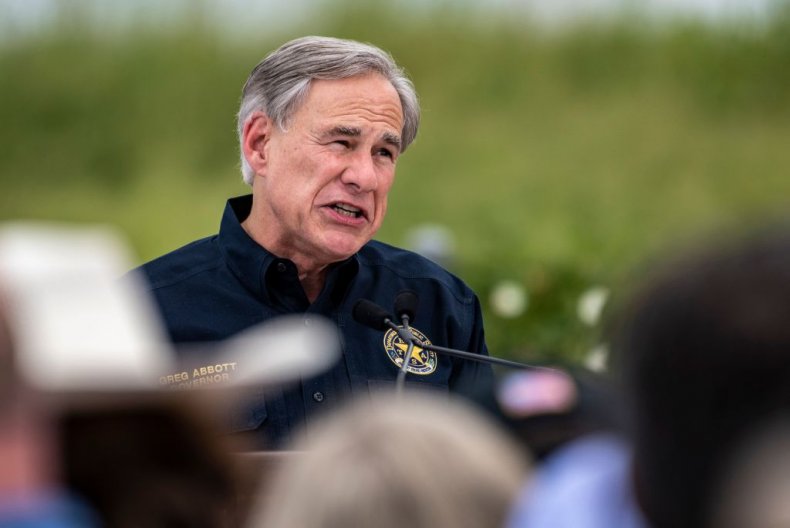 "This is really an eye-opener for us," Jim Henson, executive director of the Texas Politics Project, told Austin's NBC News affiliate KXAN-TV. He said Abbott's approval has taken a hit due to crises that have hit the state in recent months.
"Governance is tough, and he's the face of governance in the state right now," Henson said.
Texas currently leads all U.S. states with the highest average number of new daily COVID-19 infections. Over the past two weeks, the southwestern state has averaged well over 19,000 new daily infections, according to The New York Times tracker. More than 14,500 people are hospitalized in the state, and an average of about 240 Texans are dying per day.
Despite the surge, Abbott has continued to oppose mask mandates. Back in May, the Republican governor issued an executive order banning mask mandates from being implemented in the state.
The new polling from the Texas Politics Project showed that more voters oppose the governor's mask mandate ban than support it. Just 41 percent of respondents backed the governor's ban, while 45 percent said they're against it.
Abbott has attempted to ensure that the ban on mask mandates applies to public schools in Texas as well. The poll showed that this position is opposed to the majority view among Texans.
The survey found that 56 percent of state residents support requiring public school students and staff to wear masks while on campus. Only 35 percent of respondents said they oppose a school mask mandate.
The GOP governor has faced substantial criticism from doctors and public health officials for his response to the pandemic, particularly as his administration has opposed mask mandates in schools.
"Governor [Greg] Abbott has failed us. A Republican state legislature has failed us," David Portugal, a cardiologist in Sugarland, Texas, said during a Committee to Protect Health Care webinar, Texas Public Radio reported on Friday.
"These leaders should be held accountable and be asked to explain how they can justify taking actions that are killing their fellow Texans," Portugal added.
This article has been updated to reflect that David Portugal's remarks were first reported by Texas Public Radio.