Texas Governor Greg Abbott tested positive for COVID-19 on Tuesday, his office said in a statement.
Abbott, who is fully vaccinated against the virus, was not experiencing symptoms as of Tuesday evening and is being treated with Regeneron's monoclonal antibody treatment, the statement said.
"Governor Greg Abbott today tested positive for the COVID-19 virus," the statement said. "The Governor has been testing daily, and today was the first positive test result. Governor Abbott is in constant communication with his staff, agency heads, and government officials to ensure that state government continues to operate smoothly and efficiently."
At 7:30 p.m., the governor posted a short video to Twitter, confirming the news.
"I test myself every day, and today is the first day that I've tested positive," Abbott said. "The good news is that my wife continues to test negative."
Abbott, a Republican, will isolate in the Governor's Mansion and test daily, the statement said. Everyone he has been in contact with has been notified, and Texas First Lady Cecilia Abbott has tested negative.
On Monday, Abbott was at a crowded event for the Republican Club at Heritage Ranch, in Collin County, north of Dallas. In photos he posted to Twitter, only a few people were seen wearing a mask. Newsweek reached out to the club Tuesday evening for comment but had not heard back by publication.
Abbott has been a vocal critic of mask mandates in the state, even as cases have increased. In July, Abbott issued an executive order that banned local governments from imposing mask mandates or requiring a COVID-19 vaccination. The Texas Supreme Court on Monday sided with Abbott's prohibition following a legal challenge.
"Texans have mastered the safe practices that help to prevent and avoid the spread of COVID-19. They have the individual right and responsibility to decide for themselves and their children whether they will wear masks, open their businesses, and engage in leisure activities," he said in a statement on July 29.
Texas politicians from both parties showed their support for the governor on Tuesday.
Julian Castro, a Democrat, former Secretary of HUD and presidential candidate said he wishes the governor well and hopes he will reconsider the executive order.
"I wish the governor a speedy recovery as he quarantines with COVID-19," he said in a tweet. "This virus is spreading like wildfire across Texas, including among children. I hope the governor now reconsiders his ban on mask requirements in schools."
U.S. Representative Michael McCaul, a Republican, also sent his support.
"My heart goes out to the Governor, and I know the severity will not be as intense because he's been vaccinated," he said during a Washington Post live event.
COVID-19 cases in Texas have increased in the past month due to the highly transmissible Delta variant. On Monday, the state reported a 7-day-average of 12,498 new cases per day, compared to 3,512 one month earlier, according to data from Johns Hopkins University. In Texas, about 47 percent of the population has been fully vaccinated against the virus.
Abbott received the vaccine in December to show it is "safe and easy," KVUE-TV, a local news station reported.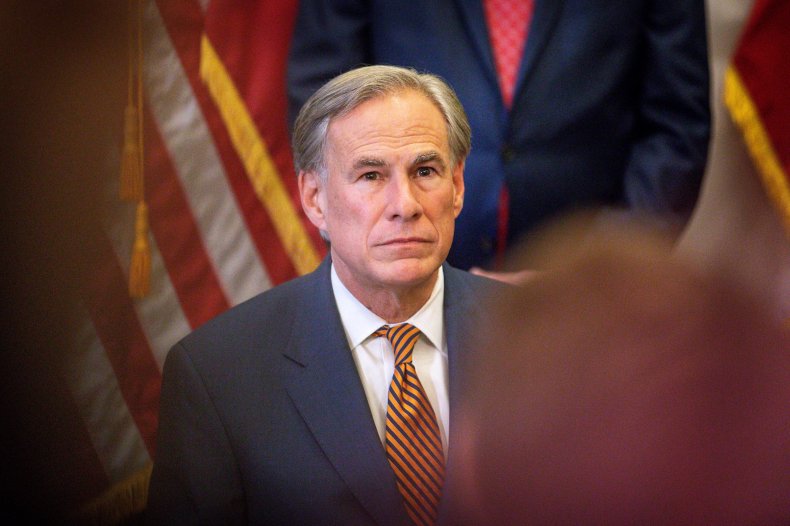 Update 08/17/2021, 7:06 p.m. ET: This story has been updated with statements from former Secretary of HUD Julian Castro and U.S. Representative Michael McCaul.
Update 08/17/2021, 7:45 p.m. ET: This story has been updated with Abbott's Twitter statement.