Texas Gov. Greg Abbott's Approval Plummets, 54% Believe State Is on Wrong Track
Texas Republican Governor Greg Abbott's approval rating has dropped to record lows since he first took office, and a majority of Texans believe the Lone Star state is now heading down the wrong track.
A new survey from The Dallas Morning News and the University of Texas at Tyler found that just 45 percent of Texans approve of Abbott's performance as governor, down 14 points from his approval rating before the COVID-19 pandemic ravaged the state and killed over 60,000 people.
Furthermore, the survey found that a record number of Texans believe the state is headed in the wrong direction. Only 44 percent of respondents said the state is going down the right path, while 54 percent said they believe Texas is on the wrong track. That's a higher negative response level than it was just two weeks ago, when a record-breaking 52 percent said the state was on the wrong track.
Abbott's approval drop comes after he recently passed heavily conservative legislation on issues such as abortion, guns and COVID-19 mandates.
In recent weeks, the Republican governor moved forward to ban abortions after six weeks, allow people to carry concealed handguns without permits, and outlaw the teaching of critical race theory. According to the survey, respondents were split on these hot-bed issues.
Nearly half of Texans said the new abortion law should be overturned, while 50 percent disagree. An additional 50 percent said they opposed the concealed carry policy, and 56 percent said teachers should be permitted to teach critical race theory and "discuss how historical examples of discrimination in our laws apply to inequalities today."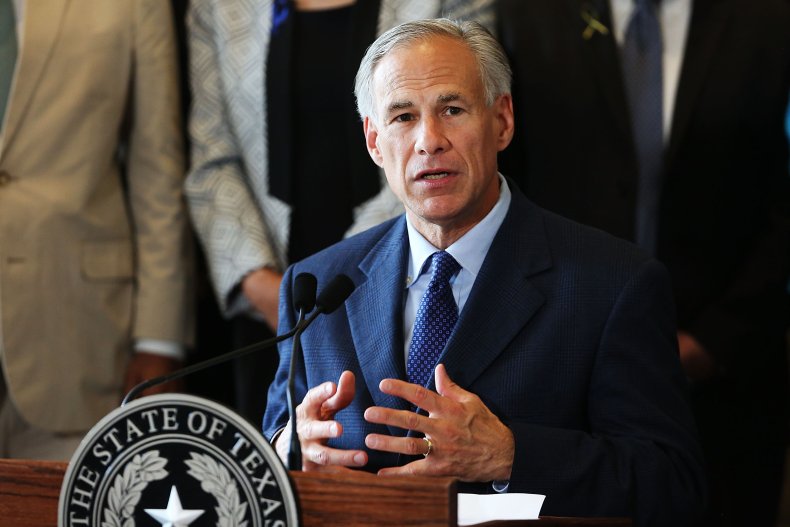 Earlier this month, Abbott also signed into law an elections bill that critics contend is designed to make voting harder for people of color.
Texas currently leads the U.S. with the highest average number of daily COVID infections.
Over the past two weeks, the state has averaged over 15,000 new daily infections, according to data from The New York Times. On a daily average basis some 13,000 people are hospitalized with COVID and about 286 Texans die of it. The state is also one of several that have 10 percent or less of their ICU beds available as coronavirus cases continue to surge.
Despite the uptick in cases, Abbott has vehemently opposed coronavirus safety measures such as mask mandates or vaccination requirements. The new survey found that a majority of Texans oppose Abbott's executive order to ban mask mandates, with 55 percent saying they disagree with the initiative, while just 44 percent they supported the Republican leader's stance.
The GOP governor has been strongly criticized in the past year by Democratic leaders and health-care experts over his handling of the pandemic, including by President Joe Biden.
"Republican governors in states like Texas and Florida are doing everything they can to undermine the public health requirements that keep people safe," Biden tweeted on Thursday. "They're playing politics with the lives of their citizens, especially children. I refuse to give in to it."
The survey of 1,148 registered voters was conducted September 7-14 and has a margin of error of plus or minus 2.9 percentage points.
Newsweek contacted Abbott's office for additional comment, but did not hear back in time for publication.