Texas Governor Greg Abbott Holds Strong Lead Over Beto O'Rourke: Poll
A new poll released Sunday shows Texas Governor Greg Abbott holds a lead of 11 percentage points over his Democratic challenger Beto O'Rourke in this year's Texas gubernatorial race.
The survey from The Dallas Morning News/University of Texas at Tyler found 47 percent of respondents said they would support the Republican Abbott, while 36 percent said they would vote for O'Rourke. Sixteen percent said they would vote for someone else.
Abbott holds a firm lead among Republican and white voters over O'Rourke. The incumbent governor also holds a small—though statistically insignificant given the poll's margin of error—lead among Hispanic respondents, 40 percent to O'Rourke's 39 percent.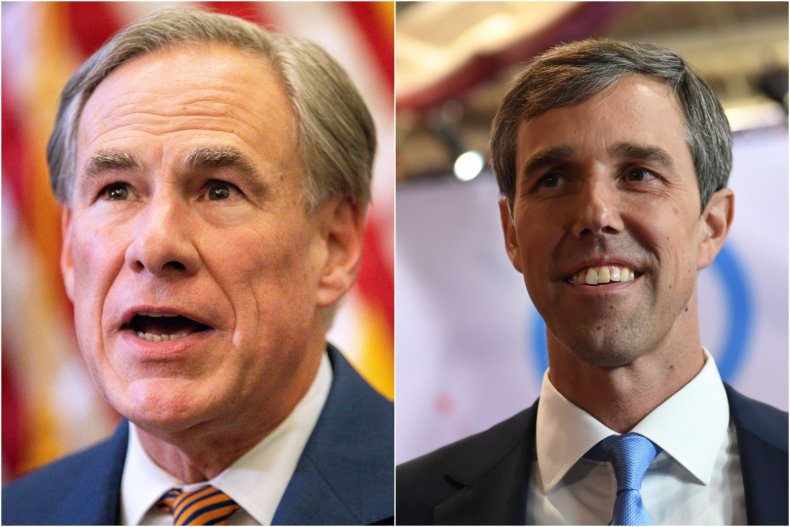 The poll of registered voters in Texas found many respondents said the state is not headed in the right direction. Fifty percent of respondents said things are "headed off on the wrong track" in Texas, while 49 percent said things are going in the right direction.
Abbott's job approval rating was mostly positive. Fifty-one percent approved of his job performance in the poll, compared to 45 percent who disapproved of how he's doing.
Abbott officially announced he would seek reelection in early January. As governor he has advocated for more aggressive security on the state's southern border, opposed vaccine and mask mandates during the COVID-19 pandemic and signed into law a controversial abortion measure that is among the most restrictive in the country.
The Texas state law regarding abortion is seen as a challenge to Roe vs. Wade, and The Dallas Morning News/University of Texas at Tyler poll found 53 percent of respondents said they do not think the U.S. Supreme Court should overturn Roe vs. Wade. However, 45 percent said the high court should overturn the court's 1973 decision that granted women the constitutional right to an abortion during the first trimester.
Though Abbott is seen as a lock for the GOP nomination, he does face challenges within his own party, including from Don Huffines. A successful real estate developer, Huffines has waged a high-profile campaign against Abbott, including an advertisement that aired during a Dallas Cowboys game. Among the promises in the ad was bringing a Super Bowl victory to the NFL team.
Another prominent GOP contender is Allen West, the former chairman of the Republican Party of Texas and a one-time member of the U.S. House of Representatives from Florida. West is also a retired U.S. Army lieutenant colonel who was deployed to Kuwait in 1991 and Iraq in 2003.
In The Dallas Morning News/University of Texas at Tyler poll, 6 percent of Republican voters said they would vote for West, while 4 percent supported Huffines.
O'Rourke is perhaps the most well-known Democrat running for governor. A former member of the U.S. House of Representatives for Texas' 16th congressional district from 2013 until 2019, O'Rourke came within two percentage points of beating incumbent Republican Senator Ted Cruz for his seat in 2018.
O'Rourke was also among several candidates seeking the 2020 Democratic presidential nomination before suspending his campaign after nine months and endorsing Joe Biden. He announced his run against Abbott on November 15, 2021.
Also running for the Democratic nomination to face Abbott are former public radio journalist Joy Diaz and Michael Cooper, a pastor and chapter president of the National Association for the Advancement of Colored People (NAACP). Six percent of Democratic voters in the poll releases Dudnay said they would support Cooper, while 4 percent chose Diaz.
The Dallas Morning News/University of Texas at Tyler poll was conducted January 18-25. It surveyed 1,082 adults who are registered voters and has a margin of error of plus or minus 3.5 percentage points.