Dozens of employees at the Houston Methodist hospital in Texas walked out of their shifts on Monday in protest of the health system's COVID-19 vaccine mandate for its workers. They believe the mandate is "illegal, unethical, and immoral," a lawyer representing some of the workers told Newsweek.
Ashton Handley, a worker who resigned a few weeks ago, told Houston's FOX 26: "I believe it's a choice." She added: "I'm not on either side, I'm not anti-vaxxer, I've received my vaccine, but I believe it should be someone's choice."
According to guidance issued by the U.S. Equal Employment Opportunity Commission last December and updated this year in May, employers could legally require workers to get a COVID-19 vaccine to ensure a safe work environment in which "an individual shall not pose a direct threat to the health or safety of individuals in the workplace."
Speaking to Newsweek, a spokesperson for the U.S. Food and Drug Administration said: "The FDA does not mandate vaccinations. Whether a state, local government, or employer, for example, may require or mandate COVID-19 vaccination is a matter of state or other applicable law."
The lawsuit by the hospital employees alleges: "Dr. Marc Boom, the President and CEO of Defendant Houston Methodist gave employees an ultimatum - if you want to keep your job, continue to feed your family, and avoid bankruptcy, you must be injected with the experimental COVID-19 vaccine."
Speaking to Newsweek on Tuesday, Jared Woodfill, the lawyer representing the employees in the lawsuit, said: "Yesterday, my clients and others walked out of Methodist Hospital in protest for implementing a policy we believe is illegal, unethical, and immoral.
"For the first time in the history of our country, a private employer is requiring its employees to submit to an experimental vaccine. Because my clients refused to serve as human guinea pigs in this experiment, they have been suspended without pay and face termination within the next two weeks," the lawyer added.
All 26,000 employees at Houston Methodist—"the first major health care system in the U.S. to require mandatory COVID-19 vaccinations," according to Dr. Boom—were required to be fully vaccinated by June 7 or risk losing their jobs.
The company stated: "Those who are not vaccinated by that date face suspension and eventual termination. We don't know yet if a booster will be required annually but if it is, that will also be mandatory. We are following the same HR policy for all required actions that are not fulfilled."
The lawsuit is currently pending in federal court. Woodfill told Newsweek he expects the case "to be decided by the United States Supreme Court in that it affects every employer around the country."
What employees say
According to Woodfill, his clients believe individuals should be able to choose whether they want to partake in "a vaccine trial using an investigational product."
The lawsuit asserts "it is a violation of federal law to make one's employment conditioned upon participating in a vaccine trial."
Woodfill also highlighted that the "experimental vaccines" are currently only approved under an emergency use authorization (EUA) and "have not gone through the full vetting process" by the FDA.
"In fact, the first injection was administered less than seven months ago. It is impossible for one to predict what the long-term effects of the experimental vaccine will be given that he has only been in use for less than seven months," he told Newsweek.
The lawsuit has asked a federal court to prevent Houston Methodist from taking action against the workers.
Jennifer Bridges, one of the nurses suing the hospital, told Houston's ABC13: "We're all suspended right now. We're supposed to meet with a federal judge this week so he can choose to let us go back to work."
Bridges, who also led the walkout on Monday, told Fox News Primetime last week: "This is very important. We're basically fighting for everybody's rights right now just to make our own decisions. Nobody should be forced to put something in their body if they are not comfortable with it—and lose their jobs over it."
What the hospital says
In a statement on Monday noting the vaccination deadline, Houston Methodist claimed that "almost 100 percent of our 26,000 employees have complied" with its COVID-19 vaccine policy.
"It is unfortunate that today's milestone of Houston Methodist becoming the safest hospital system in the country is being overshadowed by a few disgruntled employees," the statement added.
In a statement issued last week, the company said: "It is legal for health care institutions to mandate vaccines, as we have done with the flu vaccine since 2009. The COVID-19 vaccines have proven through rigorous trials to be very safe and very effective and are not experimental.
"More than 165 million people in the U.S. alone have received vaccines against COVID-19, and this has resulted in the lowest numbers of infections in our country and in the Houston region in more than a year," the statement argued.
According to internal emails sent by Boom to staff members, which were shared with Newsweek, Houston Methodist began rolling out its COVID-19 vaccine mandate at the end of March. Vaccination was initially required only for executives, managers and newly hired employees, before it was extended to all workers in April.
Boom wrote in an April email to employees: "Mandating the vaccine was not a decision we made lightly... because science has proven that the COVID-19 vaccines are not only safe, but extremely effective, it became an easier decision to make.
"Now we must do our part to keep patients and ourselves safe. And please know, we would never ask you to do anything that we thought was unsafe," the email said.
In an email on March 31, Boom told employees: "Houston Methodist became the first major health care system in the U.S. to require mandatory COVID-19 vaccinations.
"With supplies of the vaccine more abundant, it's now time that all health care systems follow our example and begin requiring employees to be vaccinated.
"Requiring mandatory vaccinations isn't just about safety. It's also about being examples for those who are hesitant to get vaccinated. Leaders at all levels have championed the vaccine and are doing everything to educate those reluctant to receive the vaccine," the email said.
In an email to employees shared with CBS MoneyWatch, Boom also claimed: "I have spoken to countless hospital leaders across the country who plan to mandate COVID-19 vaccination soon.
Boom noted plans for a vaccine mandate are in the pipeline at two other Texas medical centers, including the Memorial Hermann and Baylor College of Medicine.
Newsweek has contacted the U.S. Supreme Court for comment.
This article has been updated with comment from the U.S. Food and Drug Administration.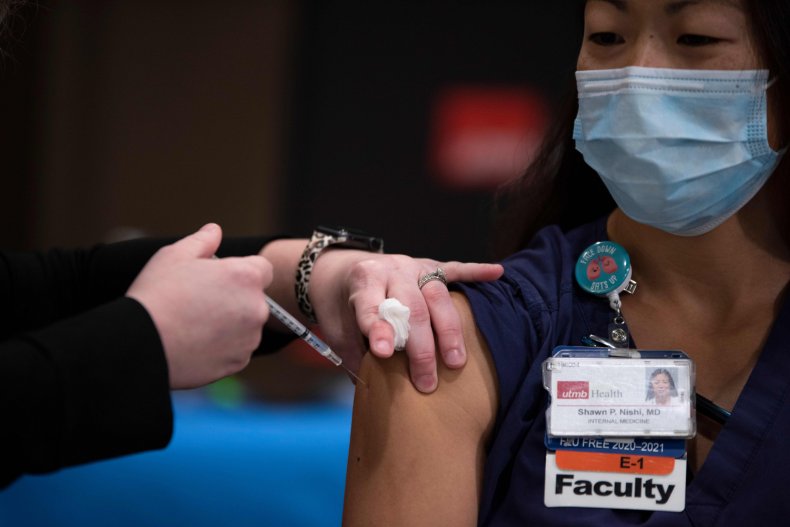 Newsweek, in partnership with NewsGuard, is dedicated to providing accurate and verifiable vaccine and health information. With NewsGuard's HealthGuard browser extension, users can verify if a website is a trustworthy source of health information. Visit the Newsweek VaxFacts website to learn more and to download the HealthGuard browser extension.
Uncommon Knowledge
Newsweek is committed to challenging conventional wisdom and finding connections in the search for common ground.
Newsweek is committed to challenging conventional wisdom and finding connections in the search for common ground.
About the writer
Soo Kim is a Newsweek SEO Reporter is based in London, UK. She reports on various trends and lifestyle stories, from health, fitness and travel to psychology, relationships and family issues. She is also a South Korea expert who regularly covers Korean culture/entertainment for Newsweek, including the latest K-dramas, films and K-pop news, and is the author of the book How to Live Korean, which is available in eight languages. Soo also covered the COVID-19 pandemic extensively from 2020 through 2021 after joining the general news desk of Newsweek in 2019 from the Daily Telegraph (a U.K. national newspaper) where she was a travel reporter/editor from 2010. She is a graduate of Binghamton University in New York and the journalism school of City University in London, where she earned a Masters in international journalism. Languages spoken: English and Korean.
Follow her on Twitter at @MissSooKim or Instagram at @miss.soo.kim
You can get in touch with Soo by emailing s.kim@newsweek.com