Texas Lt. Gov. Dan Patrick Blames Black Community, Democrats For COVID Spread
Texas Lieutenant Governor Dan Patrick is speaking out regarding the rise of COVID-19 in Texas and placing the blame on various communities within the region.
On Thursday, in an interview with host Laura Ingraham of Fox News show The Ingraham Angle, Patrick placed blame on the Democrats and African American community as to why the numbers are so high in the Lone Star state.
"Most of the numbers are with the unvaccinated and the Democrats like to blame Republicans on that," said Patrick. "Well, the biggest group in most states are African Americans who have not been vaccinated. The last time I checked over 90 percent of them vote for Democrats in their major cities and major counties, so it's up to the Democrats to get just as that it's up to Republicans to try to get as many people vaccinated."
Patrick ended his statements by saying he respects the rights of people who don't want to get the vaccine and it won't be forced, but nothing is being done to the African American community "that has a significantly high number of unvaccinated people."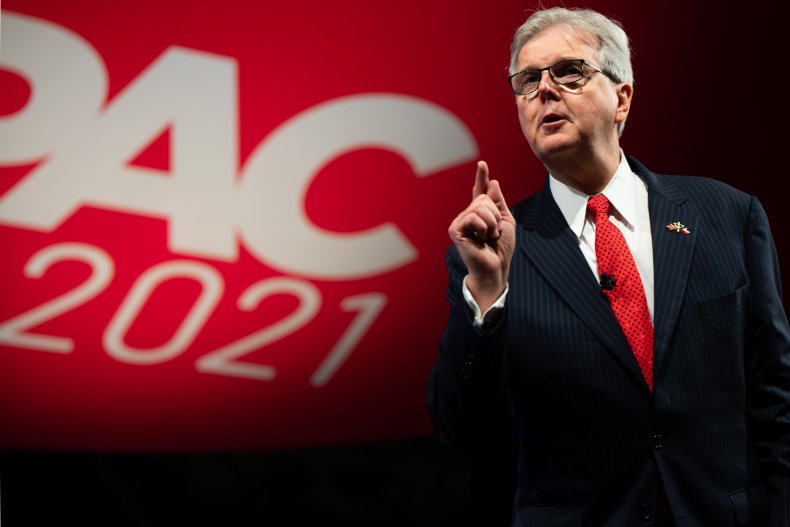 On August 6, Patrick spoke with Fox News political commentator Dana Perino about the controversial mask mandates that are taking place in Texas, along with stark criticism regarding the Biden Administration.
"I have six, soon to be seven grandchildren and four of them are in elementary school," Patrick said. "I'm not going to tell my son and my daughter-in-law, what to do with their children regarding masks. I'm not going to tell my daughter and son-in-law what to do about their children and their masks. That's up to my daughter and my son to make that decision based on a lot of factors."
"So if I'm not going to tell my own son and daughter... why would I tell total strangers out there? We have five and a half million kids in public schools... that is more kids in school than half the states have people, I think. I'm not going to tell the parents of Texas, this is what you must do, and neither should the Department of Education or the Biden administration."
Patrick ended his statements by saying that the Biden administration should close the border to avoid the spread of COVID-19.
Governor Greg Abbott, who recently tested positive for COVID-19, attempted to enforce a ban on mask mandates through Executive Orders in July. On Thursday, the Texas Supreme Court rejected Abbott's request to block a restraining order against his ban in Travis County. However, the Court has generally upheld Abbott's orders.
Newsweek has reached out to Fox News for further comments.