In Texas, Mask-Wearing at Polls Won't be Enforced as State on Pace for Record Voter Turnout
Mask-wearing will not be enforced at Texas voting sites, a new judge ruling says, even though the state is on track for record voter turnout.
The 5th U.S. Circuit Court of Appeals reinstated an exemption to the state's mask mandate issued by Texas Governor Greg Abbott on Thursday, allowing voters and poll workers to skip wearing face masks at the polls.
Abbott's mask mandate requires Texans to cover their mouth and nose in public settings, but face coverings aren't required in polling locations or churches based on "constitutional purposes,"Abbott told KBTX-TV in July when the mandate was instated.
Abbott said he encourages Texans to wear masks, but excluded voters and poll workers from the statewide mandate in order to prevent people from being turned away at the polls due to a lack of face covering.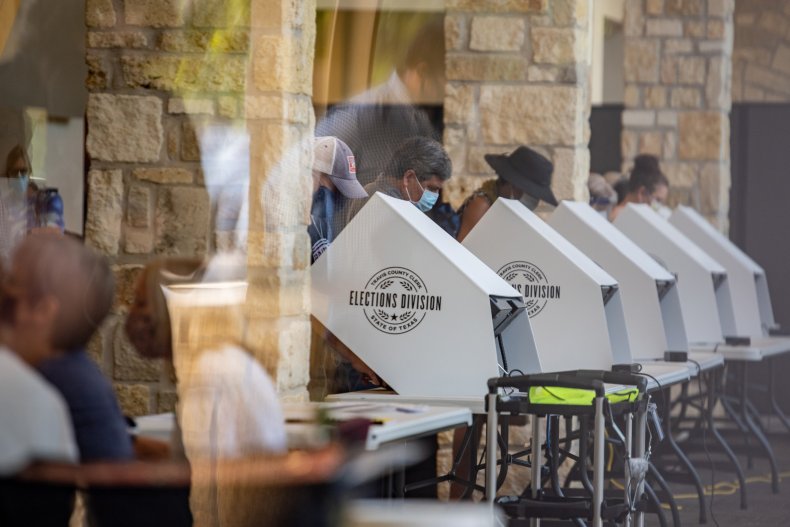 "Your constitutional rights are not voided simply because of a pandemic," Abbott told KBTX.
U.S. District Judge Jason Pulliam challenged Abbott's exemption in order to create "practical and constitutionally-required measures that both protect the public health and guarantee the right to vote" for all Texas citizens, specifically Black and Latino citizens who have been disproportionately affected by the novel coronavirus.
Pulliam ruled on Tuesday that the exemption "creates a discriminatory burden on Black and Latino voters" and imposes a "voting practice or procedure which results in a denial or abridgment of the right of Black and Latino citizens to vote on account of race or color" which is a violation of Section 2 of the Voting Rights Act of 1965.
Immediately after Pulliam's ruling, Abbott and Texas Secretary of State Ruth Hughs filed an appeal which resulted in the ruling being overturned by the 5th Circuit Court of Appeals.
Texas is on track for record voter turnout. With less than a week until Election Day, the state has surpassed over 94 percent of its total voter turnout in 2016 as of October 28.
According to data from the Texas Secretary of State, there have been at least 8,449,858 cumulative in-person and mail-in ballots cast during the state's early voting period as of October 28. In comparison, throughout the entire 2016 presidential election, data from the Texas Secretary of State show 8,969,226 total votes cast.
The data also shows that there are 16,955,519 registered voters in Texas, meaning that the state has seen an approximate 49.84 percent voter turnout thus far in 2020.
Abbott didn't respond to Newsweek's request for comment in time for publication.