Texas and Mississippi Courts, Airports and Public Transit to Enforce Masks Despite Govs. Orders
The governors of Texas and Mississippi may be lifting statewide mask mandates, but President Joe Biden's federal executive order will overrule those rollbacks—ensuring that courthouses, airports and public transit in those states continue to enforce mask wearing.
One of the first executive orders Biden signed when he took office included a mask mandate for all federal property, as well as in airports, planes, ships, intercity buses, trains and public transportation.
While some Republican governors have decided to loosen COVID-19 restrictions during a national plateau in coronavirus metrics, the Biden administration and the Centers for Disease Control and Prevention (CDC) have continued to plead with state and local officials to avoid reopening businesses and rescinding mask orders.
On Tuesday, both Governor Greg Abbott of Texas and Governor Tate Reeves of Mississippi announced that they would terminate the current requirements in place. But residents planning to travel and appear in court will still be expected to wear a face covering.
The Metropolitan Transit Authority of Harris County (METRO), which operates bus and light rail in Texas' most populous county, first started encouraging masks last April and implemented a mandate, which was approved by its board of directors, in June.
"METRO has no plans at this time to drop the mask requirement for people riding our system," the public transportation agency's media director, Tracy Jackson, told Newsweek.
"Passengers are still required to wear a mask on our transit system. We also offer free mask for those who may not have one," she wrote. "But in the very rare instances where a passenger may prefer not to wear a mask, we offer a smaller vehicle where they can ride solo."
The Jackson Transit System in Mississippi will also continue to require masks under the city's own mandate.
"We will continue to have a mask mandate as long as it is needed, regardless of what the State of Mississippi chooses to do," Jordan Hillman, director of planning and development for the city of Jackson, told Newsweek.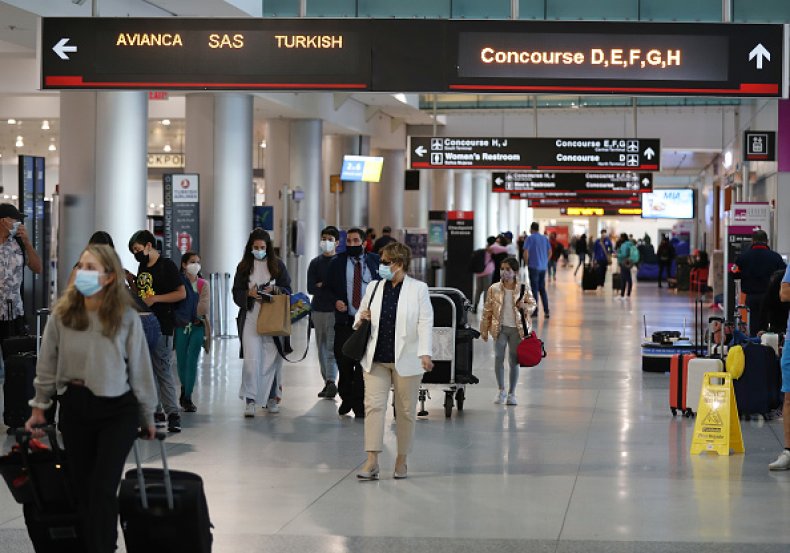 Americans travelling through Dallas/Fort Worth International Airport, the 10th busiest airport in the world and largest hub for American Airlines, will be required to continue wearing facial coverings under the president's order.
"DFW Airport remains under a federal mandate requiring wearing a face mask at all times in airports," airport spokesperson Bill Begley told Newsweek.
Guidance from federal courts in Texas also state Biden's federal order will take precedent over those made by Abbott. For example, the Austin Division of the U.S. District Court for the Western District of Texas recently extended the court's emergency orders on February 25
"It is further ordered that no one will be permitted to enter the courthouse without wearing a mask found to be adequate by Court Security," the order reads.
Health officials have encouraged Americans to not let up on masks wearing, even as cases begin to decline and vaccine rollouts continue to expand.
"Every individual is empowered to do the right thing here, regardless of what the states decide," CDC Director Rochelle Walensky told reporters on Wednesday. "The next month or two is really pivotal in terms of how this pandemic goes."
Updated 03/04/21,12:02 p.m. ET with comments from Hillman.