Texas Mom and Daughter Die From Coronavirus Just Hours Apart
As novel coronavirus cases in Texas approach 205,650, one woman from north Texas, whose mother and sister died hours apart following infection last month, fears people are not taking the COVID-19 pandemic seriously.
The outbreak has devastated Sherry Tutt, who is from McKinney, and her family. At least eight members of her family, including herself, have been infected so far.
Tutt's 44-year-old sister LaKecial and 59-year-old mother Doris LaVon Sims, who were both from the Pleasant Grove neighborhood of Dallas, spent several weeks in separate hospitals before they both died on June 9, The Dallas Morning News reported. It is unknown how Tutt's mother and sister were infected, NBC Dallas Fort-Worth reported.
All three women were said to have taken precautionary measures amid the ongoing outbreak. They were gathered at Sims' home for Mother's Day, Tutt told The Dallas Morning News, but noted. "It [the point of infection] could have been anywhere.
"It's not like we can just say, 'Oh yeah, we had a big house party. And that's where we got it all from.' That wasn't the case, you know?" she added.
On May 22, Tutt received a call from Sims who was gasping for air and needed a ride to the hospital. Her sister had already been hospitalized by this point.
Tutt's sister, who was unconscious and on a ventilator, died just before 5:30 a.m. local time at Dallas Regional Medical Center in Mesquite. Sims passed away at the Medical City Dallas facilitiy a few hours later.
Tutt fought her own battle with the virus but has since recovered. A slight cough and back pain were reported to linger, but her sense of taste and smell returned a few weeks ago, The Dallas Morning News reported.
The recent family deaths have left Tutt even more frustrated by the state, which she feels has sent mixed messages to the public about the outbreak by urging them to take precaution yet allowing the state to reopen, undermining the severity of the situation.
"You can't say, 'OK, we're open. You have to go to work, but no, stay home too.' Do you really care?" she told The Dallas Morning News.
"It hurts me because I lost my mom to this, my sister — the only mom, the only sister I have. I look at the news and it's just like, the world is going on and I'm stuck...because they were my world."
Tutt's mother and sister are among the 395 confirmed deaths in Dallas County, according to the Monday report from the Texas Department of State Health Services. The daily death toll spiked to 57 on July 1, the second-highest daily death count reported since the outbreak began, according to DSHS.
Texas began phase one of reopening on May 1 and the state's daily case count has been on a mostly increasing trend since. Daily new infections began rising on a steeper incline from around June 8, less than a week after the state entered phase two of reopening on June 3.
The state also saw a record 8,698 hospitalizations on Monday, the highest level reported since April 4. Hospitalizations in Texas began steadily increasing from around June 1, about a month after the state reopened in May, according to the Texas DSHS.
Last month, Texas Gov. Greg Abbott announced a "temporary pause" on further reopenings, noting the outbreak had taken a "very swift and a very dangerous turn in Texas over just the past few weeks," at a press briefing.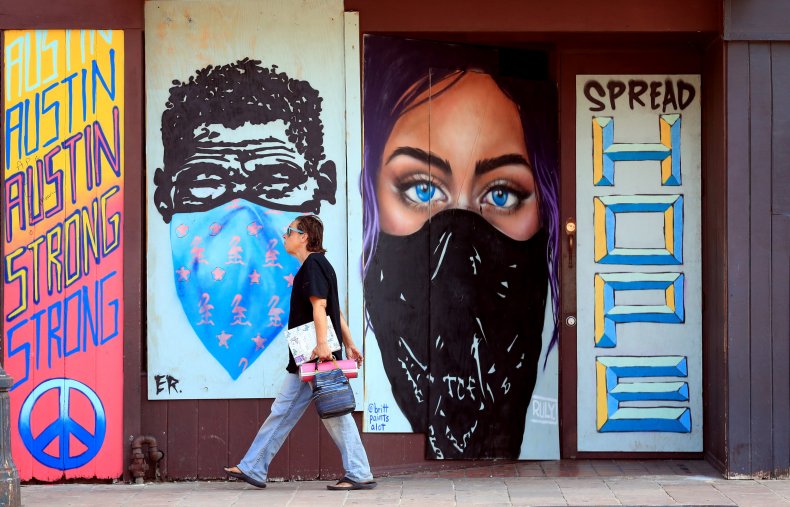 The novel coronavirus, first reported in Wuhan, China, has spread to more than 11.6 million people across the globe, including over 2.9 million in the U.S. Over 6.3 million globally have reportedly recovered from infection, while over 538,100 have died, as of Tuesday, according to the latest figures from Johns Hopkins University.
The graphic below, provided by Statista, illustrates the spread of COVID-19 in the U.S.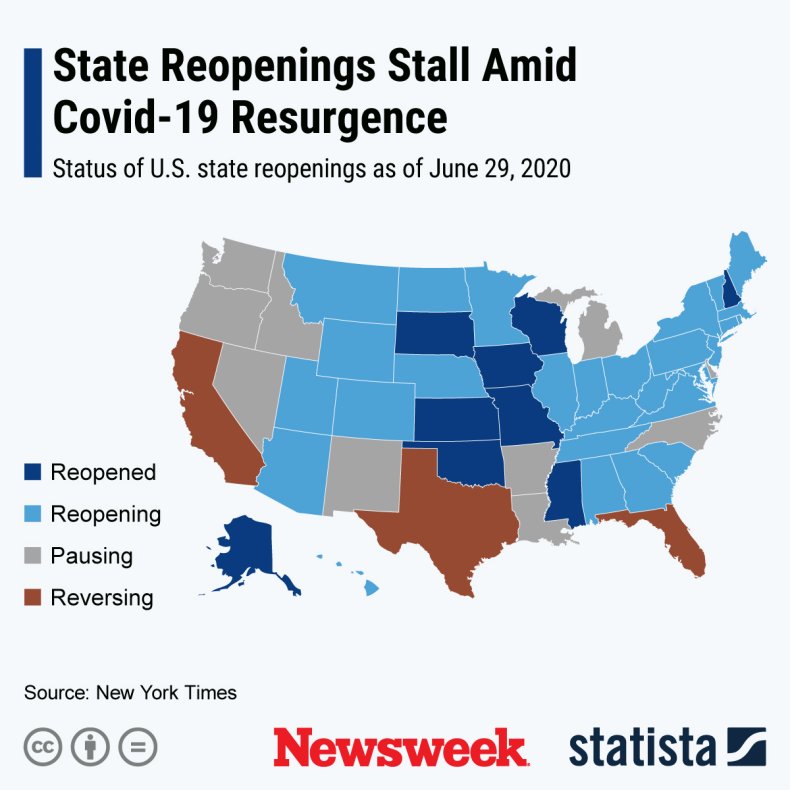 The graphic below, provided by Statista, illustrates the portion of people who wore a mask in April and May amid the ongoing pandemic.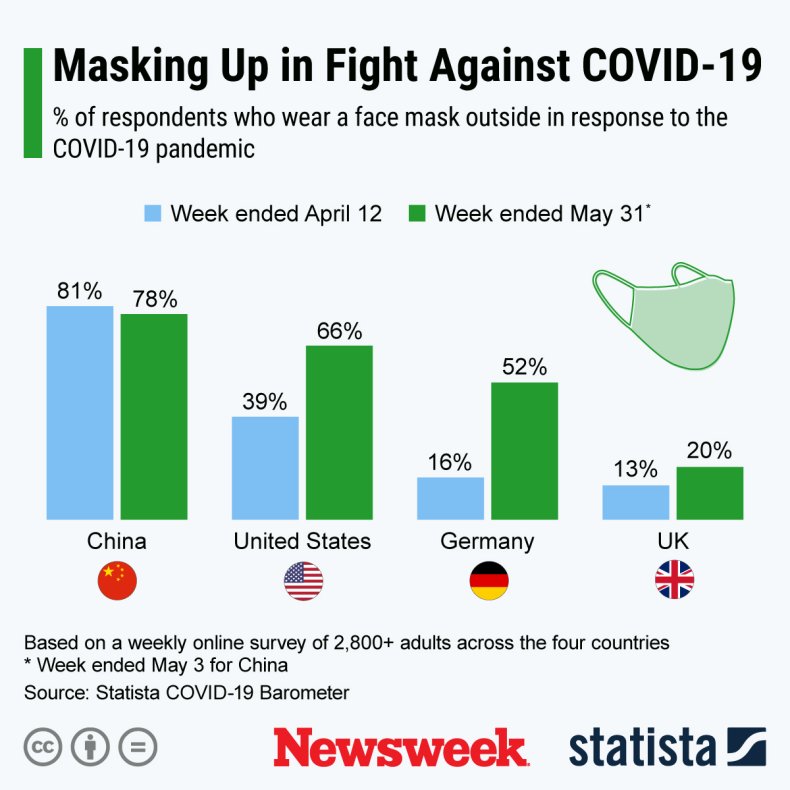 The graphic below, provided by Statista, illustrates the seven-day rolling average of new COVID-19 cases in the U.S. and European Union.