Texas One Step Closer to Abbott-O'Rourke Race, But Will Matthew McConaughey Jump In?
While Republican Texas Governor Greg Abbott is facing a challenge from Democrat Beto O'Rourke during next year's election, it remains unclear whether actor Matthew McConaughey will join the race.
Abbott announced that he had officially filed for reelection on Tuesday, while O'Rourke announced that he was a gubernatorial candidate earlier this month. McConaughey, who has repeatedly been floated as a potential candidate, has remained tight-lipped despite the release of a poll showing him beating both Abbott and O'Rourke in head-to-head matchups last week.
"I have really been doing my diligence to study, to look into, to question what it is, what would it be for me," McConaughey told The Hollywood Reporter in an interview published Tuesday. "Am I best equipped for the people in the state, and for my family and myself? There's great sacrifice that comes with a decision."
"That's what I've been doing, and there's no tease to it," he added. "There's me doing my diligence, and I will let you know shortly."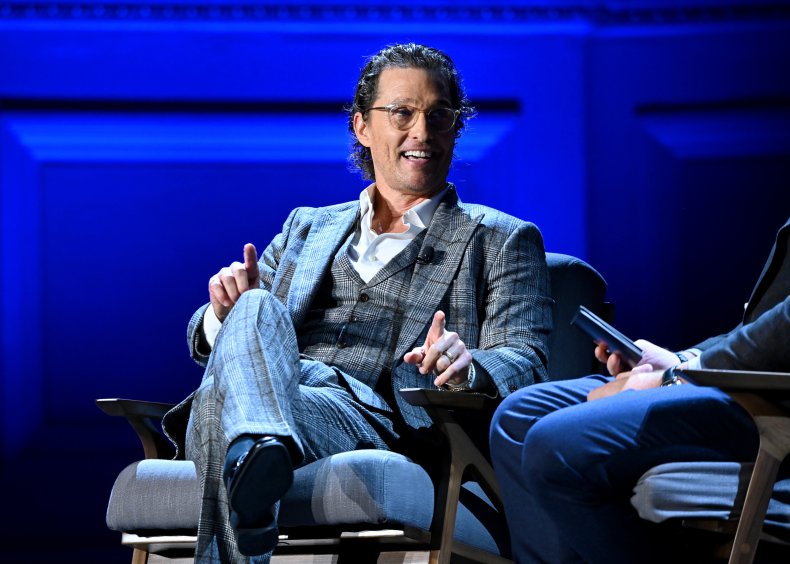 While McConaughey has repeatedly teased a potential run, he insisted that his decision on becoming a candidate would be based on his aptitude for helming a "new embassy of leadership" rather than whether he could realistically win the election.
A poll released Sunday by The Dallas Morning News and the University of Texas at Tyler found that McConaughey would crush O'Rourke by 49 to 27 percent and beat Abbott by 43 to 35 percent. Without McConaughey as a candidate, Abbott was favored to beat O'Rourke by 45 to 39 percent.
The survey did not ask respondents about a three candidate race, although Abbott was the top "ranked preference" for governor based on the three head-to-head matchups. A 40 percent plurality of Texas voters said they wanted McConaughey to run for governor, while 33 said they did not and another 27 percent said that his candidacy "doesn't matter."
Abbott said that he would take a challenge from McConaughey "seriously" during a Fox News interview over the summer, while touting his polling numbers and fundraising abilities.
"It doesn't matter what the name is, I take everybody very seriously, and it shows," Abbott told Chris Wallace in July. "I will tell you two things, and that is if you look at my polling numbers, they are very, very strong. In addition to that, I have $55 million in the bank already, and I'm a very aggressive fund-raiser."
"I will have the resources and the backing of a lot of people across the state of Texas to ensure that whoever decides to run against me, we will be able to win," he added.
Although most recent polls have shown Abbott is likely to win reelection in a matchup with O'Rourke, the poll released early this month by the Texas Hispanic Policy Foundation found the Republican governor with only a 1 percent lead over his Democratic challenger.
McConaughey has described his political views to the Austin Statesman as "aggressively centric" but it is not clear whether his potential candidacy would include a challenge to Abbott or O'Rourke in either the Republican or Democratic primaries, or whether the actor would spark a three-way race by running as an independent.
Newsweek reached out to McConaughey's representative for comment.