A week after saying that he wouldn't apologize for using homophobic slurs in sermons, Texas pastor Jonathan Shelley, the leader of the anti-gay Stedfast Baptist Church, said in a city council meeting that Pride Month is an "abomination" that shouldn't be promoted in the community.
In a video shared on Twitter by blogger and activist Hemant Mehta, Shelley addresses the Arlington City Council, where a meeting was being held about acknowledging Pride month, telling them that he's "horrified and ashamed" that the city decided to "promote and solicit Pride." Amid loud boos, Shelley continues, saying there's nothing to celebrate about Pride, and that in fact "it's an abomination" according to the Bible.
"According to God we should hate Pride, not celebrate it," Shelley said as the audience got louder. "I don't understand why we celebrate what used to be a crime not long ago. God has already ruled that murder, adultery, witchcraft, rape, bestiality and homosexuality are crimes worthy of capital punishment."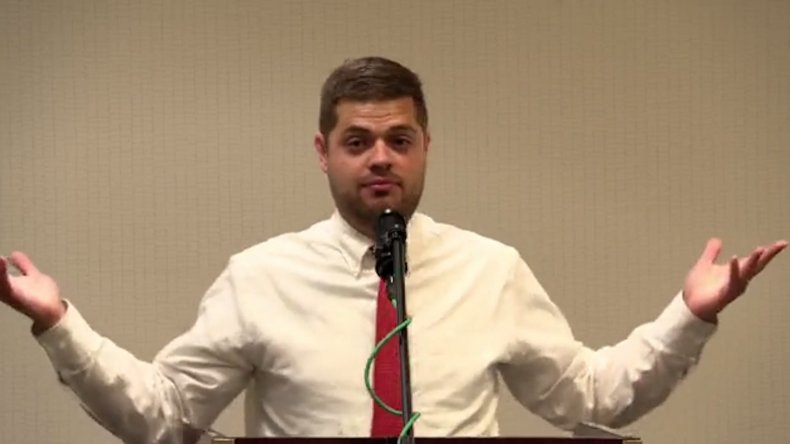 The room was mostly quiet in response to Shelley's statements, but one man could be heard saying "amen" as others murmur in agreement.
Quoting data saying that gay men are more likely to get HIV than straight men, Shelley once again lashed out against celebrating Pride, saying, "I don't know why we would promote disease and AIDS in our community."
Shelley then declared that the LGBTQ community "hates children, hates Baptists, hates Christianity and hates God." The preacher then called to eliminate Pride altogether. At the end of the speech, some people in the room can be heard clapping, while others are jeering.
Shelley has made other inflammatory statements about the LGBTQ community before, including leading sermons that used homophobic slurs. In a previous video shared by Mehta, Shelley was unapologetic about using homophobic slurs, saying he refuses to "negotiate with terrorists."
In March, Shelley's church got evicted from its building after the pastor said gay people were "worthy of death," which violated the terms of the lease that said the church should not promote or threaten violence.
Shelley took over as Stedfast Baptist Church's pastor after his predecessor, Donnie Romero, resigned in January 2019 after revelations that he had hired sex workers and was involved in gambling.
The controversial church is considered a hate group by the Southern Poverty Law Center. It came to notoriety in 2016, when Romero praised the gunman who killed 49 people at a gay nightclub in Orlando, Florida, calling the victims "perverts and pedophiles."
Newsweek reached out to the Stedfast Church for comment.