Texas Rapper Megan Thee Stallion Blasts Abortion Law, as Court Reinstates It
During a performance on Friday, rapper Megan Thee Stallion criticized Texas' newly enacted abortion law that effectively bans the procedure for women who are more than six weeks pregnant.
"This middle finger is also to these motherf***ing men that want to tell us what the f*** to do with our body," she told a crowd at the Austin City Limits Music Festival, according to news station KXAN.
"Cuz how the f*** you gonna tell me what to do with my motherf***ing body? Drop that s***," she added.
Megan Thee Stallion, who is from Houston, also addressed the abortion law on her Instagram page on Friday.
"Y'all know I'm a Texas girl and we deserve better!" she wrote.
"Politicians want to cut off abortion access and control our bodies, lives, and futures — I'm speaking up," she added.
The rapper's criticism came on the same day that a federal court moved to temporarily reinstate the law after it was blocked on Wednesday. On Friday, an appeals court granted Texas' request to lift the temporary injunction that had been placed on the law in a ruling by U.S. District Judge Robert Pitman.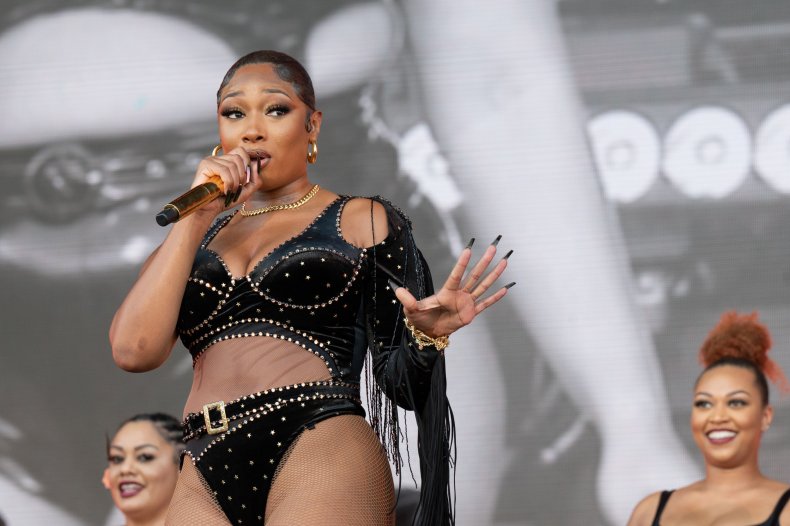 The law, which went into effect on September 1, makes no exceptions for instances of incest or rape, and is enforced by citizens who bring civil actions in court.
The legislation gives people the ability to sue doctors and others who assist women in getting abortions after six weeks of pregnancy. Anyone who sues successfully can receive up to $10,000.
Megan Thee Stallion isn't the only musician or celebrity who has blasted Texas' new abortion law.
At a concert in Texas on October 2, singer Billie Eilish told fans she nearly canceled the performance to protest the law.
"When they made that s--- a law, I almost didn't want to do the show because I wanted to punish this f---ing place for allowing that to happen here," Eilish said according to Billboard.
"But then I remembered that it's you guys that are the f---ing victims, and you deserve everything in the world. And we need to tell them to shut the f--- up," she said. "My body, my f---ing choice!"
Following her remarks, anti-abortion activist Abby Johnson criticized Eilish.
"News Flash: If it has a separate heartbeat and DNA than you, it's NOT. YOUR. BODY!" Johnson, a former director of Planned Parenthood, wrote on Facebook.
Reese Witherspoon, Kerry Washington, Pink and Lizzo are also among the celebrities who have spoken out against Texas' new policy.